As one of the essential forms of communication, finding emails is crucial for marketers and salespeople. You know why? Because every single email is a door to unlocking new business opportunities and avenues. The difficult part? It is becoming exceedingly challenging to help find email of anyone. But hey, we've got tools to help with that!
In this article, we will discuss best email finder tools that you can use to find emails in bulk! Without further ado, let's get right into it!
Why Does My Business Need an Email Finder Tool?
As a business, you may assume that finding emails or the process of email address lookup is not that important. But the truth is, it is your way forward to connecting with more and more people and thus growing your business further. An email address finder enables you to automate your entire lead generation process.
That is not all; email finder tools also check email validity and send or promote your outreach campaigns. Hence, an email finder tool is one of the essential tools you need to increase sales!
Top 15+ Best Email Finder and Automation Tools To Get Your Business Going.
Here's a list of the top 15+ email finder tool and automation tools to help you with your cold email outreach procedure:
1. Crawlbase's Leads API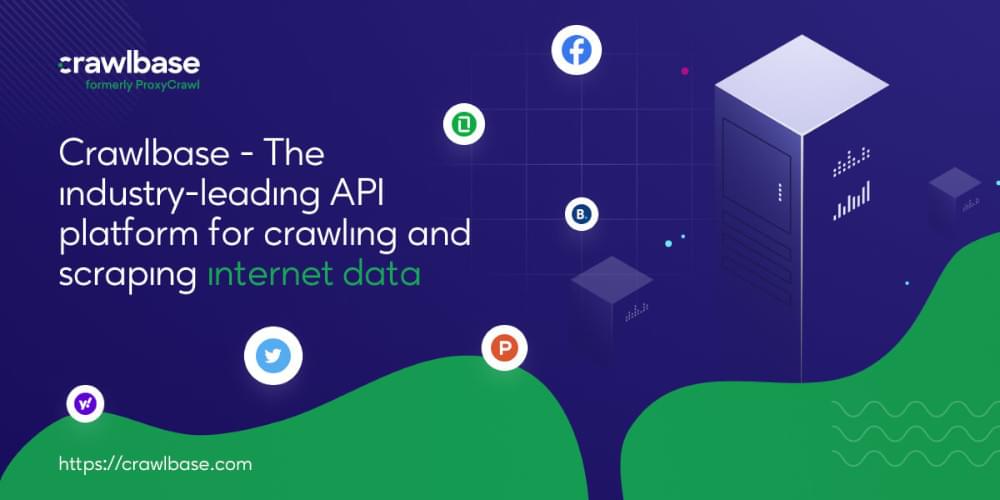 Leads API, by Crawlbase, is a powerful API that companies can use to find emails and leads. The best part about this tool is that it provides your email from a simple web link, which makes it an excellent no-code solution for non-technical business people.
Leads API can extract more than 1000 pages where your target company is found online. Moreover, every single contact is run through the AI-based algorithm of Leads API, which results in more personalized leads.
In less than 05 minutes, users can import leads in bulk from the API. The best part is that the leads' data includes email, name, work position, and all important attributes that your marketing team may require for the outreach campaign.
Key Features:
Leads API can extract up to 10,000 emails in one call, which is extremely helpful as it helps provide quick and easy access to key decisions.
It can also extract emails from Facebook and LinkedIn.
In addition to finding contact details, Leads API helps you gather data about the websites linking to your competitors.
It comes with a free test trial option in which you can obtain the first 100 leads for free.
Leads API also offers subscription options so you can cancel at any time without getting stuck into long-term contracts.
Pricing Details:
Leads API comes with four different pricing packages, which are as follows:
Free ($0 per month, 100 credits, fresh leads).
Starter ($29 per month, 2000 credits, 5 API Concurrency).
Advanced ($49 per month, 5000 credits, 10 API Concurrency).
Premium ($99 per month, 10,000 credits, 20 API Concurrency).
2. Hunter.io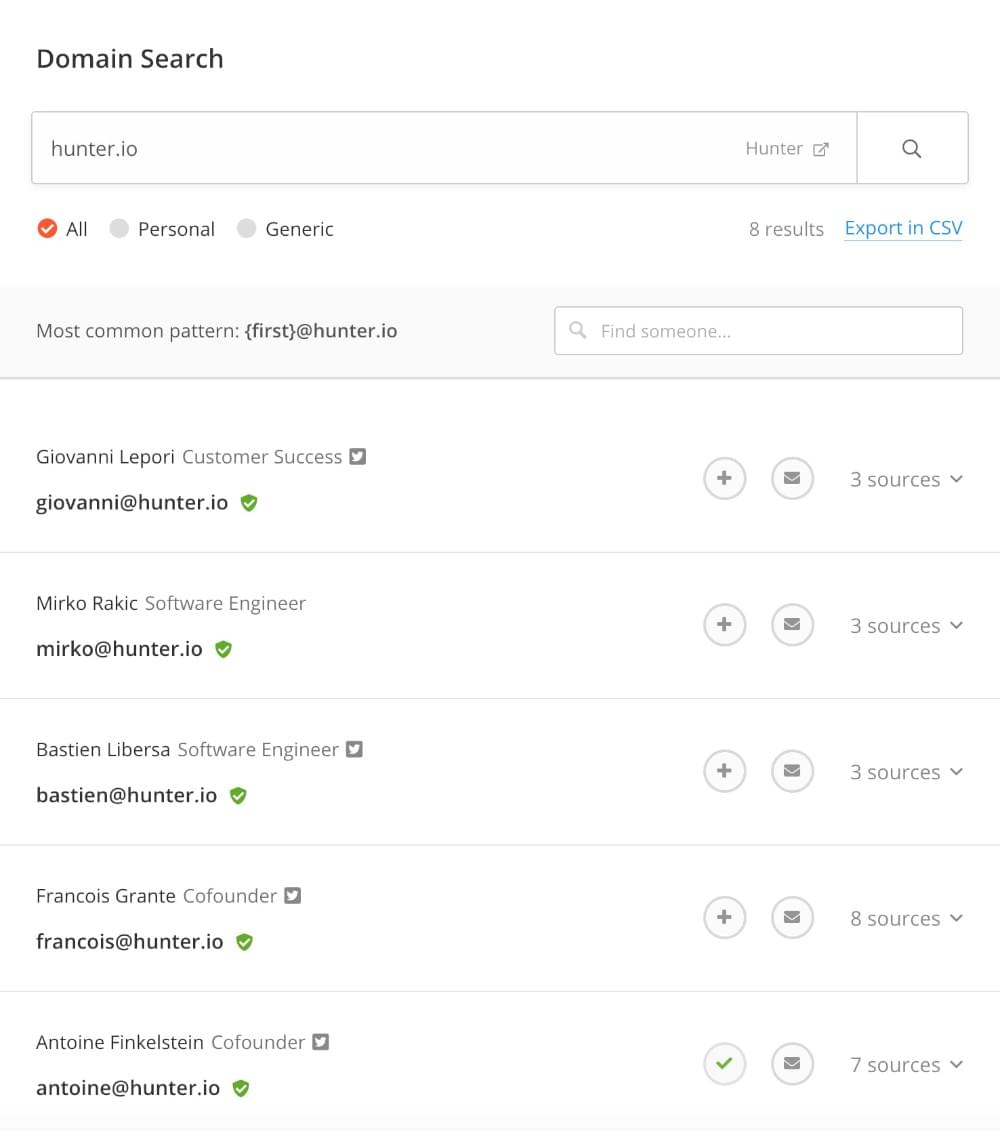 Hunter.io is a popular and easy-to-use email finder tool included in the Hunter.io lead creation platform, along with the Email Verifier and the MailTracker for Gmail. It allows you to search for emails from all professions easily.
Hunter also has a gorgeous and easy-to-use user interface (UI). Learning to use Hunter is simple because everything is where you'd expect it to be. Hunter's outreach platform will be second nature to you in less than 15 minutes.
This email hunter is trustworthy since it only stores publicly available email addresses in its database and regularly practices data hygiene.
Because Hunter's database is its own, you can be confident that you're working with clean, validated data when you utilize them for outreach email campaigns.
With this email address lookup, you may bulk search and verify email addresses by uploading a prepared CSV file including the prospects' or company names. Hunter.io is compatible with Hubspot, Zapier, Salesforce, Pipedrive, and other apps.
Key Features:
Search for email addresses with trust scores and detailed sources using a single or bulk domain.
Chrome plugin searches for emails related to a website and its public sources, such as Twitter.
With a single API request, you may find any email address.
Hunter.io has a client relationship management dashboard that allows you to search and sift through your email database.
Pricing Details:
Paid options for Hunter begin at $49 per month for 500 email lookups and 1000 email verifications:
$0 per month (25 email searches, 50 email verifications)
$49 per month (500 email searches, 1000 email verifications)
$99 per month (2,500 email searches, 5,000 email verifications)
$399 per month (30,000 email searches, 60,000 email verifications)
3. Snov.io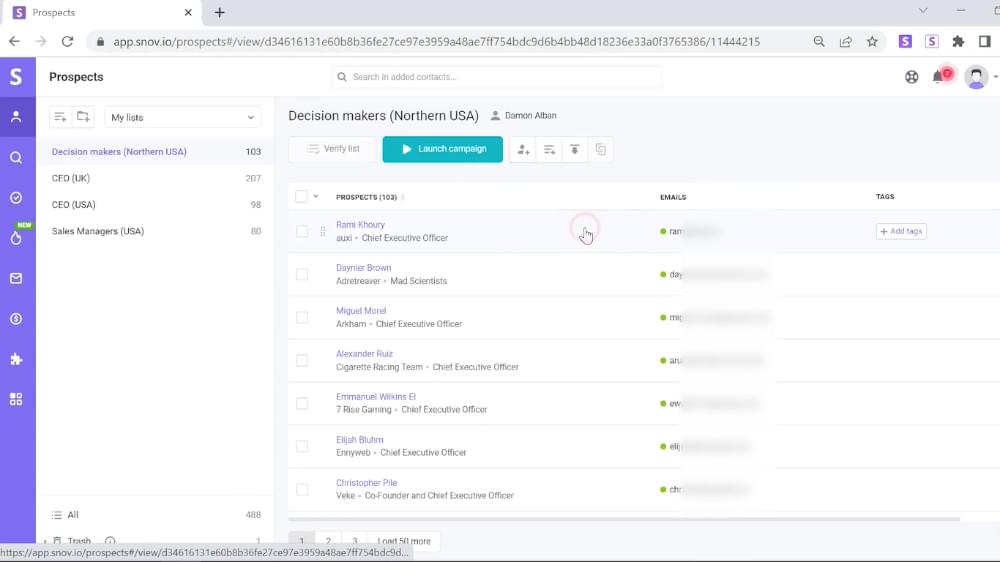 Snov.io is the most popular lead-generating tool that provides various options to help your business flourish. Email finder, email verification, technology checker, email warm-up, sales CRM, drip campaign, and more tools are available from Snov.io.
Snov.io uses cutting-edge technologies to locate leads rapidly. It is the best lead creation tool for sales, business development, lead generation, outreach, and recruiting professionals.
Snov.io is a more comprehensive tool that provides a complete lead-generating solution, whereas Hunter.io merely provides an email searching solution. Snov.io is trusted by 150,000 reputable enterprises worldwide.
Snov.io has gone a long way in terms of accuracy and functionalities, such as its LinkedIn prospecting tool and built-in email marketing features in the previous several years. It is roughly less expensive than Hunter.
Snovio is also an excellent lead-generating and email marketing tool to maximize sales growth using email marketing strategies. It lowers lead generation time in half and streamlines the entire outreach process. Simply install the Chrome extension and subscribe to one of their plans. With their forever-free plan, there's no reason not to give Snovio a try.
This email address finder contributes to the production of new leads. It's a win-win situation if you can fill your sales funnel faster while minimizing your cost-per-lead. Snov.io Email Finder provides tools that will assist you in leaving no stone unturned, whether you know exactly who you're looking for or are simply exploring your audience, regardless of your specialty.
Snov.io's email finder isn't only for sales teams. In addition to sales, it uses marketing, public relations, cold outreach, onboarding, finance search, and recruitment.
Key Features:
CSV, XLSX, and Google Sheets formats are supported for prospect list export.
100% human Customer Service team can assist you by email, live chat, or phone.
Snov.io is the market's most sophisticated and adaptable email marketing platform.
Personalize your email marketing to meet the demands of your company.
Distribute custom-branded material to leads, sales, and prospects.
Use unique tailored offers to convert leads into paying clients.
Pricing Details:
Snovio's price begins at $33.0 per month. Snovio offers five different plans:
S is priced at $33.00 per month.
M is priced at $83.00 each month.
L is priced at $158.00 per month.
XL is priced at $308.00 per month.
XXL is priced at $615.00 per month.
4. Voila Norbert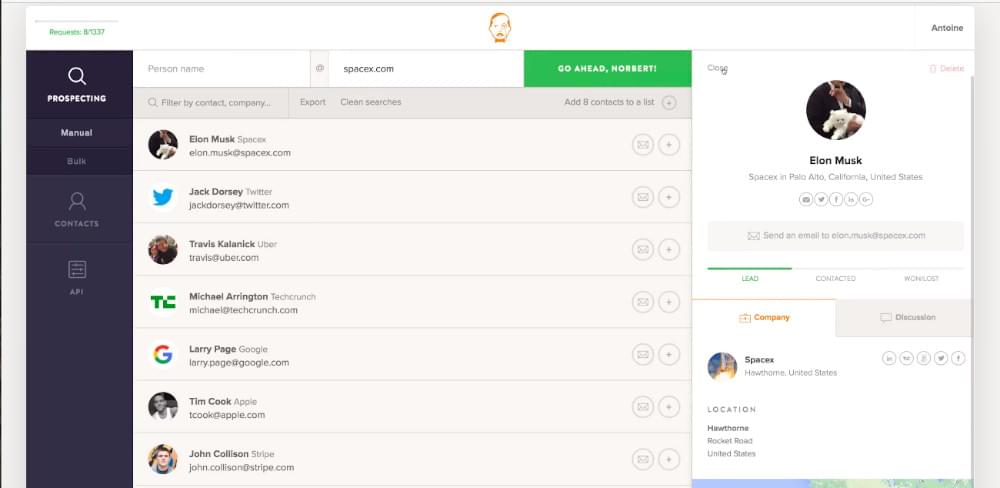 Voila Norbert is one of the most effective email-finding tools available today. It can identify and verify anyone's email address using simply their name and corporate domain name.
This email hunter is a virtual helper designed to assist sales representatives, and other specialists locate more specific email address information. You'll enter whatever information you have right now, and Norbert will search the web for the rest of the information you require.
Norbert promises to be able to locate anyone's corporate email. That's a big boast, but he mainly delivers on it.
VoilaNorbert has a reputation for being a very accurate email finding and email validator program. The list of emails for verification is sent to Norbert in CSV format, and it will be checked and ready for download in a matter of minutes. It also has a real-time verification API.
Norbert's information The Enrich function gives additional information about the email address owner, such as corporate data, job titles, locations, and social network accounts, which aids in connection development.
With Voila Norbert, the email address search couldn't be easier. You only need your prospect's complete name and firm domain name (website URL). Norbert has a 98% success rate. Norbert also offers an Intelligent email verification tool to validate emails for you.
Key Features:
VoilaNorbert is an essential tool for locating difficult-to-reach email addresses.
Easy to use, good value for money.
Backs up email addresses with additional contact information if available.
VoilaNorbert maintains a database of all contacts added.
Pricing Details:
There are four price tiers for Voila Norbert.
Valet ($49 per month)
Butler ($99 per month)
Adviser($249 per month)
Counselor ($499 per month)
5. AeroLeads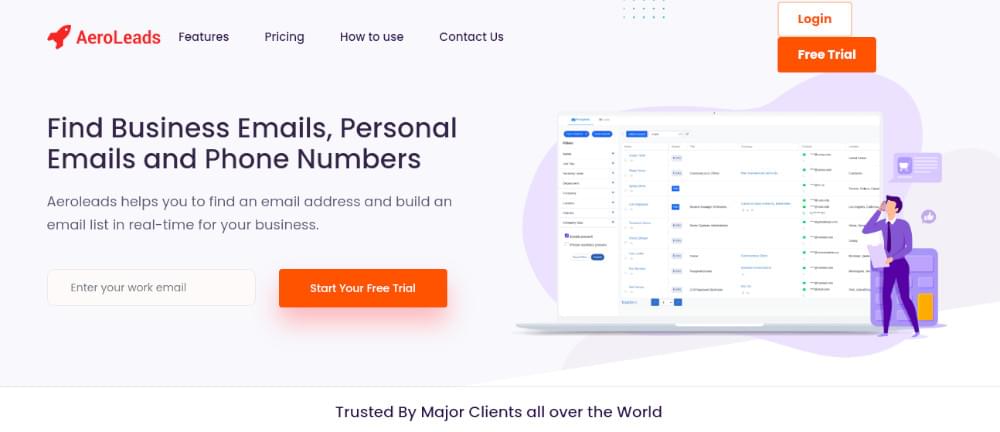 AeroLeads tool is another market's most promising and competitive email hunter. It is used to connect with any business. It uses all our data email formats, web addresses, verifications, and other signals to discover the proper contact profile in half a second.
When compared to Hunter and other tools, it is pretty cost-effective. Customer service and UI design are the most appealing aspects of Aero leads.
Everyone speaks about information extraction, which almost all tools are capable of. However, its design and ease of use distinguish it from the competitors in the market.
If we evaluate the expenses, it is clearly on the lesser end as compared to Hunter or Zapier. AeroLeads offers free trials to new customers so they may experiment and acquire a feel for it before purchasing it.
Many top marketing experts utilize AeroLeads as one of the best email validator tools. By building a list of unique emails in less time, AeroLeads streamlines the process of email searching and increases your lead generation efforts.
It helps you to locate prospects on LinkedIn, Crunchbase, Angellist, Xing, and other sites. It also provides detailed information on the prospect, such as their work profile, location, and address. Aeroleads supports API integration. AeroLeads is compatible with MailChimp, Pipedrive, Zoho CRM, Salesforce, and many more applications.
Key Features:
This tool lets you quickly locate company emails and phone numbers from LinkedIn and Xing.
Furthermore, the AeroLeads tool checks all email addresses, allowing you to send emails to prospects reliably.
AeroLeads connects with various third-party programs, including HubSpot CRM, FreshSales, Zapier, Zoho CRM, and Salesforce.
Pricing Details:
AeroLeads has four price tiers to choose from:
$49/month - 2000 credits, locate emails, names, company names, and so on, just one user
$149/month - 8000 credits discover all contact information, integrations, and five users.
$499 monthly includes 30,000 credits, complete contact information, unlimited users, and integrations.
Enterprise - Based on your requirements
6. RocketReach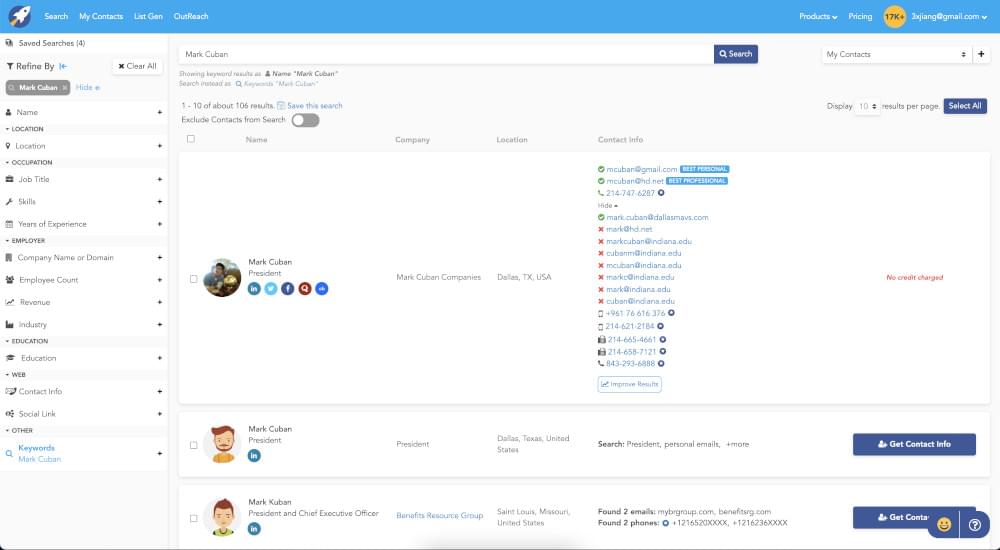 RocketReach allows you to locate anyone's email address, phone number, and other information from 50+ websites in a single search. They offer a Chrome plugin that can collect email addresses from sites like LinkedIn, CrunchBase, AngelList, and Google, among others.
The Advanced Search function makes it simple to identify qualified specialists and has an accuracy rate of more than 85%. Users can quickly get leads on AngelList, CrunchBase, Google, and LinkedIn using the RocketReach Chrome Extension.
Users may choose from various search parameters and seek emails and phone numbers that meet the criteria. To stay ahead of the competition, the tool provides detailed profiles. Users may create lists and track marketing efforts without leaving the platform.
With RocketReach, you and your team can swiftly narrow down the best candidates and guarantee that you discover the most excellent fit. Reach out directly using real-time authenticated email and phone numbers. Then, take it a step further by developing personalized and reusable email templates that link with your current email provider. Organize your contacts with customizable lists and seamlessly interface with your existing CRM or ATS.
Key Features:
API access is extended to help in the automation of people's searches.
The tool lets sales teams immediately contact the correct decision makers by providing up-to-date URLs, emails, and phone numbers.
Users may acquire insights into corporate data and statistics by using the tool.
Google Chrome plugin for locating and validating connections from Google, AngelList, CrunchBase, and LinkedIn.
Pricing Details:
RocketReach price begins at $39.0 per month. RocketReach offers three different plans:
Essential $39.00 per month
Pro is available for $79.00 per month
Ultimate is priced at $199.00 per month
7. Skrapp.io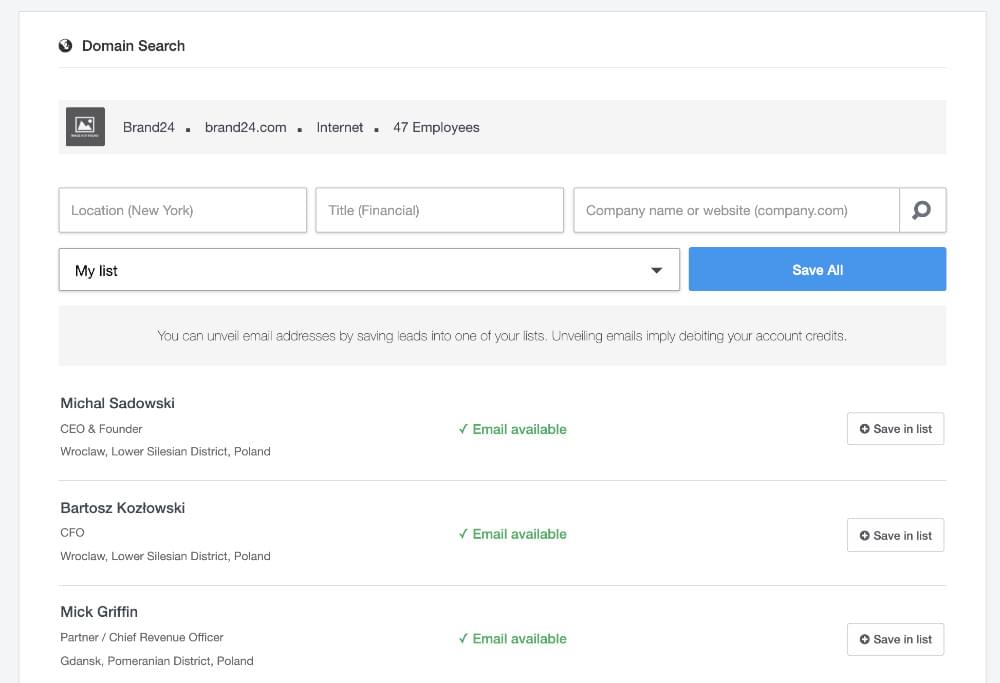 Skrapp.io is a unique tool that allows you to find and store the email addresses of your most promising leads. It will assist you in building the email list for your next big idea, whether through LinkedIn, Sales Navigator, company websites, or in-app capabilities.
This email address finder intelligently interacts with your LinkedIn account, allowing you to locate emails from LinkedIn profiles and searches. It allows you to collect data from your leads in lists (name, email, title, business, LinkedIn URL) and export it to your CRM, ESP, File storage service, or Excel and CSV spreadsheets.
Skrapp.io may be used for any email outreach purpose. The following are the most prevalent applications:
Email research for cold emailing
Email research for prospecting
Email database enrichment
Skrapp allows you to import and search for emails in your current CSV lead databases. Their cloud servers allow you to view your data anytime and anywhere. You may connect your lead directory with your CRM or email service provider, providing faster workflow and greater prospecting flexibility.
Key Features:
API, prospect list export to CSV and XLSX, team account option (for paid plans).
Helps in domain search, bulk email finding, name and company search.
Assists in locating as many connections as possible, along with their contact information, on the social media network LinkedIn.
Pricing Details:
Skrapp.io is free for 150 emails per month.
However, you may purchase 1,000 emails per month for $39
5,000 emails per month for $69
10,000 emails per month for $119
20,000 emails per month for $149
8. Lusha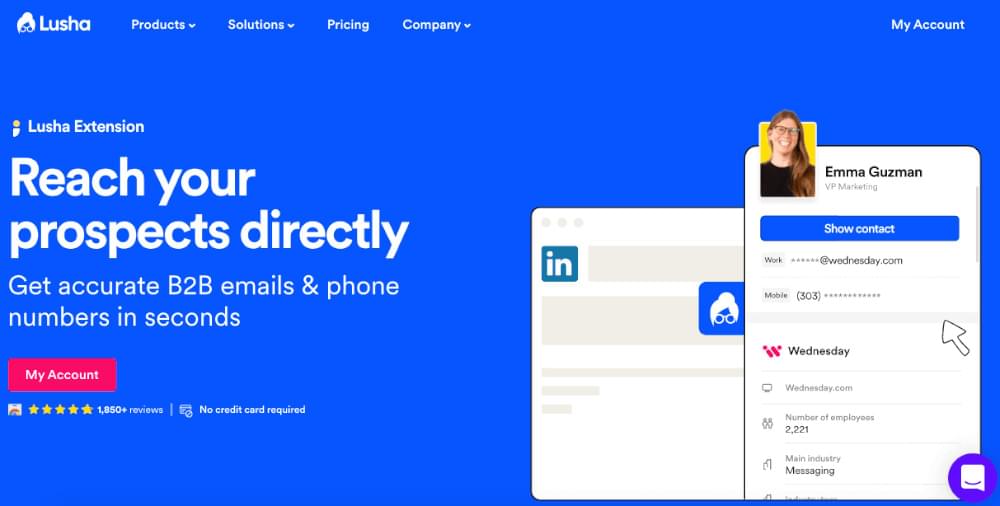 Lusha is yet another excellent lead creation tool that may assist you in locating the proper decision-makers. Lusha chrome extension works on any website and obtains prospects' email and phone numbers.
It collects contact information from professionals and other business-related data (business profile information) so that its clients may get quality leads and prospecting contact information.
It's available as a Chrome addon. You may use the Lusha email-finding tool for email address lookup, to obtain your prospect's phone number or headquarters location, and other helpful information. It searches for opportunities while you browse through various websites.
Lusha focuses on delivering high-quality data to assist people in identifying their target consumers. They also provide tools to assist organizations in managing their CRMs. It scans its database of millions of corporate and personal email addresses based on the firm name of the contact.
Lusha is a business-to-business email contact finder with a continuously increasing database. Users and businesses may exchange and contribute data to the database through its Community Data Contribution initiative. Lusha on LinkedIn lets you quickly expose the contact and company details of specific prospects and accounts you're interested in.
It also has a data enrichment API that can bulk enrich thousands of leads in your CRM, updating information or providing you with a comprehensive profile in minutes. Lusha will scale to work with any size firm, whether you are a person, a small corporation, or a significant enterprise.
Key Features:
Search for social networks (LinkedIn, Twitter) and current email and phone numbers.
The extension automatically analyses your profile page and displays contact information.
Lusha has a database of 50 million commercial and personal phone numbers.
You may include contact enrichment into your workflows using the Lusha API.
Zapier's Lusha module allows you to augment contact data automatically.
Pricing Details:
Lusha's price begins at $79.0 per month. Lusha has two different plans:
Professional service at $79.00 per month.
Premium is priced at $199.00 per month.
Lusha provides a free plan with limited functionality.
9. Nymeria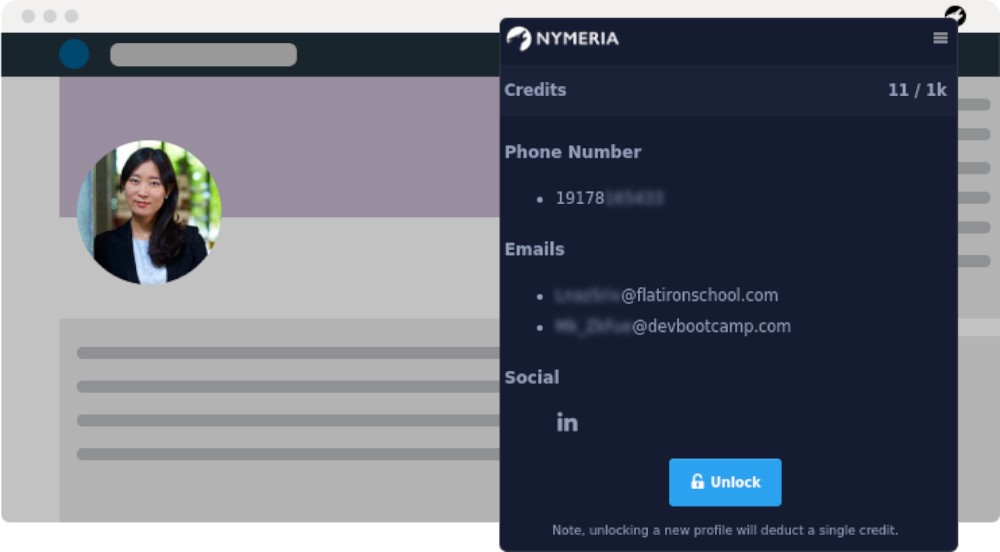 Nymeria was built specifically for those in need of an email finder. This tool's main feature is a robust email finder that helps you to locate confirmed email addresses connected with professional and social network profiles.
Nymeria is a platform that allows people and groups to find and connect with anybody. You can simply discover persons and contact information on our website, add contacts to folders, export contacts, bulk enhance spreadsheets, and more.
Not only is this tool excellent for lead generation from facebook, the Nymeria plugin makes it simple to retrieve contact information across many other social networking platforms, including LinkedIn, Twitter, and GitHub.
Discover all emails linked to social or professional network profiles. Nymeria, unlike other email finders, exclusively displays confirmed email addresses. Lead lists and your entire email reveal the history and may be saved to a spreadsheet for sharing or processing.
Key Features:
API, CSV, XLSX, and team accounts are all available (for paid plans)
Search features include: Social network search, complete prospect profile (LinkedIn, GitHub)
The tool makes it simple to construct customized lead lists, manage your lists more effectively, and categorize emails inside those lists for better outcomes.
Pricing Details:
There are three price plans available from Nymeria:
Kilo offers 1,000 monthly requests for $39 per month.
Mega - receive 3,000 monthly inquiries for $79 per month.
Giga - For $159 per month, you may get 10,000 monthly requests.
10. FindThatLead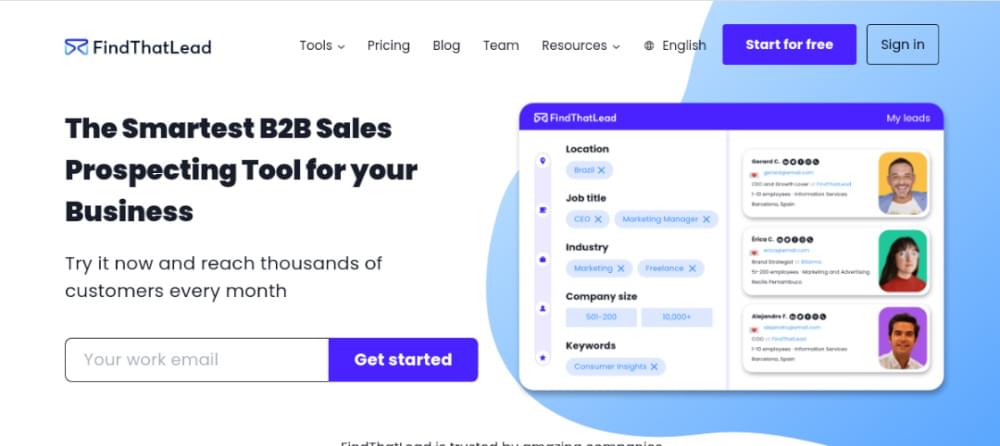 FindThatLead helps you discover your prospect's email address using the company's URL. Enter the domain name and click Find Leads to receive a list of emails associated with that domain. You may then scroll down and choose your prospect's email address.
FindThatLead is one of the best tools for scraping leads from linkedin as it also provides a Chrome plugin that can grab your prospect's email address from their LinkedIn profile. Another helpful feature of this email address finder is that the plugin will display a percentage next to each email address to indicate accuracy.
FindThatLead is a B2B sales prospecting platform that strives to help entrepreneurs locate their best clients or investors, contributing to the overall growth of enterprises and the economy. It enables you to scale your lead generation for sales and expansion. To obtain new clients, you may send cold email campaigns to a qualified prospect list generated by Prospector. You may grow your database and improve sponsored adverts using lists based on area, industry, company size, and keywords.
FindThatLead thinks that having excellent data and tools you can truly utilize is preferable to getting many phony emails.
That's why they built a whole environment for prospecting clients and immediately reaching out to them without switching to another software.
Key Features:
Findthatlead is a favorite tool among marketers, growth hackers, and sales professionals for prospecting, generating leads, and scaling businesses.
Create prospect lists that are segmented and qualified.
Get anyone's email address with a single click.
Automatically verify emails and Increase the size of your database.
Pricing Details:
FindThatLead's packages are charged on a monthly and yearly basis:
Monthly Packages:
Growth:1 user / 5,000 credits / $49
Startup:4 users / 18,000 credits / $150
Suite: $699 for 6 users and 30,000 credits.
Yearly Packages:
Growth: 1 user / 1,000 credits / $490
Startup:4 users / 5,000 credits / $1,500
Suite: $6,990 / 20,000 credits / 6 users
11. Overloop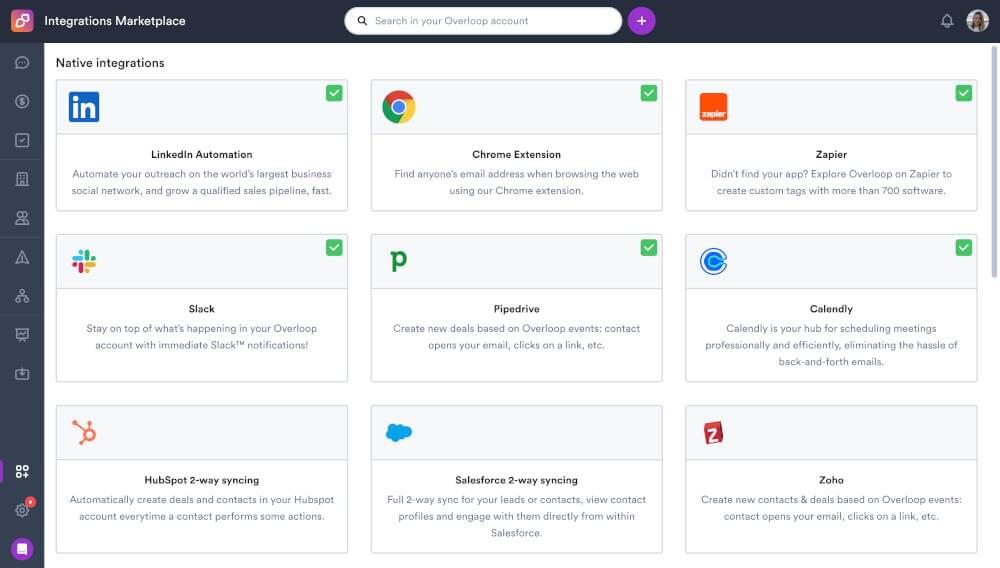 Overloop is a tool with several benefits. It helps you find prospects' email addresses on the Internet in various methods and initiate emailing campaigns. However, Overloop does not allow you to recruit on LinkedIn, which is a drawback given the social network's potential.
You can always utilize new emails to have more conversations and close more transactions, no matter how good a communicator you are in your emails.
Overloop is an excellent tool to find email from websites. When you know the company they work for, you may search for individual persons by first or last name. A bulk email finder is available, which also de-duplicates the contacts and emails in your list. An email verifier investigates why an email was disregarded, whether it is no longer active or if it was wrong.
There's also an email finder Chrome addon that's accessible via Overloop's API. This tool can supplement, rather than replace, your existing tools.
You may use analytics data to measure critical metrics like click-through rate, response rate, and more. This will allow you to evaluate the effectiveness of your ongoing efforts.
Key Features:
Create contacts from anywhere online with its Google Chrome plugin.
Contacts may be generated from any LinkedIn profile or a LinkedIn search. It is compatible with Sales Navigator or LinkedIn Basic.
Import contacts from a CSV or spreadsheet, or migrate from another CRM such as Salesforce, HubSpot, Pipedrive, or others.
Advanced customization possibilities to make your reply box stand out and increase engagement rates
Prospects may be relaunched at the perfect moment with personalized follow-ups.
Discover the email addresses of experts who are affiliated with a website.
Pricing Details:
Overloop has a free and Advanced version for $79 per month for one user and $29 per month for each additional user.
The starting price is $79.00 per month.
There is no free trial available.
A free version is available.
12. ProspectDaddy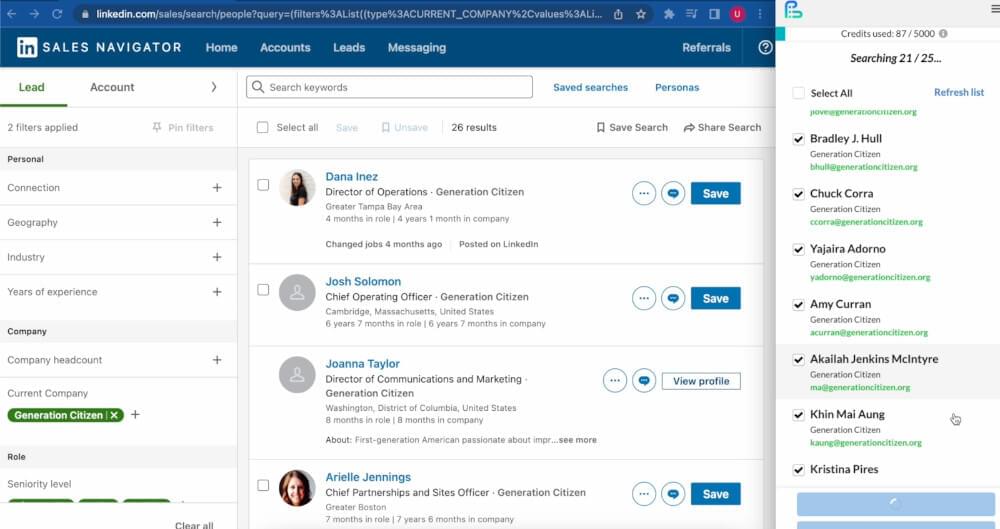 ProspectDaddy is one of the best LinkedIn email finder tool that provides verified business email ids. The email ids obtained from ProspectDaddy can be directly imported to the campaign on SmartReach.io or the list of prospects can downloaded in CSV format. Prospectdaddy extension has to be launched for finding any prospect's email id. The extension also works flawlessly on Sales Navigator as well.
Key Features:
Fetches business email id from Linkedin and Sales Navigator
Imports prospect data directly to the campaign
CSV downloaded gives information such as company, job title, linkedin profile link, city, state and country
Gives 'n' number of email on a single click
Pricing:
On sign-up, 50 lifetime credits
A-la-carte, for $25 get 250 life time credits
Free credits available on taking a paid version of Smartreach.io
Email Automation Tools
In the world of outbound prospecting, automation tools are your best friends. So now that we have discussed about the best email finder tools, let's look into the automation tools that are set to change the game:
13. EasySendy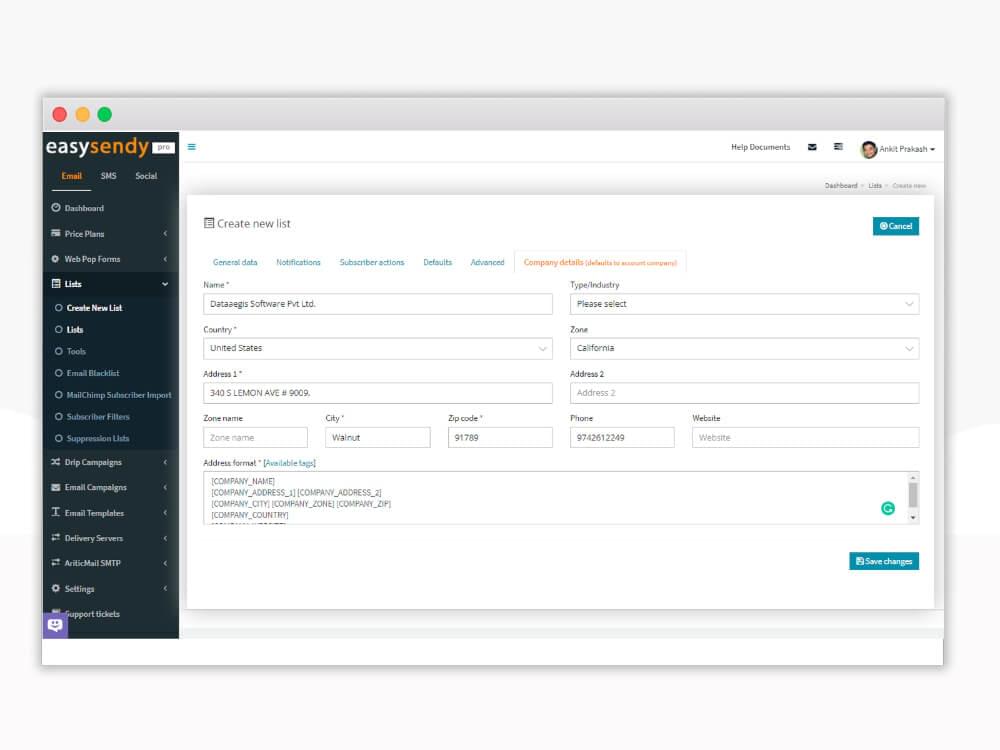 Easysendy is one of the most popular marketing automation platforms that allows businesses to create and send targeted email campaigns to their subscribers, automate their email marketing workflows, and track their email campaign performance.
Some of the key features of Easysendy include:
Automation workflows: The platform offers automation workflows that allow users to send targeted emails based on specific actions or events, such as subscriber sign-ups or product purchases.
Subscriber management: EasySendy allows users to manage their subscriber lists, segment them based on specific criteria, and track subscriber activity.
Third-party integrations: EasySendy integrates with a range of third-party tools, including CRM systems, e-commerce platforms, and social media platforms, to provide users with a seamless marketing experience.
Advanced reporting: The platform provides detailed reports on email campaign performance, including open rates, click-through rates, and conversion rates, allowing users to optimize their campaigns for better results.
Email deliverability: EasySendy uses advanced email deliverability tools and techniques to ensure that emails are delivered to subscribers' inboxes and not marked as spam.
So if your business needs targeted email campaigns, automated email marketing workflows, and continuous email performance tracking, choose EasySendy.
14. Systeme.io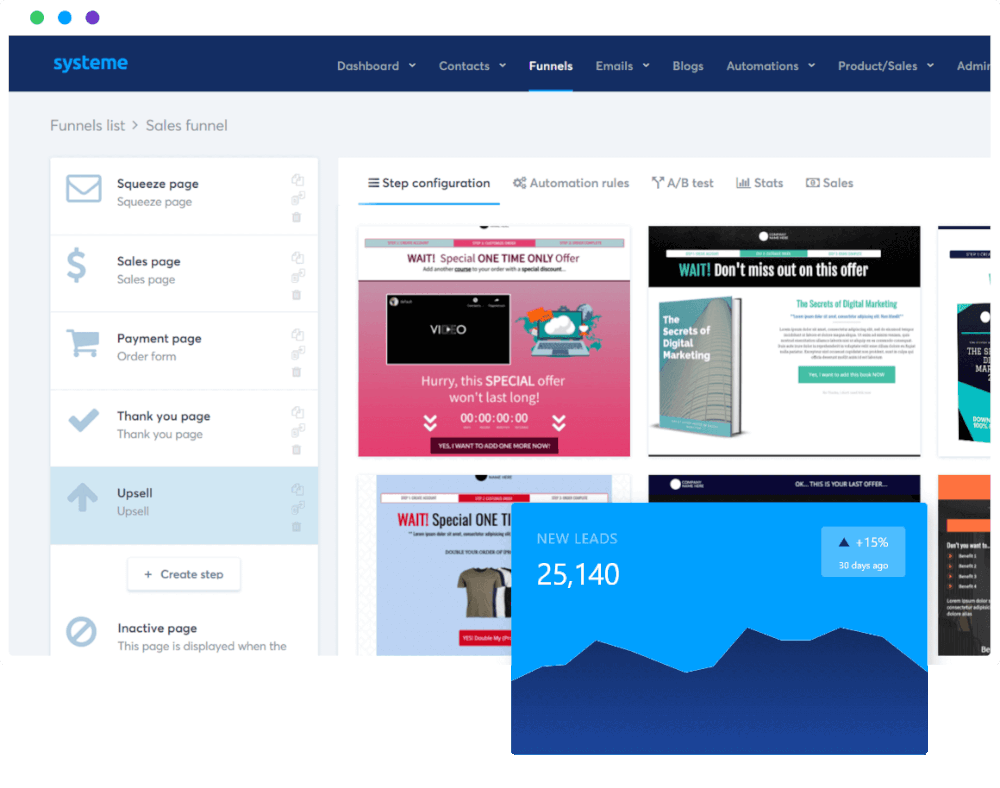 Systeme.io will be the best fit as an email marketing tool as Systeme.io is an all-in-one platform that offers a wide range of tools for entrepreneurs and businesses. One of its standout features is its powerful email marketing tool, which allows users to create and send highly targeted campaigns to their subscribers.
Some of its key features include:
User-friendly interface: The tools comes with a user-friendly interface and a range of customizable templates which makes Systeme.io easy to design and execute effective email campaigns.
Advanced Segmentation: Systeme.io's advanced segmentation capabilities ensure that the right message reaches the right audience, helping businesses increase engagement, build relationships, and drive sales.
Email marketing: Systeme.io includes a powerful email marketing tool that enables businesses to create and send targeted email campaigns to their subscribers.
CRM: Systeme.io includes a customer relationship management (CRM) tool that helps businesses manage their customer data, track interactions, and improve customer relationships.
Sales funnel builder: Systeme.io allows businesses to create custom sales funnels to drive leads and sales for their products or services.
In the world of sales prospecting, this tool is a must-have. Whether you're just starting or looking to take your email marketing to the next level, Systeme.io is an excellent choice.
15. UseBouncer
UseBouncer is an email validation and verification service that offers a free email checker to test how their service works in real time without requiring any registration. UseBouncer helps reduce time and effort in cleaning and maintaining your contact database, as well as segmenting and engaging your audience.
Some of the key features of UseBouncer include:
Email verification: UseBouncer provides email verification services to help businesses verify the validity of their email lists and reduce bounce rates.
Real-time email validation: UseBouncer provides real-time email validation services to ensure that email addresses are valid and deliverable before sending an email.
Bulk email verification: UseBouncer allows businesses to upload their email lists in bulk and verify them quickly and easily.
API integration: UseBouncer offers API integration to allow businesses to automate the email verification process directly from their applications or websites.
Dedicated support: UseBouncer provides dedicated support to its customers to help them with any questions or concerns they may have about email verification and list cleaning.
Overall, UseBouncer is a powerful tool for businesses that helps them verify their email lists quickly and efficiently, ensuring that their email campaigns reach their intended audience.
16. EmailSmart.io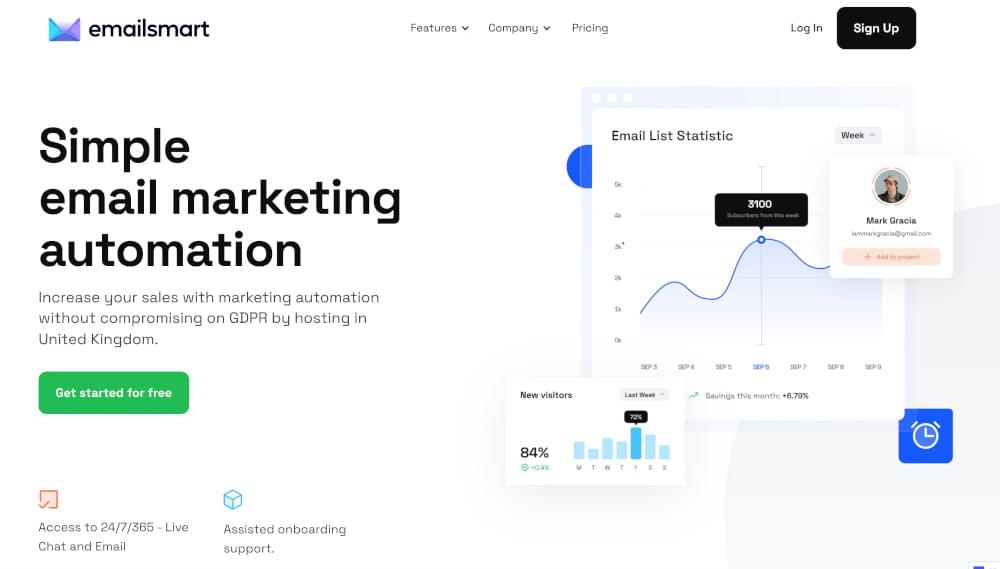 EmailSmart.io is an email marketing automation tool that helps businesses automate and optimize their email marketing campaigns. It provides a range of features to help businesses create, send, and track emails, as well as analyze and optimize the performance of their email campaigns.
Some of the key features of EmailSmart.io include:
Drag-and-drop email builder: EmailSmart.io provides an intuitive drag-and-drop interface that makes it easy to create professional-looking emails without any coding knowledge.
Automated workflows: Businesses can set up automated email campaigns based on user behavior, such as abandoned cart reminders, welcome series, and follow-up campaigns.
Personalization: EmailSmart.io allows businesses to personalize their emails based on subscriber data, such as name, location, and purchase history.
A/B testing: Businesses can test different email variations to optimize their email campaigns and improve engagement rates.
Reporting and analytics: EmailSmart.io provides detailed reports on email performance, such as open rates, click-through rates, and conversion rates, to help businesses track the success of their email campaigns.
So if your business is looking to save time and resources by automating its email marketing campaigns while also improving the effectiveness of its emails through personalization and optimization, EmailSmart.io is the best option for you.
17. GetResponse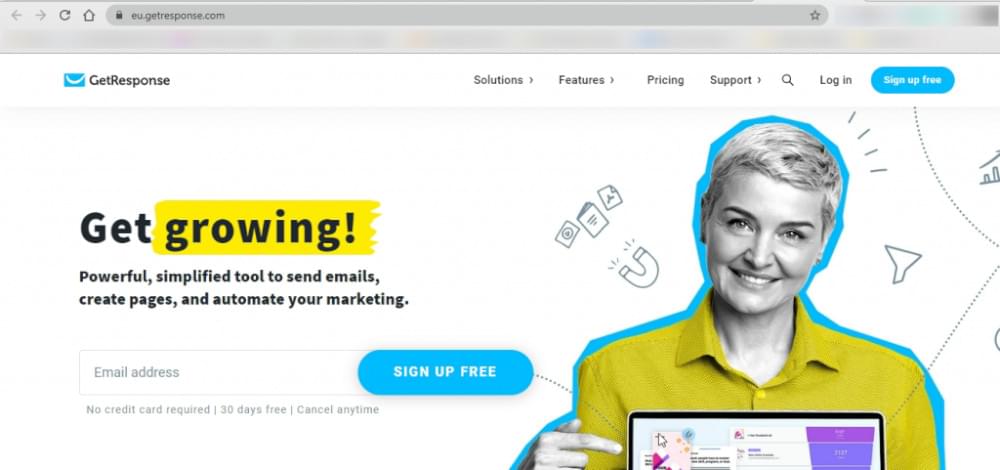 GetResponse is a comprehensive marketing automation platform that offers businesses a range of tools to produce and handle email marketing campaigns, webinars, landing pages, and sales funnels. Its range of features and integrations make it a versatile and flexible solution for businesses of all sizes.
Some of the key features of GetResponse include:
Email marketing: GetResponse provides a range of email marketing tools, including drag-and-drop email templates, automation workflows, A/B testing, and advanced segmentation options.
Sales funnels: This tool offers a sales funnel builder that allows businesses to create and manage their own custom sales funnels to drive sales and conversions.
Marketing automation: GetResponse provides a range of marketing automation features, including abandoned cart recovery, lead scoring, and behavior-triggered campaigns.
Integrations: It integrates with a wide range of third-party tools and platforms, including Shopify, PayPal, Salesforce, and more.
Analytics: GetResponse provides detailed reports and analytics on email and landing page performance, as well as audience insights to help businesses optimize their campaigns.
This email marketing tool is all about helping businesses grow their audience. GetResponse is a slightly complicated tool but it comes with a variety of detailed features that can help businesses big time.
18. SendinBlue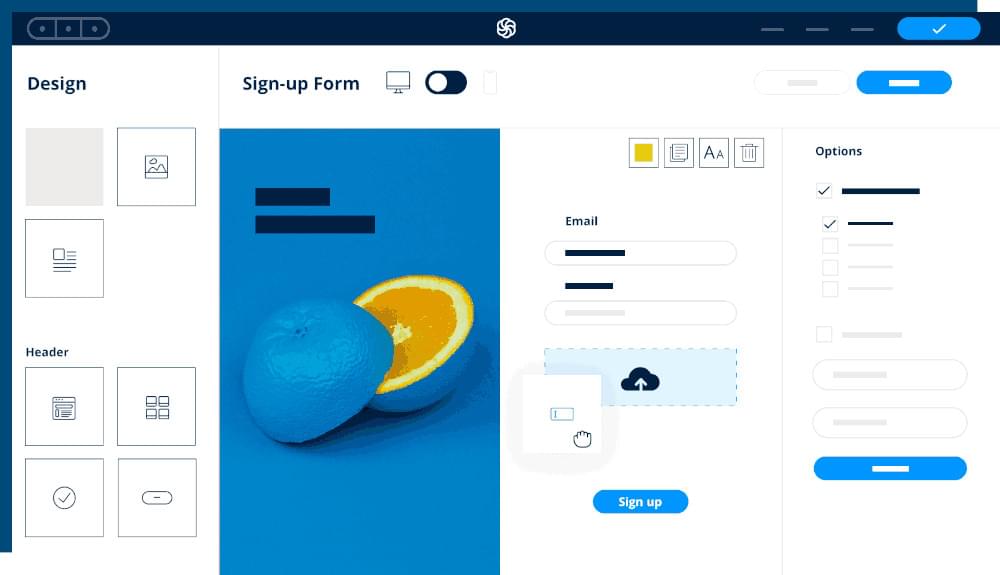 As the slogan says, SendinBlue is a SaaS tool is a conglomerate of all digital marketing tools in one place. This cloud-based marketing automation platform provides businesses with tools to manage their email marketing, SMS campaigns, transactional emails, and more.
Some of the key features of Sendinblue include:
Transactional emails: Sendinblue provides a transactional email platform that allows businesses to send automated emails such as password resets, account updates, and order confirmations.
Analytics: This tool provides detailed reports and analytics on email and SMS campaign performance, as well as audience insights to help businesses optimize their campaigns.
Landing pages: Sendinblue offers a landing page builder that enables businesses to create custom landing pages to capture leads and drive conversions.
Email marketing: This tool provides a comprehensive solution for email marketing, which comprises drag-and-drop email editors, advanced segmentation options, A/B testing, and automation workflows.
Marketing automation: It comes with a range of marketing automation features, including abandoned cart recovery, lead scoring, and behavior-triggered campaigns.
Overall, SendinBlue is a flexible and scalable digital marketing solution for businesses of all sizes. So whether you need help with landing pages or transactional emails, SendinBlue is the right choice.
19. SalesIntel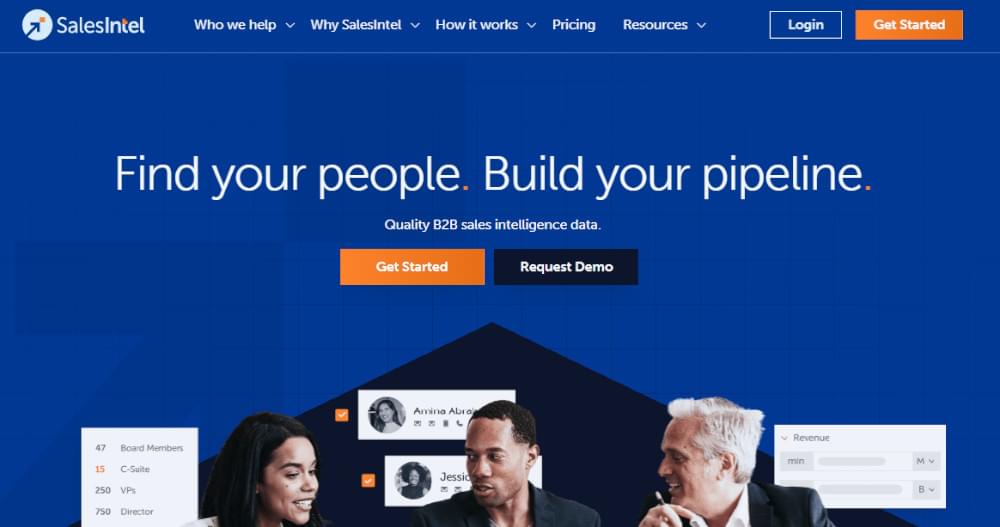 SalesIntel is a SaaS go-to-market intelligence platform that helps sales, marketing and revops teams easily identify high intent accounts. It also offers a real-time prospecting tool - RevDriver, a free Chrome extension, to access contact data while visiting a prospect's website or LinkedIn profile.
SalesIntel helps marketing and sales teams to find human-verified B2B contacts and company accounts. In addition to emails and direct cell phone numbers, it offers intent data of ready to buy prospects, information on who visited your website, company news and alerts on hiring, funding, new product launches, and much more. With access to such accurate data and insights, sales teams know who and when to approach to close more deals faster.
Key Features:
100M+ verified contacts, 22+ million company accounts, 300M+ unique technographics, B2B buyer Intent Data, company news and alerts, and VisitorIntel (website visitor data)
Research on-demand (with a 2000+ human-verification team), data enrichment, free Chrome extension.
Native integrations with leading CRMs and marketing automation systems including Salesforce, Marketo, HubSpot, SalesLoft and others.
90-day re-verification to maintain 95% data accuracy
Unlimited credits for all enterprise license users.
Pricing Details:
Besides a free Chrome extension, RevDriver that offers 10 recurring monthly credits, there are three price tiers for SalesIntel:
Individual ($69 per month)
Teams ($199 per month)
Enterprise (Price on request)
Top 04 Elements of An Effective Email
Now that you have gathered a list of high-quality leads through one of the above-shared email finder tools, it is time to shoot out your first email.
But wait! This is your chance to make a first and lasting impression, so ensure the email you send out is carefully crafted and impeccably finished. Here are some of the top elements that MUST be a part of your email:
A direct, concise subject line: Every email your business sends has to have a descriptive yet succinct subject line. Doing this will enable recipients to determine its importance.
Proper Grammar: Avoid using lingo and abbreviations originating from the realm of instant messaging. When sending an email, try to use proper grammar and correct spelling.
Personalized Greeting: Don't forget to add a greeting not only for the personalization factor but also to make the reader feel welcome.
Clear Closing: End your email with a clear CTA according to what you expect the recipient to do. Because if you aren't specific, there's a high chance you won't receive any response or action to the email. So, try and add a clear closing.
Final Words
So that's it, the top 15+ email finder and automation tools you can employ to make your business skyrocket its sales! The tools we have shared come with various key features and pricing plans. So have a look and determine which one fits your business requirements best. As a standard practice, taking the free trial before purchasing any package is best. So start with that and see which tool works for your brand best.