The cloud has developed into an important tool that is necessary to our modern digital life and there are many benefits to cloud-based storage, whether it is used for personal or professional purposes. Today, one of the most practical and effective ways to save data online is through cloud storage. this, along with other benefits, is creditted to exceptional cloud data security
However, if you are unfamiliar with it, adopting it can be challenging, but it is well worth the effort. In this blog, we'll go over the benefits of using cloud storage over traditional methods for data storage and some cons of cloud storage as well.
So let's dive right into it!
Well, it is believed that in this digital era, everyone is in need of cloud, as it is one of the best ways to keep your digital data safe and always accessible. All you need is an internet connection.
But the question is how much storage is enough?
To determine how much storage you require, you need to evaluate how much data you currently have and predict how much data you may accumulate in the months ahead. The trick to effectively managing your storage demands is to choose the right amount of storage space at the appropriate moment.
According to Zippia's, from 2015 to 2022, significant number of businesses has adopted cloud to store their corporate data in the cloud. In 2022, up to 60% of business data was being stored in the cloud.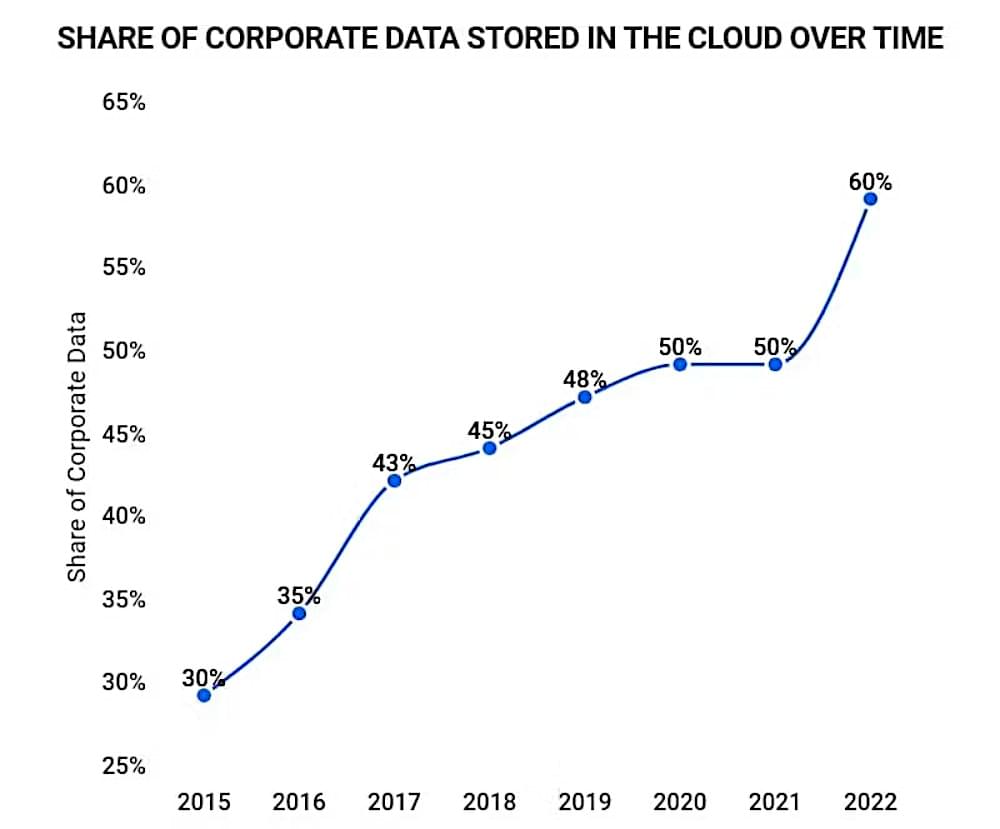 Cloud has gained so much popularity that companies are migrating their workloads to the cloud at a rapid pace. As of the survey, 39% of users have more than 50% of their corporate data on the cloud, and 58% intend to achieve this objective in the upcoming 12 to 18 months.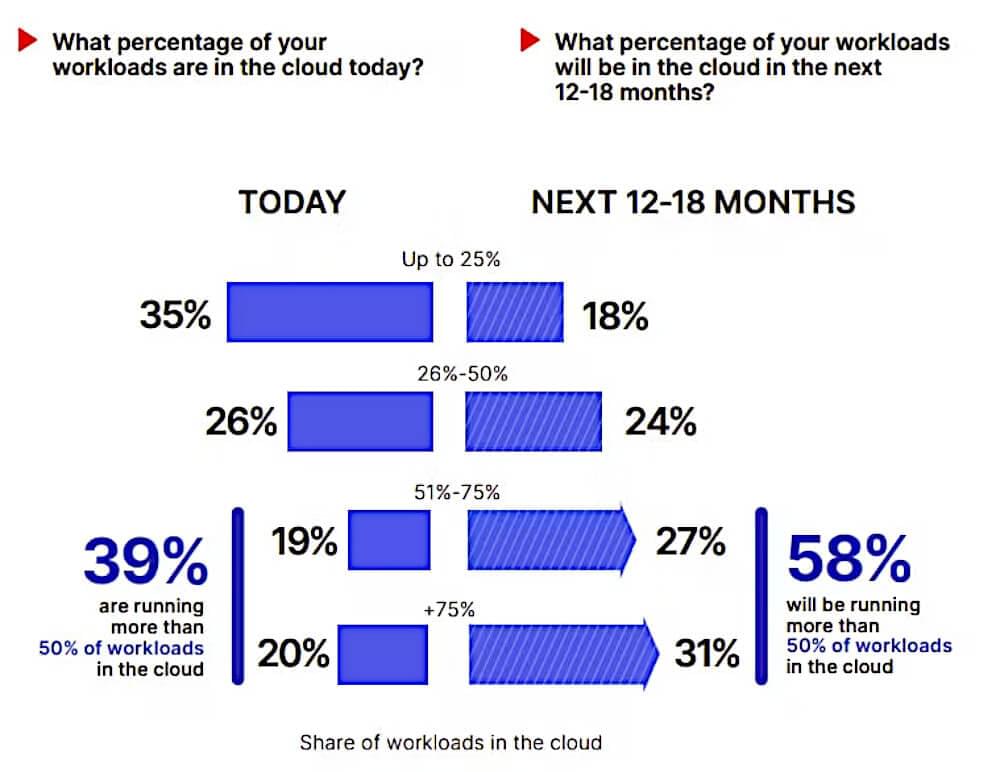 Let's talk about the benefits of cloud storage. What are the primary factors leading individuals to choose cloud storage vs local storage systems?
Advantages of Cloud storage
The potential advantages of cloud computing storage are numerous and applicable to many different sectors. Go through them one by one!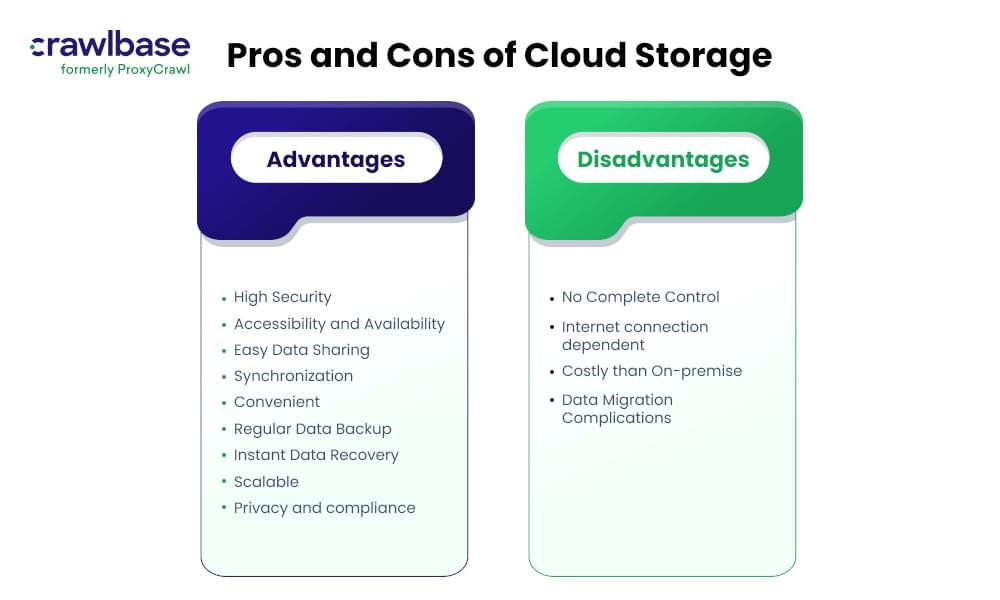 1. Security
Cloud providers go above and beyond with their security precautions, which include encryption, multiple-factor authentication, and regular data backups, to prevent unauthorized access to the data. This helps to reduce the danger of security breaches and damage. Furthermore, a lot of cloud services like Crawlbase Storage API provides strong security measures, including protection for data centers, software, and applications.
2. Accessibility and Availability
With a cloud-based storage system, your data will always be available and accessible to you regardless of your location or device as long as you have a dependable internet connection. This is due to the fact that redundant servers and data centres are used to ensure that your files are always available even if the main server crashes.
3. Easy Data Sharing
It has always been difficult to share files and data securely, but not anymore. You can share files with people using cloud by simply sending them a link, and you can configure permissions to manage who has the data and what privileges they have over it. Now, you may share your data securely with coworkers or team members located anywhere in the world.
4. Synchronization
The incredible feature above all is that all of your connected devices receive regular data synchronization. Without losing the changes, you can access the data you were working on from another device too. Furthermore, you won't need to manually transfer the file you may start from where you left off.
5. Convenient
Data storage has become more convenient as a result of cloud computing because it has replaced the need for secondary storage devices and encouraged you to save your data online rather than on your device or on any physical device. You can access your data at any moment  or you can  download it to your device. Furthermore, since everything is done online on the virtual servers of cloud providers, uploading data and viewing it won't take up any space on your device.
6. Regular Data Backup
Cloud storage allows for automated and regular backups of data, which helps safeguard against data loss due to hardware failures, natural disasters, or human errors. Backups are stored off-site, reducing the risk of losing critical data in the event of an on-premises disaster.
7. Instant Data Recovery
There is no doubt that backups are necessary for data accessibility and integrity, but keeping up with the growing capacity needs can be difficult. For this reason, cloud storage enables data backup and recovery solutions so cloud users can recover their data from their backup plan in the event of a disaster or if they lose the data due to any difficulty.
8. Scalable
If the storage plan you chose initially is not enough for your business now due to more or less storage capacity, there is nothing to worry about because, with the scalability feature, you can instantly scale up or down the storage capacity for the plan you are using.
9. Cost Effective
Cloud storage eliminates the need for on-premises storage infrastructure and ultimately reduces upfront costs. As instead, you can opt for a subscription plan or use the pay-for-what-you-use pricing model, which allows organizations to only pay for the storage volumes they use. Cool no?
10. Privacy and compliance
In order to guarantee that data in the cloud is secure and handled according to relevant privacy laws and regulations, cloud providers must follow the industry rules and guidelines related to data privacy. Features like data encryption, access restrictions, and auditing are used to comply with regulatory requirements.
Disadvantages of Cloud storage
Even while cloud storage provides numerous advantages, there are also some disadvantages and cloud storage risks that should be kept in mind.
Let's take a look at them.
1. Internet is the key:
You can only access cloud-based storage systems with a stable internet connection. If you don't have the internet you cannot access, or even view your data.
2. Cost:
The upfront costs of on-premise storage services are eliminated by cloud storage, but if your storage requirements increase, you will have to purchase additional storage space.
3. Security:
When you store your data in the cloud, you are actually trusting the service providers with your data and it's on the internet means you don't have full control over your own data. The providers are responsible for their cloud based security and who might access your data. Furthermore, no technology or platform on the internet is 100% secure means that there is always the possibility of data breach and loss.
The Crawlbase Storage provides secure and reliable services with regular data backups and maintenance, so you don't have to worry about data breech and loss. Moreover, it lets you store, search, and scale storage according to your storage volume demands. The API is easy to use and has the most affordable prices, including a free basic version, allowing businesses to focus on their core objectives while the API takes care of everything else, from cleaning to data backup.
Our Advice: Do not give up on cloud-based storage systems.
4. Migration Issues:
Data migration can be an issue if you wish to migrate your data from one storage provider to another. These issues are due to various factors, such as compatibility issues between the providers and the risk of data loss or corruption during the migration process of data between cloud providers.
Wrapping up
Cloud storage is seen as essential in this digital era for everyone to reliably and affordably store their data in the cloud. What else is required when a Storage API provider manages your data, secures it, and grants remote access so that it may be shared and retrieved anywhere and at any time right? Characteristics such as strong data cloud security make cloud a suitable choice for online data storage and give it significant importance. That's it for this blog we hope you have understood the importance of cloud storage, as well as it's advantages and disadvantages. Yet, the pros do outweigh the cons.