Do you remember keeping your private and business information in secondary storage files? And then there was a change in technology, and all of a sudden you started keeping your data on Google Drive and Dropbox? This shift allowed for data to be stored in the cloud, and the internal cloud storage helps you access and manage your data anytime, from anywhere.
Currently, cloud services have expanded from simple storage to enormous data storage providers that enable you to perform all actions via the cloud, along with other benefits. The advantages of cloud storage are extensive, such as high data accessibility, easy file sharing and communication, continuous backups, and flexibility to handle storage needs.
Moreover, the ease of use and flexibility have significantly changed how data is managed and stored in the present digital world.
In this blog, let's learn more about cloud storage, how it works, its use cases, and much more!
So, what is cloud storage?
Before you think Cloud Storage is Storage in space and it can fly like our granny over here thought so for cloud computing.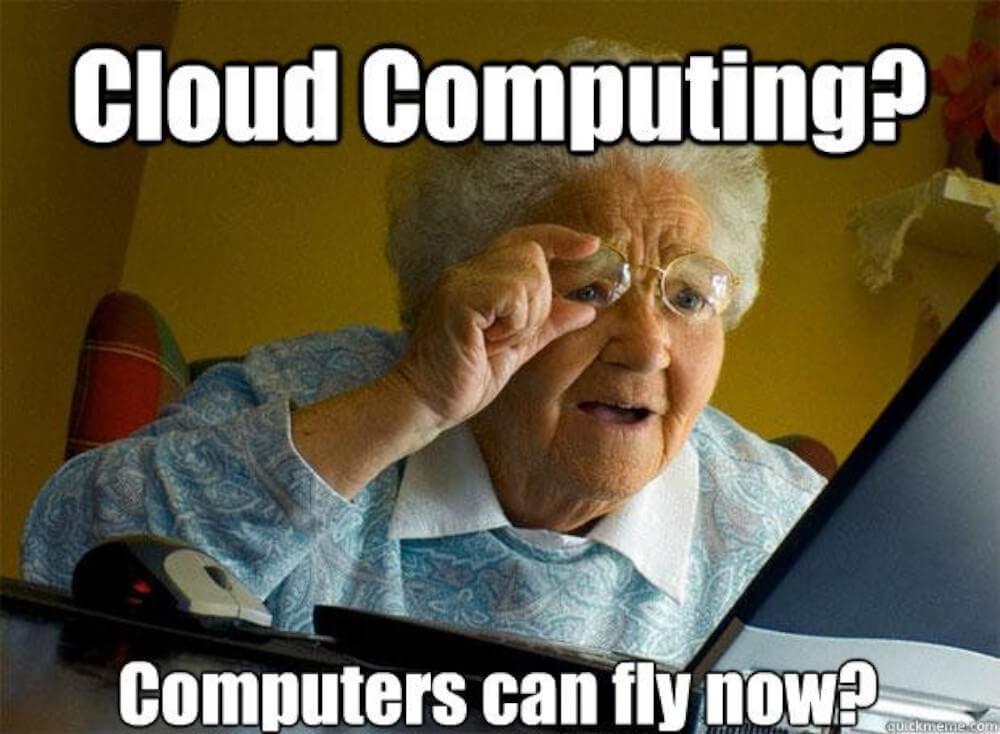 Let us tell you Cloud Storage is referred to as "Storage on the Internet"
In simple terms, cloud storage is a part of the cloud computing environment, in which your data and files are stored on the internet using third-party servers. This gives you the power to enjoy remote access and share the data whenever needed.
In short, there is no need for local storage systems once you are using the cloud.
These systems are maintained by a third-party provider, which is responsible for hosting, managing, and securing the data stored on their servers. The provider ensures that data on its servers is always accessible from any device that is connected to the internet.
You might be thinking that cloud would be expensive!
Let us tell you that, it's not expensive at all. Shocked right?
Actually, cloud base storage systems do all the work for you and offer large storage capacities at a very low cost. They also eliminate the need to purchase and manage data storage infrastructure. As compared to local storage, it is very cost-effective, by storing data in the cloud, your organization only pays for the storage volume and capacity you are using.
In simple words, pay only for what you are using!
If you have a small business, do you have to buy a large storage capacity?
The major goal of the cloud-based storage solution is to meet your needs. Having a small business does not require you to purchase storage with a high capacity. The amount of storage space required by a small business totally depends on the needs of that business.
For small business to understand their needs, they must first evaluate their data storage requirements, the degree of required data redundancy and backups, and the nature of their business. Storage requirements depend on the type, and size of data being stored
Many cloud providers offer flexible storage options to meet the needs and financial constraints of small businesses.
It is normally believed that small businesses with a maximum of 25 employees do not need more than 10 TB of cloud based storage. Moreover, any time you think of expanding your business, you can easily adjust the storage capacity based on your needs.
However, companies with 25 to 100 employees may require 10TB or more, depending on their specific needs, such as data type, redundancy needs, and business operations.
The cloud has got your back, so regardless of how big or small your company is, you don't have to worry about managing your resources for data storage or scaling the storage capacity!
Its purpose can be viewed as a service that securely stores, manages, and offers high data availability, accessibility, and scalability in storage volume at an affordable price. In short, make data access easy and secure!
Using cloud, you can remotely access your data at any time, from any location, using any device.
How cloud storage works?
Cloud storage works on the principle of using data servers on the internet to save your data. Your data is stored in data centers that are maintained by cloud storage providers. Whenever you have access to the internet, you can easily upload, and retrieve your data from anywhere in the world. When you connect to a cloud service to upload data, the cloud server forwards your data to multiple virtual servers spread out across various places. The reason for this is to ensure high availability and remote access, and that the data would still be available in the event of maintenance, power outages, or natural disasters. This drastically reduces security threats to cloud data.
Anytime your storage requirements expand, the storage provider will set up extra virtual servers to accommodate your demand and manage the load too.
When you buy storage from a cloud service provider, you give up the majority of control over the data storage, and they take care of everything for you, including storage capacity, privacy, and data availability and delivery using storage servers with computational capabilities.
Types of Cloud Storage
There are four types of cloud storage:
Public
Private
Hybrid
Community
We've built a table including advantages of cloud storage to make it simple to understand so that you can quickly understand their concept!
Understanding Cloud Storage Types and Comparison
| Features | Public | Private | Hybrid | Community |
| --- | --- | --- | --- | --- |
| What it is? | Third-party service provider cloud storage. | Cloud storage dedicated to a single organization. | A hybrid cloud storage model (Public+private) that gives businesses the flexibility to decide where to store their data. | Shared cloud storage infrastructure used by multiple organizations. |
| Advantages | Cost-effective, Scalable, Flexible, High availability, Reliable | High security, High control over data, Flexible, High performance, Customization | Flexible, Scalable, Reduced cost, High Security | Reduced Costs, High security, Customization |
| Disadvantages | Less control over data, Security concerns, Performance | Higher costs, Requires maintenance, Scalability | Complex implementation, Compatibility issues | Limited availability, Slow Adoption, Less security, Cannot be best for everyone |
| Use Cases | It is considered best for: File sharing, Backup and recovery, Data archiving | It is considered best for companies with: Big budget, Confidential and important data, In-house data centers and application hosting | It is considered best for: Disaster recovery and backup solutions, Data archiving | It is considered best for: Healthcare Sectors, Financial Sectors, Education Sector,Collaboration with different organizations |
Use cases of Cloud storage
Cloud storage has transformed how data is saved, viewed, and managed in the digital age today. Moreover, its significance cannot be underestimated, given the exponential growth of digital information and the rising demand for remote data accessibility. The fact that cloud is cheaper than other options is the main benefit of using it. Also, its significance and usability on the internet is further highlighted by a few other factors.
Cloud can be used for real-time collaboration as people can access and edit shared files in real-time, and workflows can be more easily streamlined because many people can collaborate on the same document at the same time.
The cloud can be used as an integral part of the business workflow by automatically storing and retrieving data, which will enable them to improve workflows, enhance productivity, have faster communication, and achieve higher efficiency in achieving business objectives.
People working as a remote team for an organization can use the cloud since it facilitates file sharing, data access, and retrieval all at once, simplifying workflows. Most cloud providers have launched built-in apps to facilitate work collaboration remotely.
If you are worried about the version or the recent activity on the files, then don't worry! The cloud provider actively updates the file to the most recent version for everyone, which ultimately ensures that everyone is seeing the same version. Furthermore, cloud storage also provides you with a history of modifications made to the documents.
You can use the cloud to free up space from your device, or if they are scattered on multiple devices, you can just upload them to the cloud, sort them, and create digital collections.
Wrap Up
Cloud computing has definitely revolutionized the way we store and handle data by providing cost-effective, scalable, and adaptable options. Also, there are several types of cloud storage to accommodate user needs based on business models and goals while still allowing users to take advantage of its ease, accessibility, and dependability. We are confident that as technology develops further, cloud storage will continue to grow and offer even more cutting-edge options for handling and storing of our digital belongings.