Do you need a powerful scraping tool for
Hotels.com

?
Get
Crawlbase

now!

Create a free account and then apply from the dashboard.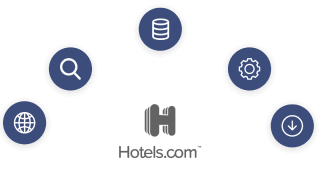 As part of Expedia Group company, Hotels.com has become a leading provider for hotel accommodation worldwide with over 80 websites in 34 languages. If you are looking to scrape hotel, lodging, and condo listings for your project or business, then this website should be on top of your priorities as Hotels.com has a massive database with over 320,000 listings in roughly about 19,000 different locations.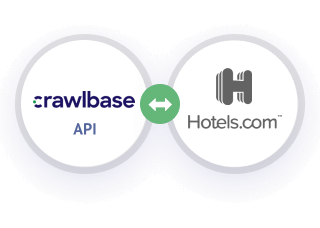 However, scraping massive data from such a site does come with caveats. Like most websites, Hotels.com has bot crawler protection that can be triggered if anyone tries to access their site autonomously and repeatedly. Crawlbase understands this difficulty that is why we have developed an API solution to help you build a web scraper that can avoid IP blocks and solve CAPTCHA problems with ease.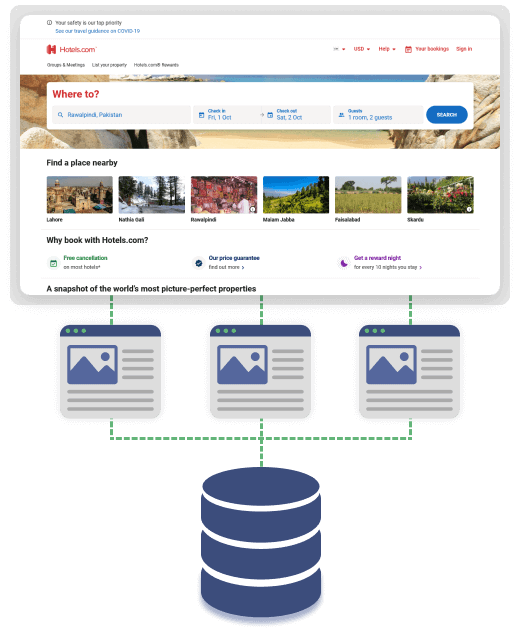 Highly optimized for crawling and scraping Hotels.com content
• Scrape as much data as you need. No bandwidth restrictions.
• Top-quality servers with 99.9 % network uptime.
• Rotating proxies on each API request to ensure high success rates.
• No subscription required. Get 1000 free requests upon signing up!
Start crawling in minutes
The complete solution for your data collection needs
Crawlbase offers a wide variety of tools that can help accomplish your business goals faster. We have created a platform to solve all problems you may encounter when scraping online content.
All our APIs are designed to be highly scalable and as efficient as possible, as we believe that everyone should have the freedom to access any publicly available data.
Use our Crawling API to get the full HTML code and extract any content that you want.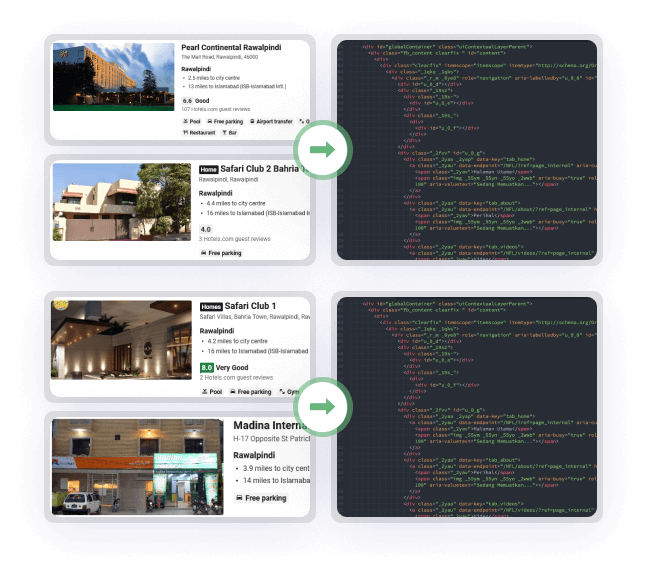 Stay secure and anonymous at all times while scraping Hotels.com
Our products are built on top of millions of residential and data center proxies, allowing you to extract Hotels.com content with great accuracy, including search results, hotel ratings, prices, images, and more.
With our high rate limit, you can get all sorts of data for your SEO, data analysis, marketing research, or any projects while saving you from the inconvenience of setting up rotating proxies or infrastructure.
Start crawling in minutes
Easy-to-use API for everyone
For beginners and experts, for small and big projects, for casual users and developers. Our API is so convenient to use you can start scraping Hotels.com search results in minutes.
Get your authentication token now and try your first API call with just one simple cURL request: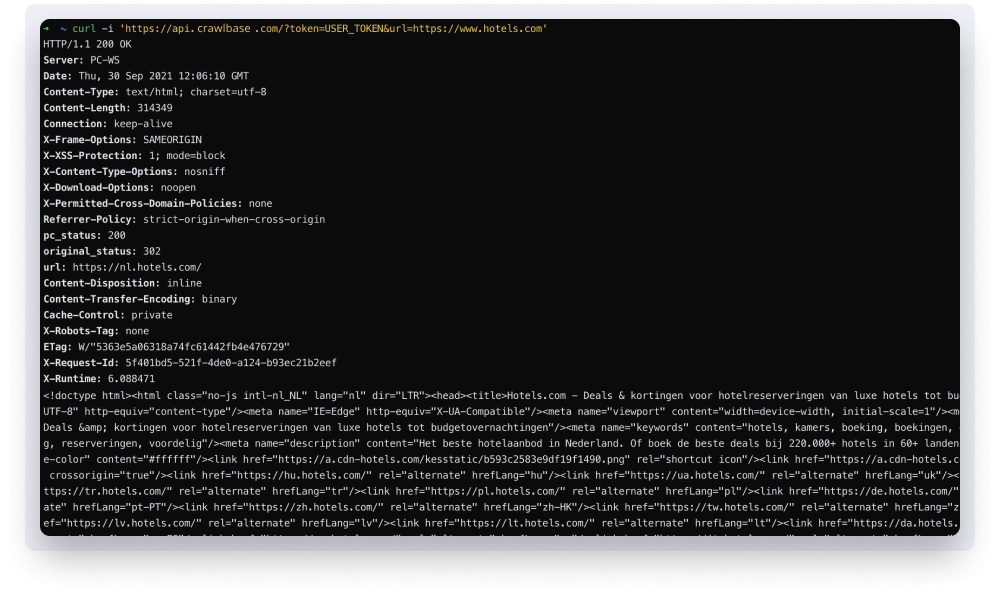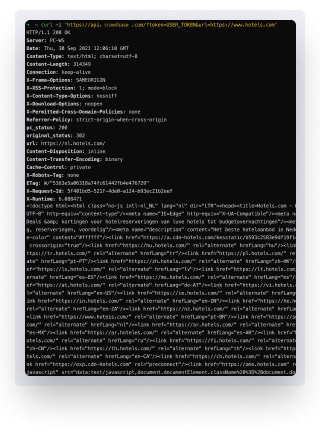 Why choose Crawlbase?
We are committed to becoming everyone's gateway to data freedom. That is why thousands of individuals and companies around the world love Crawlbase.

Simple pricing
Choose between tiered or subscription-based products. Guaranteed no hidden fees.

No long-term contracts
It is your account, and you decide when to stop. You are free to cancel anytime.
Frequently Asked Questions
What is the rate limit of your API?
The default rate limit for most websites is 20 requests per second. However, if you need to scale it up to meet your production needs, you can easily contact us to discuss your rate limit increase.
I want my requests to come from a different country, is that possible?
Geolocalization is one of our API's capabilities. You can use the country parameter if you want your requests to be geolocated from a specific country. By default, your account will have access to more than 25 countries that you can use anytime on each of your API requests.
What happens if my request fails?
We have a very high success rate in most cases, but in the event your request fails, you can simply retry the request as failed requests are not charged.
I need to get more search results in one API call, is this possible?
Yes, since Hotels.com SERP is using infinite scrolling to load more results, you can pass the scroll parameter that will allow you to scroll the page for X number of seconds. You may visit our documentation to learn more.
Customers & Clients
Used by the world's most innovative businesses – big and small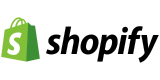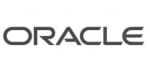 Supporting all kinds of crawling projects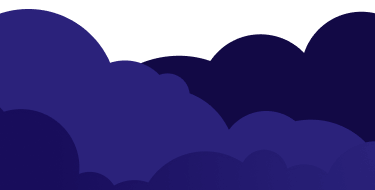 Start crawling and scraping the web today
Create a free account and then apply from the dashboard.

Start crawling in minutes