The number one web crawler for Expedia
Access and extract unlimited website data with minimal effort using our crawling and scraping tools.
The fastest and most reliable API with virtually zero downtime.
Highly scalable APIs designed for easy deployment and integration.
No bandwidth restrictions. Use the API as often as you need.
Get 1,000 FREE requests upon signing up. No credit card required.
Create a free account and then apply from the dashboard.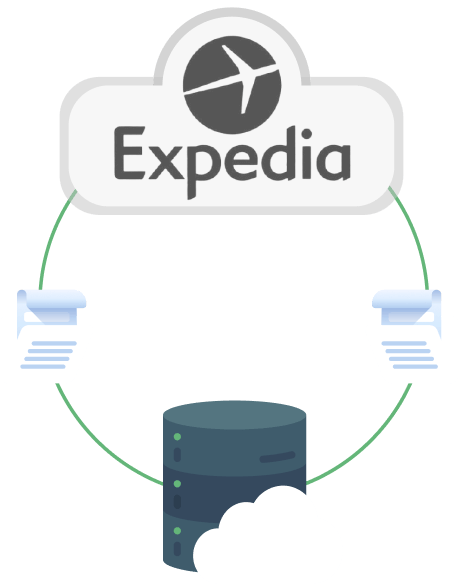 Avoid the hassle of getting blocked
Crawl and scrape Expedia flights and hotel information pages with ease!
Expedia is an American online travel shopping company and one of the top websites for hotel, car, and flight bookings. Powered by more than 60 terabytes of data and decades of innovation, it is a great place to gather massive data used by data analysts and various business marketing teams.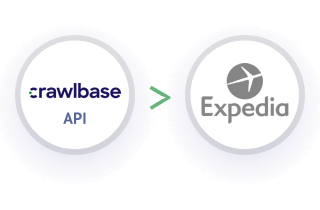 However, like most websites, Expedia has bot detection algorithms easily triggered if anyone will try to access their site autonomously and repeatedly. This can be very frustrating and causes unwanted delays. Crawlbase understands the difficulty that is why we have built an API solution to help anyone that needs access to data.
Stay protected and anonymous while crawling Expedia content
Each API request will go through our pool of thousands of rotating proxies worldwide that can easily bypass all obstacles when scraping website data. Stop worrying about CAPTCHAs and avoid getting blocked. Crawlbase will handle your connection to the website so you and your team can focus on extracting those needed data for SEO, market analysis, product listings, etc.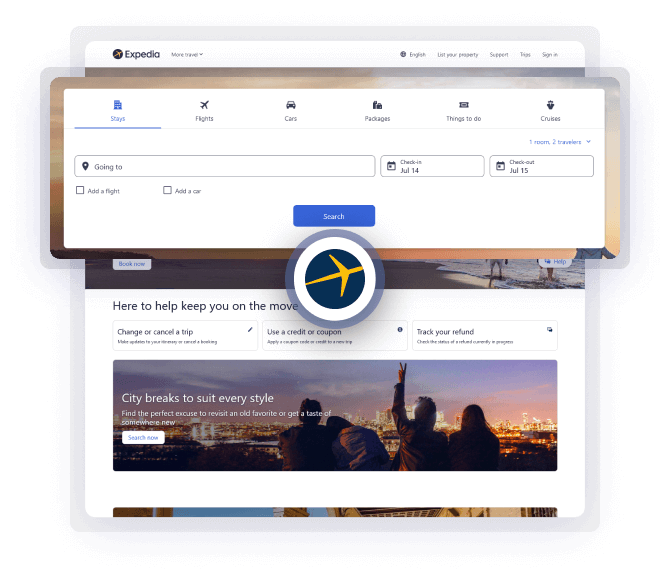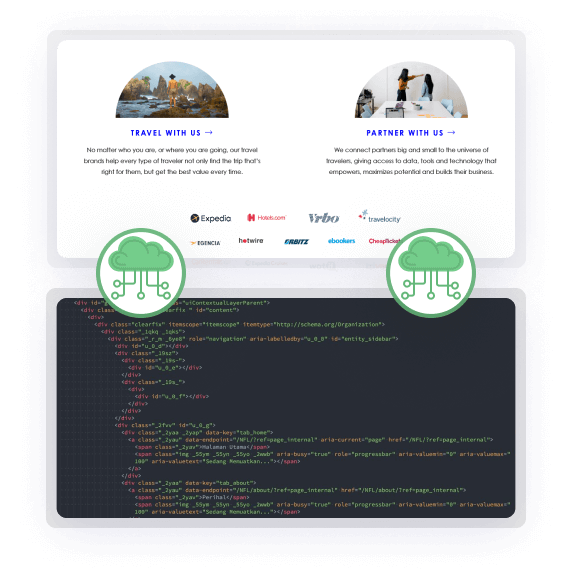 Extract all offer listing, booking prices, and more!
With Crawlbase, you can always query fresh data. You have the option to retrieve the full HTML source code or get the scraped content instead, execute normal API requests or switch to JavaScript rendering when needed, or utilize our wide range of parameters to further enhance your scraping capabilities. Every Crawling API feature is available at your disposal with no hidden fees.
Simple but highly scalable API for everyone
Easily deployable API perfect for beginners and experts, small and big projects, casual users, and developers.
Compatible with any programming language, including free-to-use libraries for Python, Node.js, Ruby, PHP, and more.
Join us now to get your token and make your first API request. Crawl Expedia URLs with just a simple cURL command: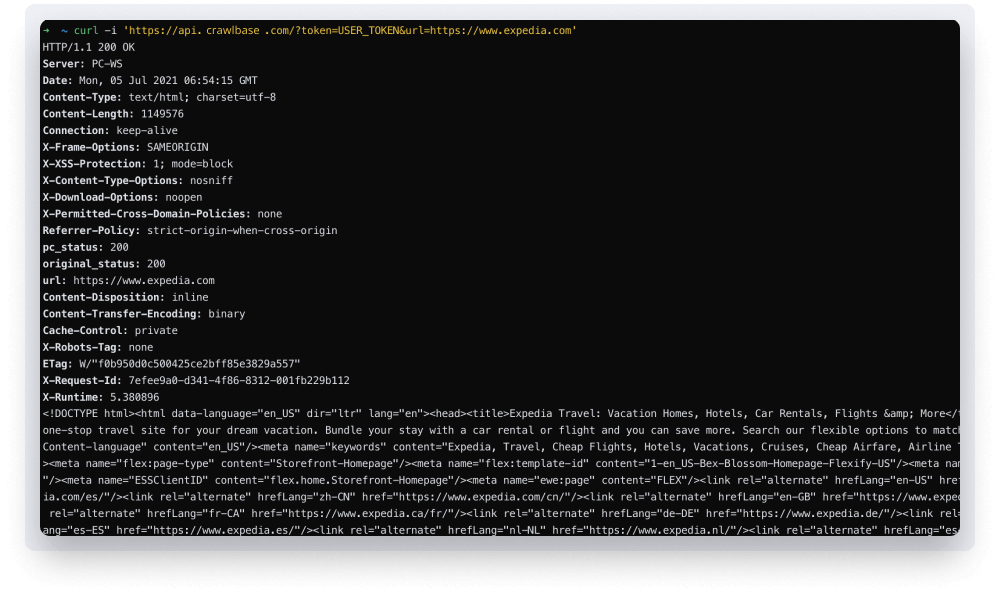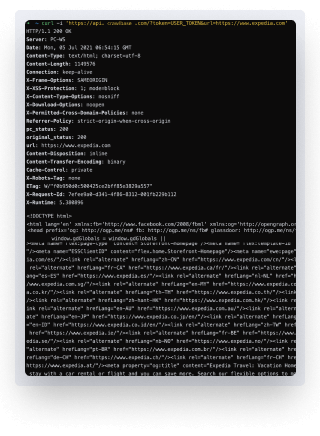 The all-in-one solution for your data collection needs
Use our Crawling API to get the full HTML code and scrape any content you need.
Take a screenshot of an entire Expedia page in high resolution if you wish to keep track of any visual changes with our Screenshots API.
Send your crawled pages straight to the cloud using the Crawlbase's Cloud Storage.
For big projects, use the Crawler with asynchronous callbacks to save cost, retries, and bandwidth.
Start using Crawlbase now
Crawlbase is loved by thousands of individuals and companies around the world. Our products have been tested by many and are continuously generating satisfied clients over the years.
At Crawlbase, we take care of our clients. Our team of engineers and support group works together to provide world-class support and make sure every client is happy. We do not settle for less and we are always striving to improve our products and services.

Test for free
Your first 1,000 requests are free of charge, sign up now

No long-term contracts
It is your account and you decide when to stop, can be cancelled at any time.

Simple pricing
Use now, pay later. No hidden charges.
Frequently Asked Questions
What is your API's limitation in terms of usage? Is there a rate limit?
Our API is designed to scale and handle big projects with ease. The data bandwidth is unlimited, with a default rate limit of 20 requests per second. If you need a higher rate limit, please contact our support team to raise your concern.
What happens if my request fails?
A. We have a very high success rate in most cases, but in the event your request fails, you can simply retry the request as failed requests are not charged.
I want my requests to come from a different country. Is that possible?
Geolocalization is one of our APIs capabilities. You can use the country parameter if you want your requests to be geolocated from a specific country. By default, the Crawling API will have access to more than 25 countries.
We want to test your API extensively before committing. Can we get more than 1000 free requests?
You should be able to get a good understanding of our API's performance with the free requests provided. In any case, you can get an extra 9,000 free requests by simply adding your billing details to your Crawlbase account.
Customers & Clients
Used by the world's most innovative businesses – big and small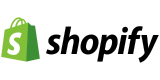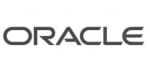 Supporting all kinds of crawling projects
Create Free Account!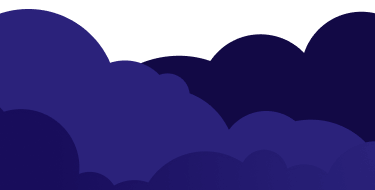 Start crawling and scraping the web today
Create a free account and then apply from the dashboard.

Start crawling in minutes