Are you familiar with web scraping? You don't have to worry if this concept is new to you. Throughout this article, we will cover the basics of web scraping and how does web scraping work. To conclude, we present you with a list of free web scraping tools you can use as an alternative to ScrapingBot.
Web Scraping - An Overview Of What It Is And How It Can Be Used
Scraping is gathering data from web pages using a scraping bot to make the whole process automated because it is a way of scraping data from many web pages. With the help of this technique, people can obtain large amounts of web data at a fast rate on a large scale.
How Does Web Scraping Work?
Firstly, it is essential to state that a web scraping bot simulates what it is like to browse a website like a human. A request is sent to the server with the target URL entered in the HTML file, and the information is returned in the HTML file based on the request.
Once the HTML source code has been obtained, the scraping bot can navigate to the node where the target data lies and parse the data according to the commands given in the code to scrape the data.
At the end of the scraping process (depending on how the scraping bot has been configured), the cluster of scraped data will be cleaned, organized, and ready to be downloaded or transferred to the database based on the configuration of the scraping bot.
ScrapingBot
The Scraping Bot is an excellent tool for web developers who need to scrape data from a URL, and it is beneficial on product pages where you need to collect all the information that you need (images, product titles, product prices, product descriptions, stock, delivery costs, etc.). ScrapingBot plans are very affordable. If you have to collect commerce data or if you want to keep your product information accurate, then this is the right tool for you.
Furthermore, ScrapingBot web scraping offers APIs designed to collect data from all sorts of sources, such as social networks, search engines, and real estate, as well as Google search results (Google, LinkedIn, Instagram, Facebook, Twitter, and TikTok).
To make an informed decision regarding ScrapingBot features, you should compare the features, ratings, user reviews, pricing, and more of its competitors and alternatives. Using the curated list below, you can compare ScrapingBot alternatives based on their features and functionality. Listed below are the top options for ScrapingBot in 2023.
Best ScrapingBot Alternatives in 2023
Crawlbase
A powerful web scraping tool called Crawlbase is free and available for download. Using our advanced web scraper, you can extract data from the web as easily as clicking on the data you want to extract. Need help getting data from sites that are complex and laggy? There is no need to worry! Any JavaScript or AJAX page can be used to collect and store data.
Using Crawlbase, you can easily instruct Crawlbase to search through forms, open drop-down menus, log in to websites, click on maps, and scrape your data from sites with infinite scroll, tabs, and pop-ups. Choose a website and begin clicking on the data you want to extract. That's how easy it is! Without writing a single line of code, you can scrape your data.
Using our machine-learning relationship engine, you don't have to do anything except sit back and relax. During the screening process, we understand how the elements are arranged in the hierarchy of the page. The data will be pulled in a matter of seconds for you with the help of the Crawling API. Thousands of web pages are scanned for data, and millions are analyzed. Crawlbase will automatically search through thousands of links and keywords to find the most relevant ones for you. Leave the infrastructure maintenance to us so you can focus on your product.
Octoparse
Data scraping without coding is fast and easy. Create structured spreadsheets from web pages in just a few clicks. Anyone who knows how to browse can scrape with this point-and-click interface. You don't need to know any code. Any dynamic website can be scraped for data. The page scrolls infinitely, there are dropdowns, logging in is required, and AJAX is used.
Unlimited pages can be scraped—download complete web pages for free by crawling and scraping. The scraping speed can be increased by performing multiple extractions simultaneously 24/7. Data can be extracted from the Cloud anytime and at any frequency. Scraping anonymously minimizes the risk of being traced and blocked.
ZEMA
ZEMA is a market data management platform for data aggregation, validation, modeling, automation, and integration. ZEMA offers robust data solutions for clients in different industries, including commodity and energy markets by providing unrivaled data collection, analytics, curve management, and integration capabilities. ZEMA is available on-premise, as a cloud solution via the award-winning ZE Cloud, Software as a Service, or Data-as-a-Service. ZE helps automate the complex business processes of data collection, transformation, and integration for organizations in the energy, agriculture, commodities, finance, and insurance markets.
Dexi.io
Designed for advanced users with a solid understanding of programming, this platform is designed for advanced users. You can use three types of robots when creating a scraping task - Extractors, Crawlers, and Pipes. A variety of tools are available for extracting data more precisely. Any website can benefit from its modern features. If you do not have any programming skills, you may need time to get used to it. Discover more about their knowledge base by visiting their homepage.
A range of paid services is available to meet your real-time data needs. Using the freeware, you can scrape websites anonymously. Dexi.io will host the extracted data for two weeks before archiving it, or you can export it directly to JSON or CSV files.
Bright Data
Data collection platform Bright Data helps businesses collect structured and unstructured data from millions of websites using its proprietary technology. Utilizing precise geo-targeting, our proxy networks give you access to sophisticated target sites. In addition to unblocking challenging targets, collecting SERP-specific data, managing and optimizing proxy performance, and automating data collection, you can also use our tools.
Zyte
A Zyte's technology makes it easier to extract data from the web. Besides delivering web data, we can also provide your team with tools for removing web data. The value of data to your business is what drives us. Our mission is to provide clean, accurate data to thousands of companies and millions of developers. Over 13 billion web pages are extracted every month by our customers.
Sequentum
We provide an end-to-end platform for collecting web data at scale using low code. The risk mitigation strategies and product design we use for web data extraction are thought leaders in our industry.
By simplifying the processes for collecting and managing web data with multi-structured, constantly changing, and complex sources, we have simplified the task of delivering, maintaining, and governing reliable web data collections at scale. The SIIA/FISD Alt Data Council has led standards efforts for SEC-governed institutions (early adopters in the data industry) under its non-profit umbrella.
We have published "considerations" (alongside industry leaders) to demonstrate how practitioners can optimally manage data operations with minimal legal risk and sound ethics. As a result of our work, regulators are being educated on how to consider laws governing our industry.
WebAutomation
We scrape the web in an easy, fast, and scalable manner. With our ready-made extractors and point-and-click web tools, you can scrape any website in minutes without coding. Three easy steps to get your data.
Identify
Using our point-and-click feature, you can enter the URL and identify which elements, like text or images, you would like to extract.
Create
You can build and configure your extractor to get the data whenever and however you like.

Export
Structured data can be obtained in various formats, e.g., JSON, CSV, or XML.
Do you want to know how WebAutomation can help your business? Web scraping can benefit any business type or sector for understanding your audience, generating leads, or being more competitive with pricing—scrapers for online finance & investment research.
Track data to improve performance and enhance your financial models. Online data scraping and aggregation. E-Commerce Retail SCRAPER Analyze customer reviews, benchmark pricing, and monitor competitors in e-commerce and retail.
WebHarvy
The scraped data can be saved in various formats, including text, HTML, images, URLs, and emails. This tool makes scraping data easy within minutes. There are no restrictions on the types of websites that can be supported. Provides login and form submission services. The data can be gathered from various pages, categories, and keywords.
Among the features included are a scheduler, proxy support, VPN support, and smart help functions. You can scrape the web quickly and easily with WebHarvy. Scraping data does not require any programming or scripting. By using the built-in browser, WebHarvy lets you load websites and choose scraped data. That's all it takes.
WebHarvy recognizes patterns of data despite the vast amount of information on web pages. Scraping data from a web page (name, address, email, price, etc.) does not require any extra configuration. Data is scraped automatically by WebHarvy.
ScrapeStorm
A visual web scraping tool powered by artificial intelligence, ScrapeStorm. No manual operation is required for the intelligent identification of data. Enter the URLs, and ScrapeStorm automatically identifies List Data, Tabular Data, and Pagination Buttons based on artificial intelligence algorithms.
Automate the identification of lists, forms, links, images, prices, phone numbers, email addresses, etc. Just click on the webpage according to the software prompts, which is completely in line with the way of manually browsing the webpage. Simple scraping rules can be generated in a few steps, and any webpage's data can be easily scraped.
Input text, click the mouse, drop-down box, scroll a page, wait for loading, loop operation, and evaluate conditions. The scraped data can be exported to a local file or a cloud server. Support types include Excel, CSV, TXT, HTML, MySQL, MongoDB, SQL Server, PostgreSQL, WordPress, and Google Sheets.
Apify
Apify is a platform for scraping and automating web content. A website can be converted into a crawling API using it. You can set up data extraction and web automation workflows as a developer. Turnkey solutions are available for those who aren't developers. Our ready-to-use scraping tools allow you to extract unlimited amounts of structured data immediately, or you can work with us to solve your specific use case. You can rely on fast, accurate results.
With flexible automation software, you can automate tedious tasks, scale processes, and speed up workflows. By automating, you can work faster, smarter, and more efficiently than your competitors. Apify integrates seamlessly with Zapier, Make, or any other web app using APIs and webhooks. JSON and CSV formats can be used to export scraped data. A combination of industry-leading browser fingerprinting technology, smart rotation of data centers, and residential proxies make Apify bots indistinguishable from humans.
Comparison Table Between ScrapingBot and Its Alternatives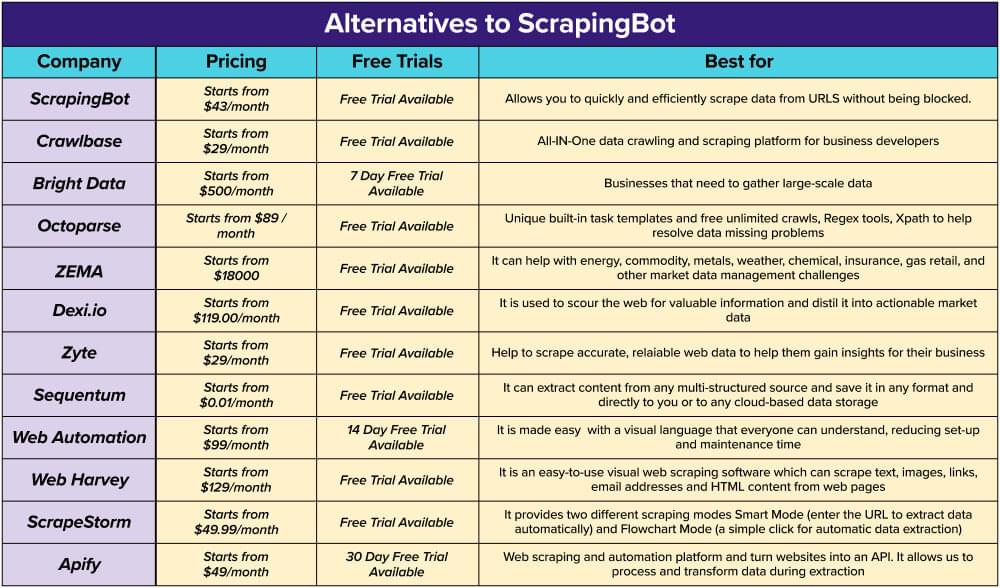 Conclusion
Now that you know what free web scraping tools are available, you should be able to make a better choice. Select the one that best meets your needs based on the supported platforms, types of scraped data, free and higher plans, etc.
Crawlbase is a powerful web scraping tool, but you may only need it to be robust for some scraping activity. Crawlbase is one of the best alternatives to ScrapingBot that we would recommend, but there are several other best alternatives available, so you can pick according to your needs.
Choosing the right scraping tool depends on your needs. The first step is to select a web scraper based on its price, utility, ability, outputs, and possible integrations. Also, make sure the makers provide after-sales support and support for installation.