So you want to scrape Google SERPs and can not figure out a feasible way to do so? Are you looking to get the types of content on a keyword? Do you want to know how your website ranks for certain keywords on Google?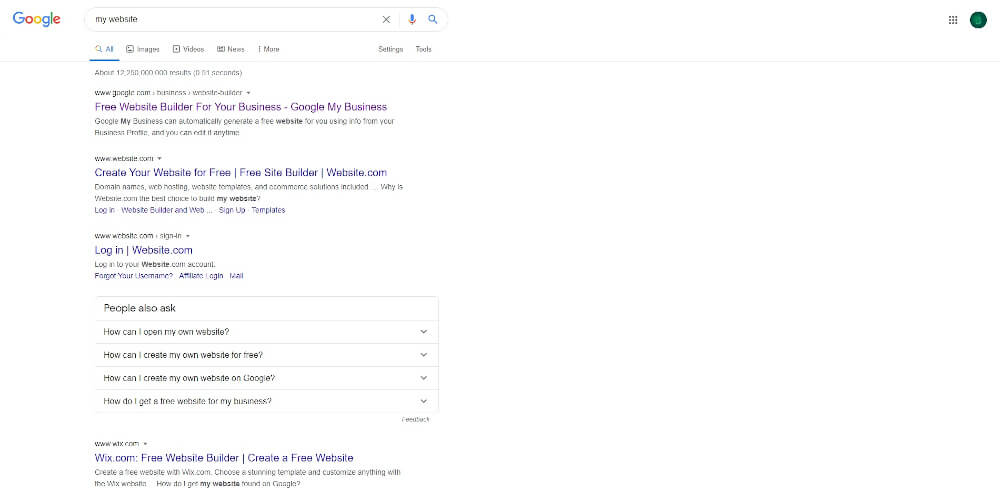 Manifold millions of people have Google as the main entry point to the internet. This makes appearing in Google Search results as a key factor for almost every business. With 4.39 billion internet users, Google's search engine has a more than 90% market share.
How do I scrape Google search results?
Google does not offer any API to get search results, and its Search API was deprecated a few years back. There is no FREE API to scrape Google's search results, and using a script or bot will get you banned from Google automatically after a few requests.
The other method may be to UrlFetchApp method, but Google has recently blocked that too. So, we are going to use Crawlbase (formerly ProxyCrawl)'s Scraping API and Python to scrape Google Search Results. With Crawlbase (formerly ProxyCrawl)'s Scraping API, you can get started within minutes and not have to worry about Google blocking your IP or CAPTCHAs, infrastructure, hardware, and blocks. Thanks to our knowledge, artificial intelligence, and engineers' team, we continually tweak and change our algorithms to circumvent blocks and solve CAPTCHAs for you.
What do I need to get started?
Now, to get started, you will need a few things. Before starting to write our code, we need to have the following:
The Scraper API URL https://api.crawlbase.com/scraper
Your Crawlbase (formerly ProxyCrawl) token
Google Search Page URL (Type and Search what you want to scrape and copy the URL)
Scraping Google Results
We first need to import the relevant modules to fulfill requirements.
1




2




3




from

 urllib 

import

 urlopen


from

 urllib 

import

 quote_plus


import

 json

We will now pass the Scraper API, Crawlbase (formerly ProxyCrawl) JavaScript parameter, and Google's search page URL to make things easier.
1




2




3




url = quote_plus(

'https://www.google.com/search?q=my+website'

);

handler = urlopen(

'https://api.crawlbase.com/scraper?token=YOUR_TOKEN&javascript=true&url='

 + url);

The complete code looks something like this.
1




2




3




4




5




6




7




8




9




10




11




12




from

 urllib 

import

 urlopen


from

 urllib 

import

 quote_plus


import

 json

url = quote_plus(

'https://www.google.com/search?q=my+website'

);
handler = urlopen(

'https://api.crawlbase.com/scraper?token=YOUR_TOKEN&javascript=true&url='

 + url);



pretty_json = json.loads(handler.read());





print

(

'Ads: '

,json.dumps(pretty_json[

'body'

][

'ads'

]), 

'\n'

);


print

(

'People Also Ask For: '

, json.dumps(pretty_json[

'body'

][

'peopleAlsoAsk'

]), 

'\n'

);


print

(

'Search Results: '

, json.dumps(pretty_json[

'body'

][

'searchResults'

]), 

'\n'

);

The output will look similar to this in JSON format.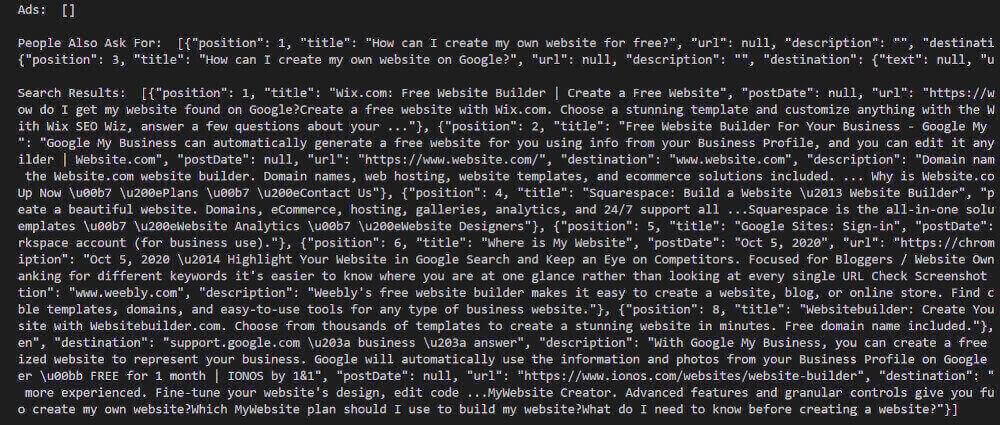 Why scrape search results?
Although Google search results can be a dream to scrape, we now know how to use a scraping tool to retrieve data. It is recommended to use a scraping API to be safe from all the hassles of extensive hardware and software challenges and leave that to a third-party provider.
However, it's equally important to discuss why you're doing something like web scraping Google in addition to how you do it. Furthermore, what are the main reasons to use such an intricate online tool? Just like a Google web scraper expands upon a few of the most important results, we'll expand upon a few of the most pertinent reasons.
Advertising
There is an unreasonable phenomenon that the more of something our brains see, the more comfortable we are to trust that particular thing, and that becomes a brand. The more we see the Tesla logo on our screens in the marketing world, the more likely we are to head to Tesla whenever we need to make a vehicle purchase. As advertising is a huge factor in introducing a name and a brand identity into the world, a Google scraper tool will help consolidate data about how your competitors are promoting their products, what products they tend to promote, and how their customers respond those goods. If you request a Google scraper to parse Google search results for "consumer reviews about product X," then your marketing team can assess the feedback found on those websites and utilize the feedback to how your marketing teams will sell a product, how copywriters discuss a product, and then how media authorities show a product online.
Having more data means you can market to a target audience and relate to potential customers on a personal level in a much better way. After all, consumers want organizations to feel they perceive their distinct needs.
An effective and fast way to learn about customers and refine unrivaled marketing tactics is by employing the extraction facilities of a Google scraper tool.
Search Engine Optimization
The notion of search engine optimization is an inescapable part of an online business's success. You may view not just how your website ranks a Google results page but also a sight of the number of keywords their website uses on any given page. The higher the number of keywords a website utilizes in its copy, the higher that specific page will appear in search results.
Almost all brick and mortar retailers have an online shop that shows how compelling SEO tactics are in a competitive market. As every online is now competing with large retailers like Walmart, Target, Costco, and Amazon, understanding to utilize SEO will keep your business extremely competitive. Scraping Google results is an amazing way to understand those SEO practices.
Aggressive Sales Techniques
As far as techniques are concerned, using a scraper on Google can help your business develop more competitive sales tactics. Companies analyze search engine positions to examine where they hold to their competitors. It is much easier to get an insight into why a specific product or some company features aren't particularly successful. By acquiring what your contenders are up to, how they do certain things, and what they can improve, you can truly become competitive. Once you figure out these factors, your company can begin filling in industry gaps and stretching above and beyond what other companies are doing in your field particularly.
If you ever want a boost on your competition and a quick way to look for innovative ways to be competing in a dynamic world, web scraping is the way. The above examples are just a few ways Google web scraping can be helpful for you. While Google's scraper may be used for the presented reasons, several other reasons to extract Google search results exist. There are endless possibilities when it comes to accumulating and classifying the data you need from Google.
Conclusion
Although you may have various purposes to scrape Google search results from college projects to streamlining marketing strategies, SEO, and even improving sales, adopting a Google scraper's innovative technology can free up huge volumes of time and energy and truly equip you with the URLs best used to address your chosen keywords. Crawlbase (formerly ProxyCrawl)'s Scraper API has made Googling an exciting prospect.
Crawlbase (formerly ProxyCrawl) allows you to crawl and scrape the internet to get various types of data ranging from images, reviews, detailed information about products and services to getting emails, phone numbers, and potential developers' addresses.