Listening to audiobooks on Audible is a convenient way to listen to your favorite books, fiction or nonfiction. There are over 200,000 audiobooks available through Audible, which is an Amazon service. As compared to all its competitors, Audible offers the highest quality audiobooks.
A listening experience to audiobooks can be enjoyed while driving, cooking, cleaning, and sleeping! You will be able to find many exclusive titles on Audible, which you will not be able to find on any other audiobook service. Furthermore, Audible includes a wide range of audio content, including sleep tracks, meditations, and even podcasts. Audiobooks on Audible's website with their respective data, which will be scraped in this blog post.
Web Scraping
It is a technique that allows you to gather content and data from the web (via web scraping) to analyze it. It is usually found that this data is saved in a local file to allow it to be manipulated and analyzed. It is similar to what you would do if you were to copy and paste content from a website into an Excel spreadsheet, which is essentially what web scraping is, but at a pretty small scale.
What is Audible?
The Audible online audiobook and podcast service is an American service that allows users to purchase and stream audiobooks, podcasts, and other spoken word content. The Audible service is an audiobook subscription service offered by Amazon, offering one of the largest selections of audiobooks available anywhere, from much-loved classics to new releases and original podcasts. When you become a member of Audible, you can download or stream the titles you wish to listen to.
Audible Audiobooks & Podcasts
Audiobooks on Audible
An audiobook records a book's text that you can listen to instead of reading. It is easy to fall in love with great stories by listening to Audible audiobooks, which offer outstanding performances of highly praised and wildly popular fiction and nonfiction in every category of fiction and nonfiction. Our narrators at Audible include many award-winning voices (check out our Narrator Hall of Fame to learn more about our narrators) and A-list actors. From documentaries to plays, Audible offers a variety of original audio productions in addition to the best audiobooks.
Podcasts on Audible
In the case of podcasts, these programs are made available in digital format, which can be downloaded over the Internet. It can be an episodic series of digital audio or video files, for example, that can be downloaded to a personal device and listened to at the time and place of the user's choosing.
You can easily do so if you have a device that allows you to listen to podcasts. As part of the Audible Plus xatalog, subscribers have access to various podcasts available with their Audible membership. You can also listen to a wide selection of podcasts from some of the most famous names in the industry for free. All you need to do is to create an Amazon account.
An Analysis of Audible's Library Based on Data
It has been 23 years since Audible became the largest audiobook company in the world, and they have taken the time to address the needs of its customers. Even though we might only be able to recall a handful of oral stories, Audible recalls 280,000. This text will use data to analyze the library of audible to give a better understanding of the service.
As of 2019, the global audiobook market was worth $2.7 billion. According to some estimates, the market will grow at a rate of 25% annually by the end of the decade, so it is expected to reach more than $7 trillion in the next decade. It has become the largest distributor of audiobooks in the world and dabbles in audio publishing since its incorporation in 1997.
It is possible to purchase audiobooks ala carte or subscribe to Audible for USD 7.95 / month for podcasts and Audible Originals or USD 14.95 / month for redeemable credits for any audiobook. Over 1 billion hours of content are listened to every year by Audible subscribers, and the service has accumulated a library of 279,240 titles, which shows no signs of slowing down.
Audible Library Growth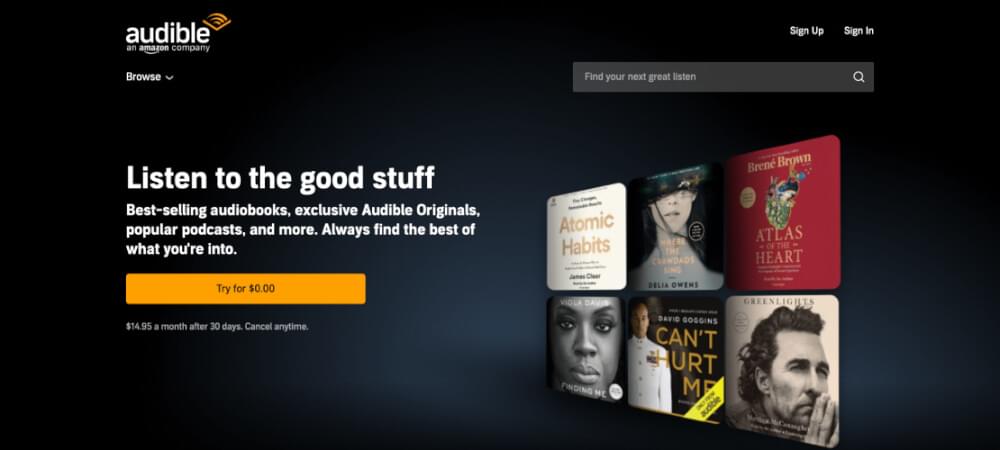 As a whole, Audible's library has grown exponentially over the past five years, with more than half of the audiobooks on Audible added to the library within the last five years. It appears that Audible has experienced two phases of growth: after its deal with iTunes in late 2003, when it became the only audiobook provider; after its acquisition by Amazon (2008), when Audible's growth rate decreased, but the company has maintained a consistent growth rate for the past decade, averaging 24%.
It is important to note that this consistency allows Audible to better cater to its audience in terms of programming cadence, allowing them to come out more frequently, i.e., it wouldn't make sense to release all the hits simultaneously for Audible's subscribers.
Scrape Audible: Tips to Create a Mini Audiobook Library
There is a category system in Audible, as there is in all libraries, to organize the titles. As opposed to the Dewey Decimal System, Audible's system allows titles to be listed in multiple categories, accessible through an overarching categories page accessed via the Audible website. As soon as the Scraping spider traverses each category page, it collects the category name, links to subcategories, and the link that says "See all in…" for each category.
We recursively passed the subcategories to the spider, while the link that said "See all…" was passed to a second spider. Taking the search result page of each category, the second spider parses the title information for each entry page by page for each audiobook listed under that category in the search results. As a result of the data collected, it was necessary to perform some minor cleaning, such as removing podcasts and duplicate entries. As a result, we created multiple title variants for the audiobooks on Audible.
Here are the four steps to consider to scrape audible and create a mini audiobook library;
You can scrape general information about the content (titles, descriptions, images, etc.).
To scrape Audible, you should include available information about each "episode" (title, description, publication date, audio URL, etc.).
Create an RSS feed (in XML format) using your collected information.
The file should then be exported and uploaded as a single file.
Advantages of Web Scraping
One of the advantages of web scraping is that it is both time-efficient and low-maintenance. Taking the time to download big data can take hours, and it is worth spending your whole month analyzing each row of data manually at a time for as long as it takes.
Scraping the web for information is a very popular way to get essential services at a very affordable price by employing a company to do the same for you.
Monitoring the listing data and the sales data simultaneously enables you to see how the performance of different products is changing.
Web scraping is not only a fast and effective way to scrape information from the web, but it is also highly accurate. Scraping of data is a method of extracting information from various websites, and the data can be used for various purposes.
Conclusion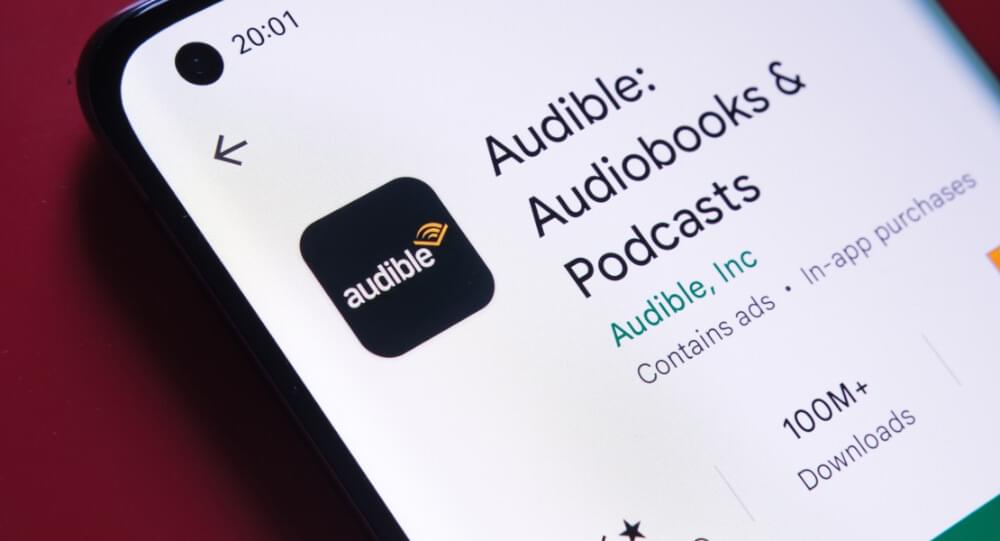 With Audible, Authors and Listeners can connect and enjoy books, and Audible is the perfect platform. As a result of their strong pricing model, the consumer is somewhat benefited, especially if you are inclined towards longer titles.
With this subscriber model in place, Audible's long-term success depends on continuing to grow its user base, which will increase the company's cash flow in the long run. As a result, you may achieve this by offering differentiating offerings, such as podcasts or exclusive content; or you may expand your subscriber pool by offering a diverse array of languages.
Using the Scraper API of Crawlbase, you can scrape Audible to create your own audiobook library by scraping the audiobooks listed on the site. This is an opportunity that Audible cannot afford to lose.