Bright Data is one of the world's leading providers of proxy servers and the infrastructure for data collection. There is no doubt that it provides quality, a wide range of features, and powerful tools for developers. It is possible to buy anything from proxy networks to proxy-based web scraping APIs and even complete datasets from proxy-based networks. It is also important to note that this provider is not for everyone, as its policies may not be suitable for all people. We have tried and trusted several credible BrightData alternatives over the years for those looking to expand their horizons. If you're looking to expand your horizons, here are a few we recommend.
What is a Comparative Analysis?
Analyzing comparative data is the process of comparing two or more processes, documents, data sets, or other objects and their properties. A comparative analysis is done by analyzing patterns, filtering data, and performing decision-tree analyses based on the data.
There is a common practice in healthcare where comparative analysis is used to compare large volumes of medical records, documents, images and sensor data to estimate the effectiveness of medical diagnoses based on a comparison of such information.
What Are BrightData Alternatives And Competitors?
It is important to note that there is no one-size-fits-all eCommerce Software product available. Even though tools like BrightData can have amazing features, they may not be designed for your specific business requirements, so they might not be ideal. Compare the benefits of the other BrightData alternatives listed below to make sure you're getting the best solution. Moreover, you can compare them with each other to find the best deal.
Based on a thorough evaluation, a group of independent experts from our company has rated BrightData with a total score of 9.0/10 after running several tests. Bright Data users have an average satisfaction rating with the product of 97%, which gives us an idea of how they perceive this product and how it can benefit them. You will find other products with similar or possibly higher ratings if you spend some time researching other BrightData alternatives and competitors rather than just focusing on BrightData.
Comparative Analysis of BrightData vs Alternatives and Competitors
| Features | BrightData | Crawlbase | FiveTran | Smartproxy | ParseHub | Contify | Scrape Hero | Diggernaut | Octoparse | Scrape Storm | Hevo Data |
| --- | --- | --- | --- | --- | --- | --- | --- | --- | --- | --- | --- |
| Usability | 5 Stars | 4 Stars | 5 Stars | 5 Stars | 4 Stars | 4 Stars | 5 Stars | 4 Stars | 5 Stars | 4 Stars | 3 Stars |
| Functionality | 5 Stars | 5 Stars | 4 Stars | 5 Stars | 4 Stars | 5 Stars | 4 Stars | 4 Stars | 4 Stars | 5 Stars | 5 Stars |
| Easy To Learn | 5 Stars | 5 Stars | 4 Stars | 4 Stars | 4 Stars | 3 Stars | 3 Stars | 4 Stars | 5 Stars | 4 Stars | 4 Stars |
| Customer Support | Excellent | Excellent | Excellent | Good | Excellent | Satisfactory | Excellent | Excellent | Excellent | Excellent | Excellent |
| Price | $500-$2000/month | $29-$149/month | $120-$240/month | $12.5-700/month | $199-$599/month | - | $150-$5000/month | $0-$999/month | $0-$249/month | $0-$199.99/month | $0-$239/month |
| Trial/Free Version | Free Trial | Free Trial | Free Trial | No Free Trial | Free Version | Free Trial | Free Trial | Free Version | Free Version | Free Version | Free Version |
| OS (Specifications) | Windows, macOS, Linux | Windows, macOS, Linux | Windows, macOS, Linux, Unix | Windows, macOS, Linux | Windows, macOS, Linux | Windows, macOS, Linux | Windows, macOS, Linux | Windows, macOS, Linux | Windows | Windows, macOS, Linux | Windows, MAC, Linux |
| Data Export Formats | CSV, Email, HTML, JSON, API | CSV, HTML, JSON, API, Databases | CSV, JSON, HTML | TSV, CSV, XLS, Google Sheets | CSV | CSV, JSON | XLS, DOC, PDF | CSV, JSON | TXT, CSV, XLS, Databases | DOC, PPT, XLS, PDF, SNB, TXT | CSV, JSON, TSV and XML |
| Multi-threading | Yes | Yes | Yes | Yes | Yes | Yes | Yes | Yes | Yes | Yes | Yes |
| API | Yes | Yes | Yes | Yes | Yes | Yes | Yes | Yes | Yes | Yes | Yes |
| Scheduling | Yes | Yes | Yes | Yes | Yes | Yes | Yes | Yes | Yes | Yes | Yes |
You can browse the options below to find the one that suits you best. As a result of reviewer data, you can see how we compare the product itself with BrightData competitors, review reviews from current & previous users, and ultimately determine if BrightData is the best product for your business based on the reviews of previous users in industries such as Marketing and Advertising, Computer Software, and Information Technology and Services.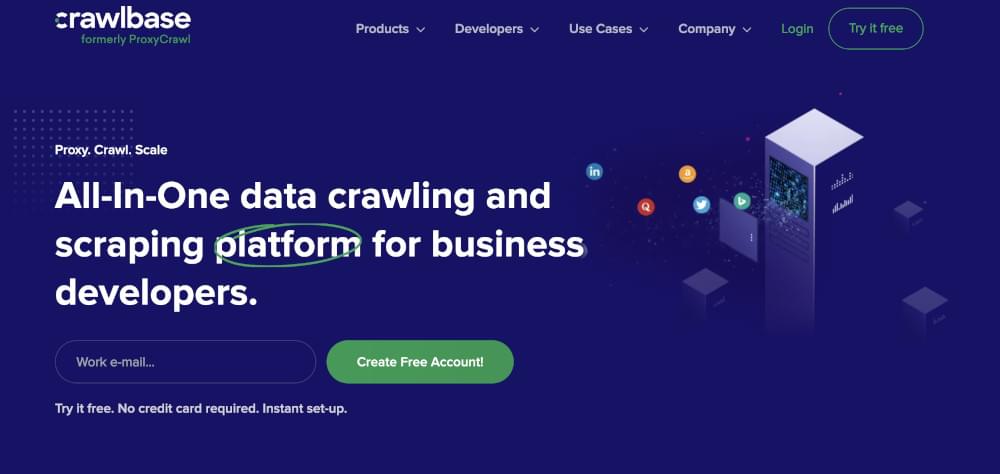 Using Crawlbase for crawling the web, you remain anonymous during the whole process and can crawl the web in the best way possible. You don't need to worry about worldwide proxy servers when it comes to getting data for your SEO or data mining projects. We also have scrapers for scraping Amazon, Yandex, Facebook, Yahoo, and million other websites.
Using Crawlbase, you can automate every action that you would normally perform manually in a web browser, and you can do it at scale. It is your one-stop shop for all sorts of web scraping, data extraction, and website automation needs with Crawlbase.
Using our ready-to-use scraping tools or working with us to solve your unique use case, you can extract unlimited amounts of structured data from any website. You can rely on our fast, accurate results to get you the answers you need.
With flexible automation software, you can automate any online process from automating processes to automating tedious tasks to speeding up workflows. With automation, you can work faster and smarter than your competitors with less effort and you will be able to do more with less effort.
Export your datasets in machine-readable formats such as JSON and CSV. Export your datasets in machine-readable formats such as JSON and CSV. With Crawlbase, you will be able to seamlessly integrate with a variety of databases and web apps by using their APIs.
We make our bots indistinguishable from humans with smart proxy rotation of datacenter and residential proxies combined with industry-leading browser fingerprinting research.
You don't have to worry about vendor lock-in with Crawlbase, it is built on solid open-source tools so you will not be locked into a specific vendor. Additionally, you will have the opportunity to take advantage of a thriving community of Crawlbase Freelancers and partners.
2. Fivetran
Designed to fulfill the functional requirements of real-world data analysts, Fivetran technology provides you with the fastest, most cost-effective way to replicate all of your applications, databases, events, and files into a high-performance cloud warehouse.
The Fivetran connectors can be deployed in minutes, require no maintenance, and automatically adapt to source changes - enabling your data team to stop worrying about engineering and concentrate on driving insights instead.
3. Smartproxy
If you are looking for an easy way to access local data from anywhere, Smartproxy could well be the solution for you. There are only real residential proxies available in every country that it covers, so it has global coverage. It is becoming increasingly clear that Smartproxy is the rising star of the proxy industry because of its remarkably competent live support agents and its advanced network infrastructure, which has won the trust of its customers. The following are some of the reasons why Smartproxy is the best:
We offer millions of real IPs located in any desired location throughout the world to meet your needs.
There is detailed documentation available for many of the most popular tools. There is nothing to worry about when it comes to getting everything you need from their GitHub repository if something comes up.
It is very easy to use the API because it is very intuitive.
The provider is rated as a trusted provider by Techradar, and is chosen as one of Proxyway's editors' picks.
There is no limit on the number of connections that can be made concurrently.
There are advanced IP rotation capabilities, proxy extensions, and an app that generates proxy lists that can be downloaded.
4. ParseHub
ParseHub is one of the best free and powerful web scraping tools available today. By using our advanced web scraper, you will be able to extract data with as much ease as clicking the data you are looking for on the screen. Do you have problems getting data from complicated and laggy websites?
You don't have to worry about anything! Using JavaScript and AJAX, you can collect and store data from any page on your website. By using ParseHub to scrape data for you, you will be able to easily instruct ParseHub to search through forms, open drop-down menus, log in to websites, click on maps, and even handle sites with infinite scroll, tabs, and pop-ups.
Click on the desired data on the website you wish to extract data from by opening it and clicking on it. It's that simple! You don't have to write a single line of code to scrape your data. With our machine learning relationship engine, we can do the magic for you. By screening the page, we understand its hierarchy.
It won't take more than a few seconds for the data to be pulled for you. Get data from millions of web pages. You will be able to put in thousands of links and keywords and ParseHub will search through them for you automatically.
5. Contify
With a comprehensive market intelligence platform such as Contify, businesses will be able to track as well as share information about their competitors, customers, and industry segments by enabling users to collect, curate, and share actionable market intelligence within their company among their employees.
6. ScrapeHero
ScrapeHero provides web scraping services to the world's leading brands. An enterprise-grade web scraping service that is fully managed. ScrapeHero transforms billions of web pages into actionable data for many of the world's largest companies. To improve business outcomes and enable intelligent decision-making, we provide high-quality structured data as a service. Data provider with full services
All scraping tools and software are available on our website. You do not need to have software, hardware, scraping skills, or scraping tools. You can integrate data from websites that do not provide real-time APIs or have rate-limited or data-limited APIs using our custom real-time APIs.
To analyze the data we gather for you, we can develop custom Artificial Intelligence (AI/ML/NLP) solutions, so we can do much more than just scraping websites. Using eCommerce scrapping, you can find out prices, availability, reviews, prominence, and the reputation of brands on eCommerce websites.
7. Diggernaut
With Diggernaut, you can perform web scraping, data extraction, and other ETL (Extract, Transform, Load) tasks in the cloud. A reseller who is not allowed to download data from their supplier's website in an appropriate format, such as Excel or CSV, must manually retrieve the information from their website.
Create a digger, a tiny robot that can scrape websites and save data for you, normalize the data, and do web scraping on your behalf. We provide product prices, related information, reviews, and ratings from retailer websites in CSV, XLS, JSON formats, or even through our Rest API.
Different types of events occur in different places around the world. Different news agencies' websites with news and headlines. Data and reports from different government departments (police, sheriff, fire department). Documents related to court proceedings can even be obtained.
8. Octoparse
With Octoparse, you can scrape web data without coding. Create structured spreadsheets from web pages in just a few clicks. The interface is easy-to-use - any user who can browse can scrape. You do not need to know how to code. Take a snapshot of any dynamic website and scrape its data.
You can scroll infinitely, use dropdowns, log in with authentication, and use AJAX. You can scrape an unlimited number of pages. Get free access to unlimited web pages by crawling and scraping them. With faster scraping speed, perform multiple extractions simultaneously 24/7. It is possible to schedule the extraction of data in the Cloud at any time and any frequency.
It is less likely to be traced and blocked when scraping is done anonymously. Providing you with professional data scraping services is what we do. The first version of Octoparse was released on March 15th, 2016, and has been live for more than 600 days now. Having worked with so many users this year has been a great experience.
9. ScrapeStorm
The ScrapeStorm tool is a visual web scraping tool powered by artificial intelligence. No manual operation is required for data identification. With ScrapeStorm, you do not have to manually set rules for identifying List Data, Tabular Data, or Pagination Buttons; just enter the URLs.
Create an automatic system that can identify lists, forms, links, images, prices, phone numbers, emails, and more. It is simply a matter of clicking on the webpage according to the software prompts, which is completely comparable to manually browsing the webpage by the software's prompts. Using this tool, complex scraping rules can be generated in a few simple steps, and you can scrape the data from any webpage with ease.
It is possible to input text, click, move your mouse, drop-down box, scroll the page, wait for loading, loop operation, and evaluate the condition based on your input. It is possible to export the scraped data to either a local disk or to a cloud storage account. In addition to Excel, CSV, TXT, HTML, MySQL, MongoDB, SQL Server, PostgreSQL, WordPress, and Google Sheets, we support other data types as well.
10. Hevo Data
The Hevo Data platform was designed to enable users to automate data pipelines in a no-code way, bi-directionally, so that they can meet modern ETL, ELT, and reverse ETL needs. The tool makes it possible for data teams to streamline and automate org-wide data flows which result in a saving of ten hours of engineering time per week and ten times faster reporting, analytics, and decision-making for the organization.
The platform supports the integration of 150+ apps and services, from SaaS applications to Cloud Databases, Cloud Storage, SDKs, and streaming services, which have all been tested and are ready to be used. In the past decade, Hevo has been trusted for data integration needs by over 1000 data-driven companies across more than 45 countries. Getting your fully managed data pipelines up and running in just a few minutes is what you can expect when you try Hevo today.
Conclusion
We've curated a list of BrightData alternatives to help you find the right solution. Crawlbase ranks as the best BrightData competitor in 2023. To make an informed decision for your business, you need to compare features, ratings, user reviews, pricing, and more between the product itself and BrightData competitors as well as it's alternatives.