This digital age has put us all in the race to bring the best possible solution for our clientele.
You've got social media campaigns, targeted products, a highly reliable sales funnel structure, everything! But the fuel to ignite this engine, a.k.a data, is what defines your business's quality.
Collecting content from the web is the need of the hour for every business - otherwise, you can say goodbye to the industry as soon as you enter. But how can a business collect data without getting IP banned or blocked? Say hello to the answer: proxies!
Also Read: Proxy vs VPN
Rotating proxies are especially helpful in data extraction as they allow you to overcome geo-restrictions and boost your brand's SEO. But what are they exactly, and how do they work? We will be discussing it right now, right here.
Let's begin:
What is a Residential Proxy?
A residential proxy is a way to hide your IP address for anonymity and security. Residential proxies are great for masking the user's identity, but they work for a maximum of 30 minutes, after which you have to manually change the IP address to save your system from getting blocklisted.
Luckily, we have a better option available to take care of this whole scenario i.e., residential rotating proxies:
What is a Rotating Residential Proxy?
Unlike residential proxies, which simply mask your actual IP address behind another IP, rotating residential IPs conceal your IP behind a pool of proxies - which switch between themselves at regular intervals.
A rotating proxy takes anonymity to the next level. It changes or rotates your proxy after every request. This process gives you added protection against getting blocked from websites as the IP address is never the same.
Every time the IP address of the rotating proxy is rotated, the user's network gets connected to a new static IP that is connected via a back-handle to the actual rotation. Due to this process, you don't have to update the proxy detail every time the residential rotating IP updates.
Top 11 Best Residential Rotating Proxies
Here is a list of some of the best residential rotating proxies that you can choose to up your business game in 2023: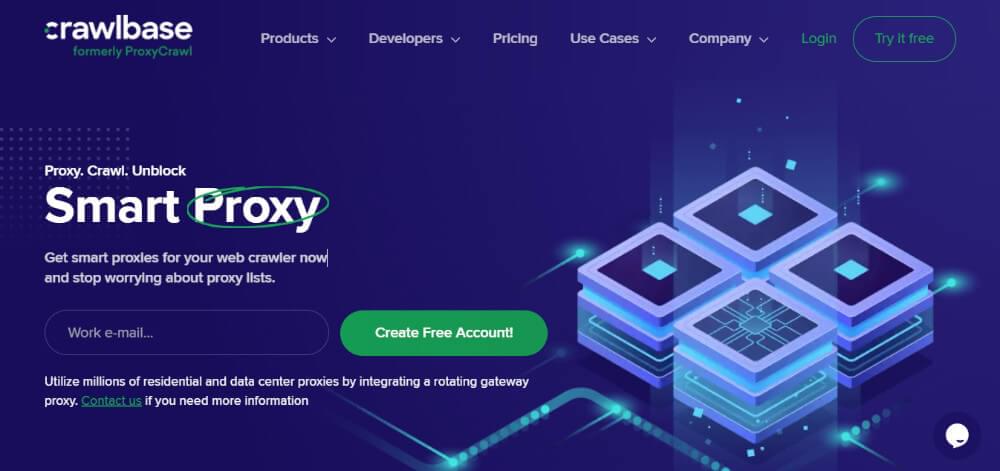 Smart Proxy by CrawlBase is the most potent cloud proxy server that you can have at your disposal. We consider it the best rotating proxy service because, unlike a regular proxy, Smart Proxy is more effective in avoiding blocked requests and bans. After all, it uses a combination of artificial intelligence and machine learning to prevent CAPTCHAs and blocks.
It also allows the user to use a single node to connect to a proxy network countless times. The most significant benefit of using this type of proxy pool is letting you stay anonymous and make significantly more requests without getting banned when accessing websites than if you were using a single proxy.
What sets SmartProxy apart from other rotating residential proxies is that its support team provides essential tools to automatically monitor your usage, saving valuable time and effort for you and your team.
Key Features:
Every feature is mentioned right in front of the user on the dashboard; hence business owners can go through the process without relying on a tech team.
SmartProxy comes with a simple deployment setup with precise API documentation that makes it easy to set up.
This tool includes more than 1M unique proxies globally that are automatically rotated to expand your web crawler's capabilities instantly.
It also includes a pool of premium-grade proxies that allow users to access and scrape online data anonymously, even while sending millions of requests.
Smart Proxy is developed and validated using AI and machine learning techniques to guarantee fast and accurate results.
Cloud Storage - A cloud based proxy server.
Pricing:
Smart Proxy offers both monthly and yearly packages:
Free Plan: You get 5,000 credits and <100,00 unique proxies as a free trial. This package's proxy type is datacenter, which includes five threads.

Starter Plan: For $99/ month, you can get datacenter proxies with 200,000 credits and 20 threads. This plan also includes <100,000 unique proxies and IP rotation for 5,000.

Advanced Plan: For just $149/ month, your business can access 1 million unique proxies, including data centers and residential types. This package also includes a custom geolocation option for the U.S and has 1 million credits.

Premium Plan: For $289/month, your business gets 1M+ unique proxies with custom geolocation of 46 different countries, including the U.S. This package includes all advanced plan features along with 2 million more credits and priority customer support.
Pros and Cons:
Pros:
Comes with a Simple and Easy-to-Understand Deployment Process.
Includes Precise Documentation.
Offers Premium Grade Proxies.
Cons:
Slightly expensive pricing packages.
Relatively new in the market.
2. IPRoyal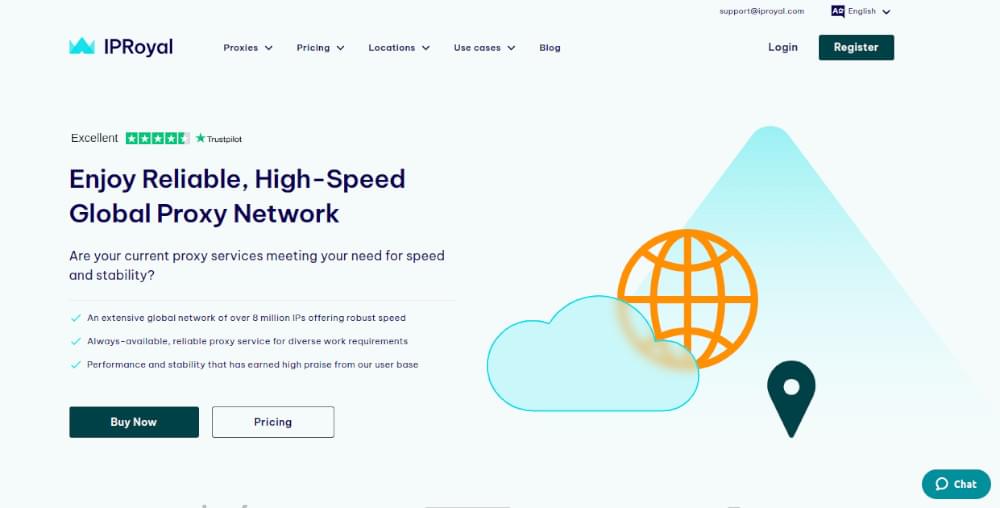 While it's a fairly new name in the proxy provider space, IPRoyal quickly made a name for itself thanks to a few key advantages that set it apart from others. IPRoyal's network of 8 million proxies has over two million genuine residential IPs, covering every country on the planet.
Each proxy comes from a genuine device with a real residential internet connection. By purchasing any amount of traffic, you get access to the entire pool, with city-level targeting and customizable session duration (from one second to seven days). These features make IPRoyal residential proxies a fantastic budget-friendly option for web scraping projects, SEO research, social media management, and more.
The thing that sets IPRoyal apart is the pricing. There are no plans or packages - rotating residential proxies are only available with a pay-as-you-go plan. You can purchase any amount of traffic, and it never expires. On top of that, IPRoyal offers a highly competitive price per GB and fantastic discounts for bulk orders, which bring the cost down even further.
Key Features:
IPRoyal offers over 2 million residential proxies in 195 countries.
Users get access to the entire pool, with detailed geo-targeting and session control.
Rotating residential proxies support HTTP/HTTPS and SOCKS5 protocols.
Once purchased, residential proxy traffic doesn't expire until you use it.
Pricing:
IPRoyal residential proxies are available on a pay-as-you-go basis. The starting price is $7 per GB, with discounts up to 75% off (down to just $1.75/GB) based on the amount of traffic purchased.
Pros and cons:
Pros:
Ethically sourced residential proxies.
Budget-friendly pricing with zero obligations.
Non-expiring rotating residential traffic.
Cons:
No phone support.
No free trial available.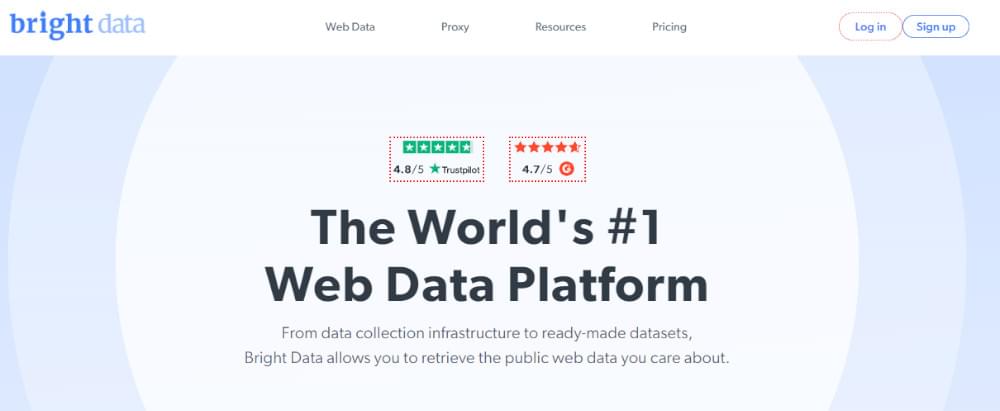 Formerly known as Luminati, Bright Data is another excellent rotating proxy service provider that offers the fastest real-peer IP networks. It is cost-effective and efficient at the same time. But that's not all, and Bright Data offers residential IP addresses worldwide, which allows businesses to scale up or down more seamlessly.
This solution has everything from web crawling to data extraction and brand protection to geo-distribution. They have limitless rotation and 72M+ IPs with excellent response time. The con, however, is its limited bandwidth which - coupled with its slow email support - makes it difficult for new businesses to adopt this solution.
Key Features:
Bright data has a proxy pool of over 72 million IPs, allowing the user to carry out all routine proxy tasks comfortably.

The rotating residential proxies offered by this tool cover all major protocols, including HTTP, HTTPS, and SOCKS5.

It also has support for Automated System Number.
Pricing:
Bright data offers multiple pricing plans, but they are slightly complicated. You can either adopt the subscription model or pay-as-you-go:
Starter Plan: For $500/month, or $11.25/GB, you can get unlimited traffic, exclusive IPs, and a dedicated accounts manager.

Advanced Plan: For 1,000/month, or $10.05/GB, you can get all starter plan features plus exclusive customer support

Advanced+ Plan: For $2,000/month, or $9.75/GB, you get all advanced plan features plus an IP refresh option.

Enterprise Plan: You can contact Bright Data support to create a custom plan for your business. This plan includes custom price per GB, unlimited scale, premium SLA, free proxy manager, and data experts support.
Pros and Cons:
Pros:
Offers 99.5% uptime.
Has the largest IP network.
Gives excellent proxy network speed.
Cons:
Expensive pricing plans.
Complicated dashboard functions.
Slow Email Support.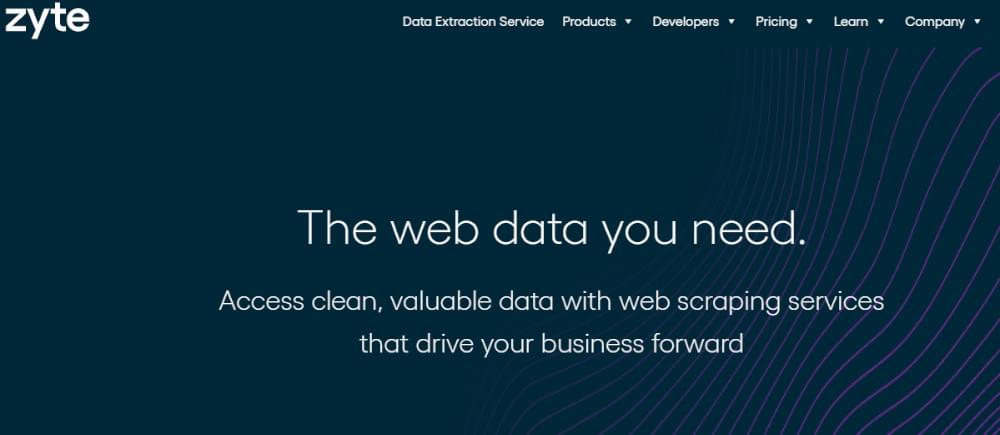 Now known as Zyte, Crawlera is one of our favorite rotating residential proxies that manage hundreds and thousands of safe proxies via a reliable network. This service provider allows you to extract data without having to juggle proxies. The solution is built on top of advanced anti-ban algorithms, which bring high success rates with web crawling.
Sadly, Zyte comes with quite a few disadvantages. To begin with, there is a lack of alerting and monitoring, which causes great inconvenience for businesses. Furthermore, it doesn't come with sufficient advanced API documentation, making it more challenging to work with.
Key Features:
Zyte comes with residential IPs - which are all HTTP(s) - and built-in proxy rotation.

While your business gets access to a pool of millions of IPs, Zyte also offers brand protection via IP whitelisting.

This tool offers phone, email, and live chat support.
Pricing:
Zyte pricing packages are divided into three main categories:
Automatic Extraction: Starting from $60 a month, your business gets up to 500k requests, HTTP API with access to different data types, 40+ languages support, automated smart crawler, and parallel crawling. For more than 500k requests a month, you can get a customized plan designed for your business.

Zyte Smart Proxy Manager: Starting from $29 per month, this package offers you 24/7 customer support, automatic proxy rotation, automatic proxy optimization, and non-obvious ban detection. This package comes with starter, basic, advanced, and enterprise plans.

Data Services: Starting from $450 a month, this plan includes a dedicated project manager, hourly and weekly data delivery, data subscription, bespoke data schemas, and much more.
Pros and Cons:
Pros:
Reliable and Consistent.
Offers fewer resolution errors.
Provides excellent customer support.
Cons:
Doesn't have sufficient advanced documentation.
Limited IP address options are available for non-U.S. locations.
Pricing plans are tricky.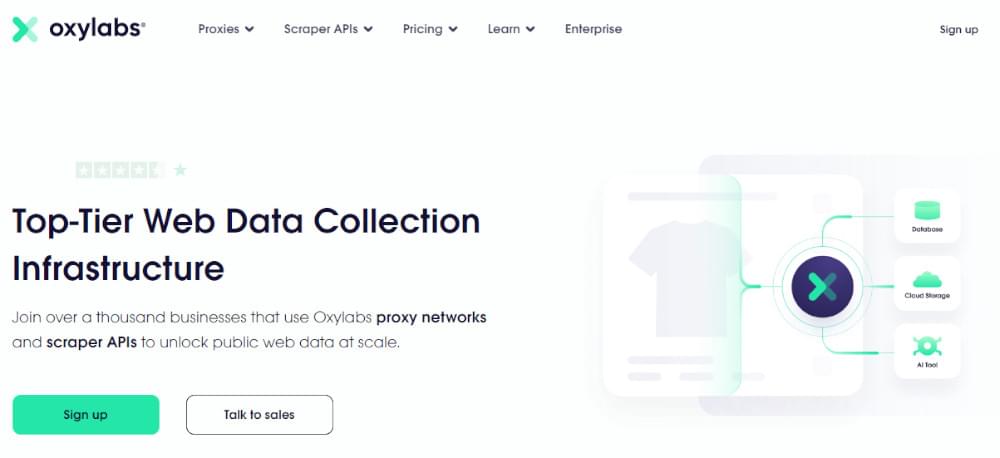 Oxylabs allows you to carry out web scraping sessions with a 99.2% success rate. The network covers over 195 locations and allows users to access geo-restricted content without any additional charges. The proxies provided by Oxylabs come with a highly reliable uptime that ensures that your business operations continue to run smoothly.
The residential proxies by Oxylabs can also be integrated with third-party solutions to manage IPs via public APIs.
Oxylabs also has a downside, though, which is its complicated setup. Companies require additional technical support to get this solution running. Besides, this rotating IP address is not really accessible to small businesses.
Key Features:
The solution comes with complete transparency and provides a pay-as-you-go pricing model.

This proxy server supports HTTP, HTTPS, and SOCKS5 protocols.

The proxies include all datacenter, residential and backconnect proxies types.

The company also offers round-the-clock support with a 7-day trial period and a 3-day refund time.
Pricing:
Oxylabs offers four packages for rotating residential proxies, which can be paid via subscription or pay-as-you-go model:
Starter Plan: For $300/ month, or $15/ GB, you get 20GB traffic with unlimited concurrent sessions and access to 100M+ Residential IPs from 195 countries.

Business Plan: For $600/ month, or $12/GB, you get all starter plan features and an additional 50GB traffic.

Corporate Plan: For $900/ month, or $9/GB, you get all business plan features along with 100GB of traffic and a dedicated accounts manager.

Enterprise Plan: Starting from $5000/ month, this plan includes 1TB+ traffic and a dedicated accounts manager.
Pros and Cons:
Pros:
Deliver Premium Proxies.
Has Global Coverage in 180+ Countries.
Offers Outstanding Enterprise-level Customer Support.
Cons:
Complicated Dashboard Setup.
Too Expensive for Small Businesses.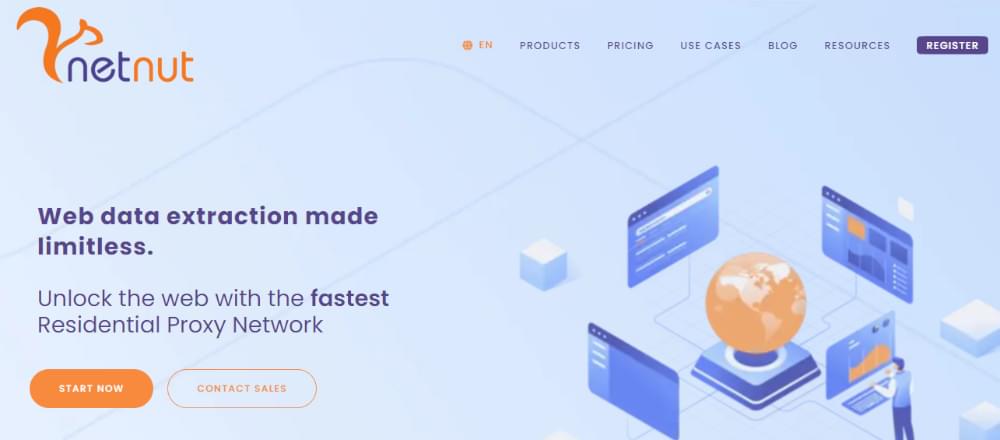 This network uses static residential IPs to provide residential proxies for limitless data extraction on the web. NetSuite offers over 20M IP addresses across the globe that come with 24/7 network availability.
It rotates proxies for each session by default and seamlessly integrates them with any browser. NetNut is exclusively routed via network and works on ISP connectivity. However, NetNut comes with relatively expensive options, which is why it is not the first option for many businesses.
Key Features:
NetNut works with DviNetworks to acquire 100+ ISPs that are offered for proxy IPs.

This company offers 1 million premium IPs in 50+ countries.

It also offers a free 7-day trial to let you see how the service works for you.
Pricing:
NetNut offers six different pricing packages, which are billed monthly or annually:
Starter Plan: For $300/month, you get 20 GB of data with rotating residential IPs, email support, and a Chrome extension.

Advanced Plan: For $060/month, you get 50 GB of data with rotating residential IPs, email support, and a Chrome extension.

Production Plan: For $800/ month, you get 100 GB of data with all advanced plan features, IP whitelisting, and a dedicated accounts manager.

Semi-Pro Plan: For $625/ month, you get all production plan features plus API access and the option to select the state/ city of the proxy.

Professional Plan: This $2500/ month plan includes 500 GB of data on top of all semi-pro plan features.

Master Plan: For $4000/ month, you get 1TB of data with all professional plan features and competitive pricing.
Pros and Cons:
Pros:
Offers 99.9% Uptime.
Includes 20GB Bandwidth.
Comes with Unlimited Connections.
Cons:
Expensive Starter Plan Pricing.
All Plans Don't Include Live Support.
Minimal Website Support.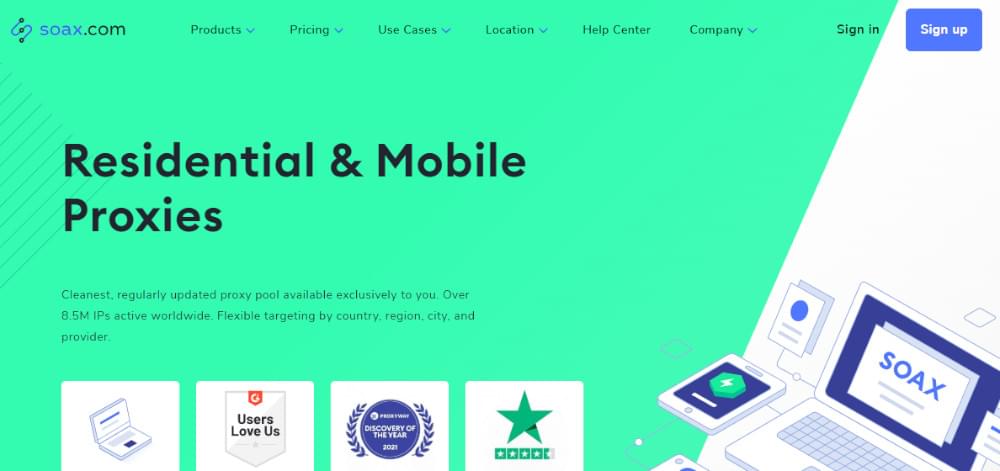 With more than 5M proxies circulating worldwide, Soax is an elite proxy provider that works well for web scraping, SEO, and advertisement verification. Soax offers excellent area support along with detailed geo-targeting options.
Soax is viable and quick for several well-known websites online. The only problem is its limited free trial, which lasts only 60 minutes.
Key Features:
Soax provides access to 8.5 M+ IPs, which can be used to carry out all proxy tasks.

This company offers residential IPs from all countries and cities except the State of Texas, USA.

Soax claims to provide 100% anonymity with whitelisted IPs and real ISPs.
Pricing:
Soax offers four main pricing plans:
Starter Wifi: For $99/ month, you get 8 GB of data and 300 ports.

Pro Wifi: For $300/ month, you get 27 GB of data and 400 ports.

Plus Wifi: For $500/ month, you get 55 GB of data and 500 ports.

Regular Wifi: For $700/ month, you get 100 GB of data and 600 ports.
Pros and Cons:
Pros:
Large Proxy Network.
Easy to Use.
Cons:
Slow Customer Support.
Monitored Connection.
Expensive Plans.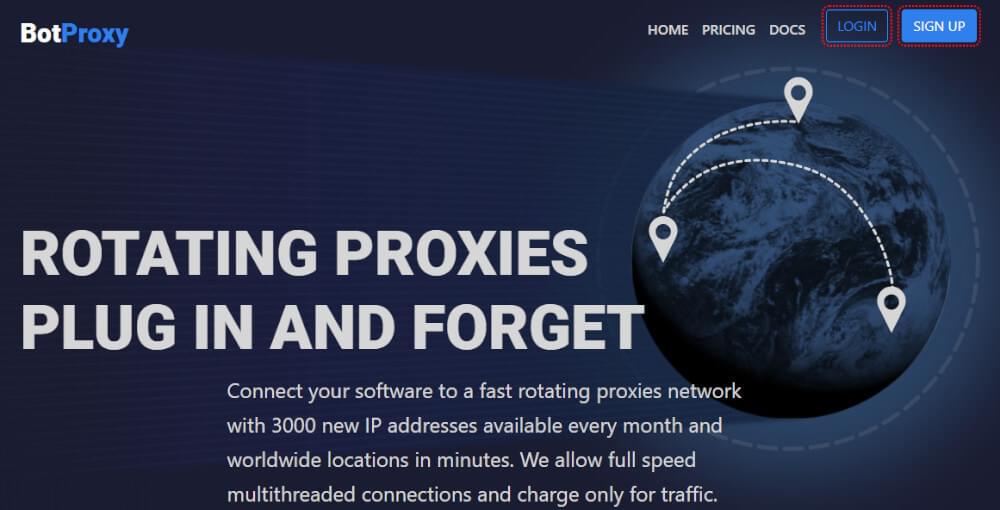 With a bandwidth of 10 GB and 99% uptime, BotProxy is another excellent option for businesses that need to carry out seamless web scraping. This network has over 3000 new IPs available monthly, allowing full-speed connectors.
It offers hundreds and thousands of fresh open rotating proxies for IPv4 and IPv6 IP addresses. What's more, is the fact that it only takes 05 minutes to integrate BotProxy with any app.
Key Features:
BotProxy works for both HTTP(s) and SOCKS5 protocols.

It offers 3000 new IP addresses monthly with worldwide locations made available in minutes.

BotProxy allows full-speed multi threaded connections and charges only for traffic.
Pricing:
BotProxy offers four different pricing plans, which are all available with a 7-day free trial:
Plan A: For $10/ month, you can get 55 U.S.-based IPs a day and 10 GB of data.

Plan B: For $20/ month, you can get 75 U.S. and Europe-based IPs a day and 25 GB of data.

Plan C: For $50/ month, you can get 90 IPs a day from all locations and 100 GB of data.

Large Plan: For $100/ month, you can get 90 IPs a day from all locations and 200 GB of data.
Apart from the above mentioned options, bigger traffic plans are also available with dedicated IPs and custom locations, which can be offered on request.
Pros and Cons:
Pros:
Economical Pricing Plans.
Comes with In-built Proxy Rotation.
Cons:
Offers Limited Bandwidth.
Doesn't Include a Free Plan.
Has 5-minute Sessions.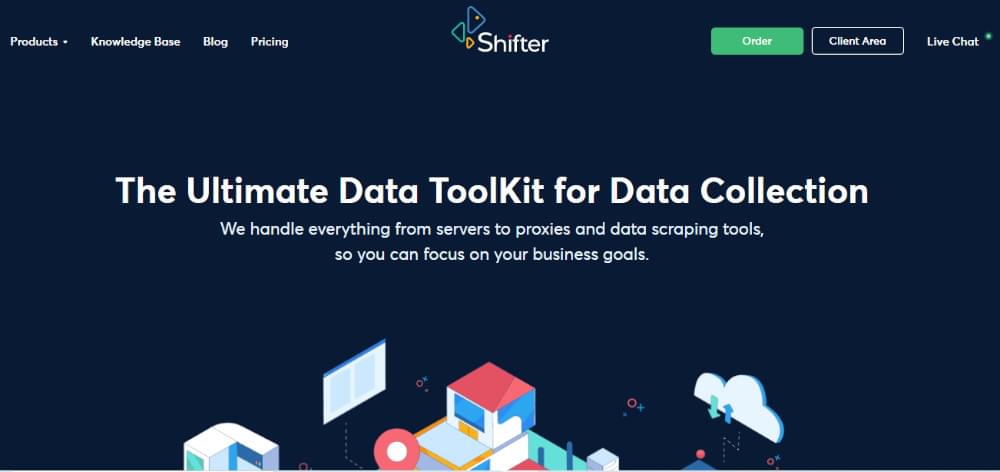 Formerly known as MicroLeaves, Shifter is one of the best rotating residential proxies, providing rotating residential proxies with unlimited bandwidth and 99.9% uptime. Like all other top proxy providers, Shifter includes username/password authentication and IP authentication, allowing you to access proxies with better security.
Another great thing about Shifter is its affordable pricing packages that come with a 3-day refund policy. The problem, though, is that Shifter only provides residential proxies that change after 05 minutes, which results in limited session control as the IPs get blocked from time to time. Secondly, customer support is slow, creating many problems for new users.
Key Features:
Shifter instantly configures IP rotation time and geolocation settings, making it easy to use and customize.

It also comes with worldwide coverage at a fast speed.

Shifter offers instant scalability to support enterprise infrastructure with high uptime.
Pricing:
Shifter offers four main pricing plans:
Plan A: For $299.99/month, you get ten special rotating proxies with 31M+ residential IPs, geo-targeting, and speed optimization.

Plan B: For $599.99/month, you get 25 special rotating proxies with 31M+ residential IPs, geo-targeting, and speed optimization.

Plan C: For $1199.99/month, you get 50 special rotating proxies with 31M+ residential IPs, geo-targeting, and speed optimization.

Plan D: For $2399.99/month, you get 100 special rotating proxies with 31M+ residential IPs, geo-targeting, and speed optimization.
All these plans include worldwide geotargeting, full protocol support, a 99.5% success rate, a user-friendly setup, and 99.9% network uptime.
Pros and Cons:
Pros:
Affordable Pricing Plans.
Excellent Security.
Cons:
Slow Customer Support.
Limited Session Control.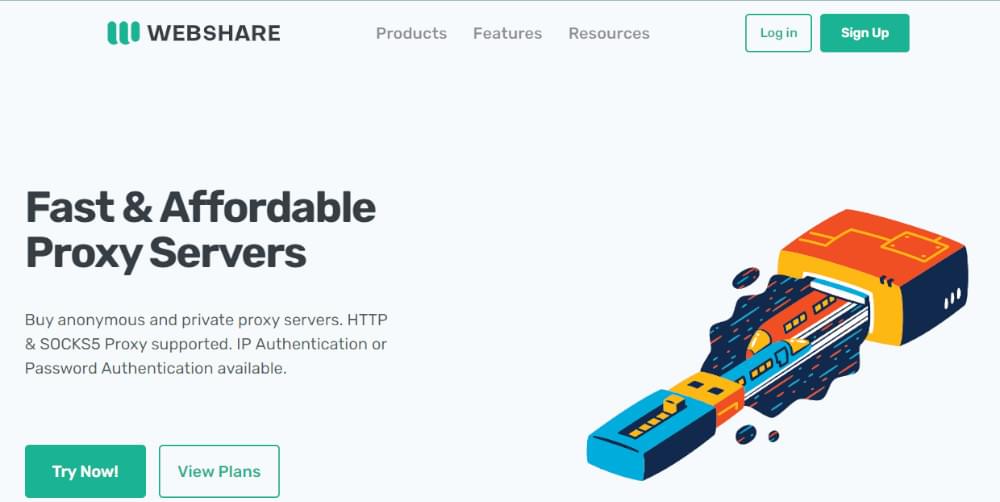 Are you looking to buy a residential proxy for your business? WebShare is another excellent option for you, as this company provides top-of-the-line residential proxies to meet your web scraping needs. It comes with ideal load time and great customer support. The proxies by WebShare auto-rotate in standard one-hour increments, which can also be customized for up to five minutes.
WebShare claims to provide absolute anonymity for users so that you can trust this network with your personal information. The downside, however, is that WebShare does not allow users to cancel subscriptions freely. Moreover, the premium versions come with multiple issues, which is why new businesses prefer better alternatives in the market.
Key Features:
WebShare offers 10 free proxies right away with all paid plan features.

Residential rotating proxies can be integrated with any program that accepts SOCKS5 or HTTP protocol.

WebShare users can connect to proxies from 20+ countries including France, Germany, and UK.
Pricing:
WebShare offers a multitude of packages ranging from 10 to 60,000 proxies. The three main packages are as follows:
Free Plan: The free plan includes 10 proxies, 1GB Bandwidth, 50 threads, and IP authorization.

Business Plan: For $168/ month, you can get unlimited bandwidth with 7,500 proxies and 500 - 3000 threads.

Premium Plan: The premium plan includes unlimited bandwidth with premium customer support for 60,000 proxies and 3,000 threads, all for $1166/ month.
Pros and Cons:
Pros:
Easy-to-understand UI.
Affordable Pricing Plans.
Cons:
Poor Customer Support.

Low Quality Proxies.

Limited Geolocation Choice.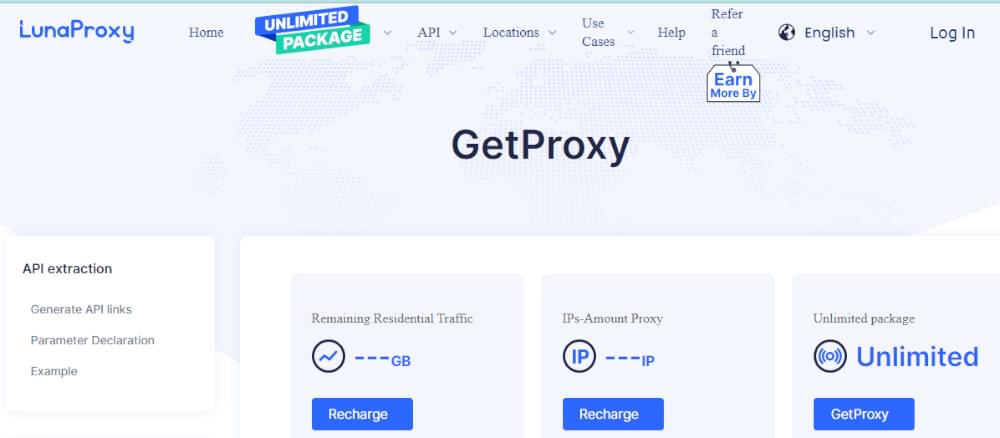 Luna Proxy is a residential rotating proxy available at over 195 locations worldwide. It comes with 90M+ real device IP addresses which all have infinite connection and thread. Each residential IP provided by Luna Proxy is a true mobile or desktop device that pinpoints a certain physical location.
The best part about this proxy is that f or any website, traffic from this residential proxy looks like a request from a normal person living anywhere on the planet.
Key Features:
Luna Proxy comes with unlimited connection request options along with an average 99.2% success rate.

This proxy offers over 90 million residential IPs.

Users can enjoy proxy service starting at only $0.7/ GB.
Pricing:
Luna proxy comes with five different pricing plans:
New User: For $15/ month, you get 5 GB storage.

Starter Package: For $68/ month, you get 30GB storage.

Business Plan: For $250/ month, you get 100GB originally, and an additional 40 GBs for proxies.

Proficient Plan: This plan comes with 200GB + 66 GB storage at $400/ month.

Advanced Plan: The advanced plan includes 1TB space at $700/ month.
Pros and Cons:
Pros:
Provides private unique IP addresses.
Offers complete proxy control.
Cons:
User interface is complicated.
Too many pricing plans available with not many features.
Final Verdict
In this tech-centric era, data is everything…And you need to be on top of this data to compete with businesses in your industry. To do so, having a rotating residential proxy is a must as it enables seamless, efficient data extraction. Along with this having your data stored on cloud is always a plus.
To help you find the best rotating proxy service for your business, we have compiled this list with the top 10 available options. Have a look at our guide and our recommendation to get a clear view of what fits your business best!