Nowadays, extracting big chunks of unstructured data from hundreds and thousands of pages and having them organized in structured formats for utilization can be challenging.
This is where web scraping is emerging as a game-changer in the data-driven business world.
Proxy management has become crucial in any web scraping service , especially to scrape data anonymously and avoid being noticed, blocked, or banned by websites.
Finding a reliable proxy provider for your web scraping project can be confusing.
Therefore,we have created a list of the best proxy providers for web scraping in 2023, which will assist you in making your best choice.
The methodology we used in our ranking is simple; we are looking for a service that can attain a perfect balance between performance, speed, and price.
By the end of this blog, you will know the size, type, and location of the IP pool , the proxy changing interval, the ease of integration of the service within your project and the price you will pay for the service against each proxy provider.
1. Crawlbase (formerly ProxyCrawl) Smart Proxy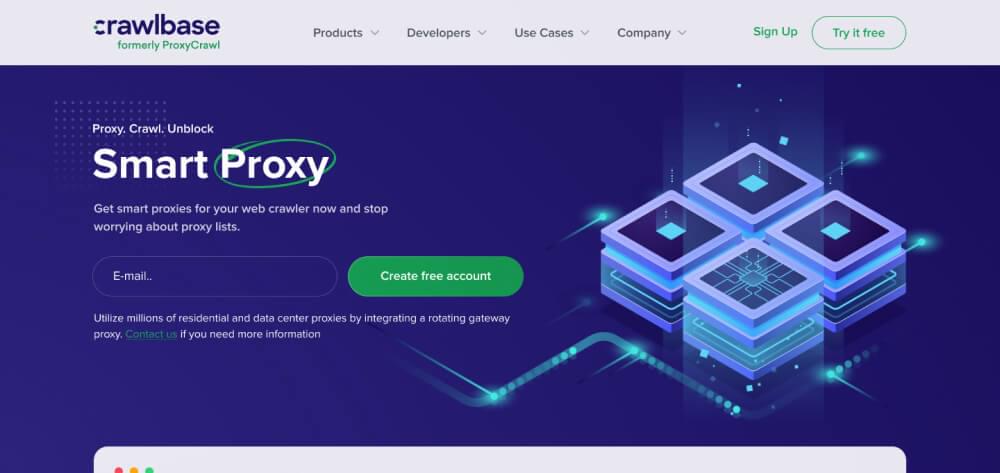 Crawlbase (formerly ProxyCrawl) is loved and used by millions of users around the world, mainly because of its quality over pricing. Crawlbase (formerly ProxyCrawl) not only offers smart proxy services through an API, it is a comprehensive all in one platform for developers looking for data.
Features:
Scrapper API
Crawling API
Screenshots API
Crawlbase (formerly ProxyCrawl) has reliable proxies, easy to use crawling API, scraper API with dedicated and generic scrapers, screenshot captures and scrolling feature on headless browsers.
Starting from reliable backconnect proxies to intelligent easy to use crawling API, a scraper API with dedicated and generic scrapers, automatic screenshot taking feature, an endless scroll feature on headless browsers,Crawlbase (formerly ProxyCrawl) offers managed cloud based proxy services to store crawled data in different formats, images, JSON and HTML.
The system is powered by an AI algorithim that bypasses cloudflare, akamai blocks and CAPTACHs. Crawlbase (formerly ProxyCrawl) has dedicated technical support team, and the first level support team is online literally 24/7.
IPs: 1M+
Locations: 45+
Residential Proxies: 140M+
Proxy types: Residential, Datacenter and mobile.
Browser Support: Chrome, Firefox , Internet Explorer, Safari
Data Storage: Yes
Pricing: Free and Paid.
For the Smart proxy, you pay a monthly subscription, subscriptions range between $99/month to $289/month. The features between the different packages allow you to use more proxy pools, geolocations and more threads on unlimited bandwidth.
For the crawling API, a pay-as-you-go plan is followed with no hidden fees, where you only pay for successful requests. You will get the first 1,000 requests for free, and you will know what is the exact cost based on the number of requests you make. With the monthly pricing calculator, it makes calculating your cost quite easy, you only pay per success and if there no value to your business, you do not pay.
2. Brightdata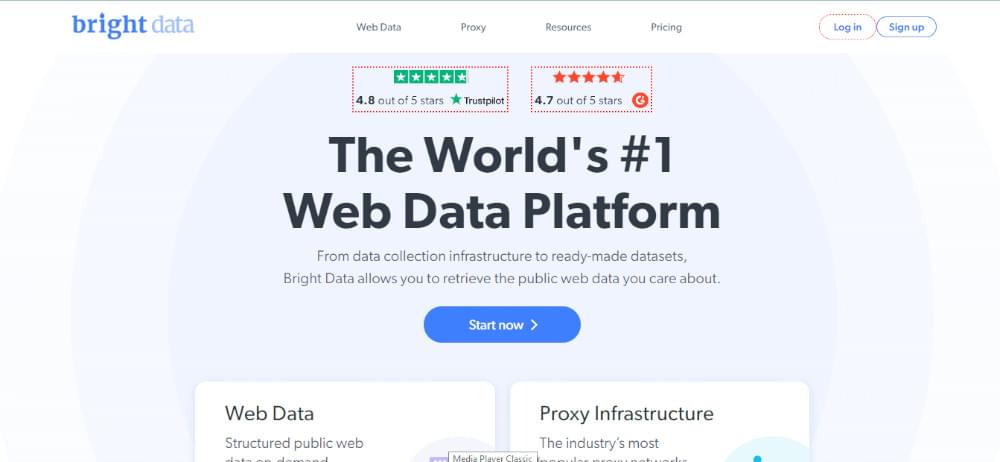 Brightdata has one of the largest proxy networks in the market, with more than 72 million residential IPs in hand; also, Brightdata offers Datacenter and Mobile proxies. Brightdata's Proxy API is available in all common coding languages, where they provide pre-configured examples with your accounts and settings.
Residential IPs: 72M+
Locations: 195
Proxy types: Residential, Datacenter, mobile,ISP.
Browser Support: Chrome, Firefox , Internet Explorer, Safari
Data Storage: Yes
Pricing: Starting price $270/mo
Brightdata's pricing is bandwidth based starting from $0.6 per datacenter proxy or $12.5/GB for residential proxies, which means, they are not cheap, and their main target is the enterprise-level customers.
3. Oxylabs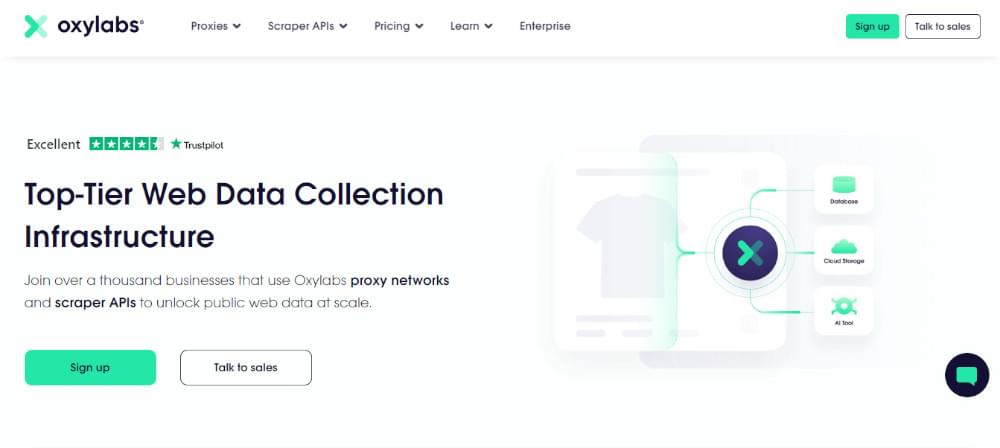 As it is the case with BrightData, Oxylabs provides a huge pool of proxies, data-center and residential for your project, but with an extra feature which is a built-in web crawler. They offer good performance private IPs in 195 countries, with anonymous proxies from all over the globe to avoid IP blocking.
Their web crawler can perform web scraping making you needless of other services. They also offer a dedicated account manager for each user, although this does not mean that one person is dedicated only for your account, which is similar to mostly any other service. Oxylabs surpasses Brightdata with the level of anonymity, in which it has proved to get fewer blockings on some websites; but Brightdata offers a larger pool of rotating IP.
IPs: 102M+
Locations: 195
Proxy types: Static, Datacenter, Residential, Mobile, Socks5,ISP
Data Storage: No
Pricing: Starting price $100/mo for shared datacenter proxies. Residential proxies package starts from 300$/mo.
Oxylabs is a great choice as a proxy provider, although when it comes to pricing, their billing model is a little bit complicated and as a whole not cheap at all, but indeed they will always have their loyal customers that will choose a reliable service and overlook the cost.
4. Apify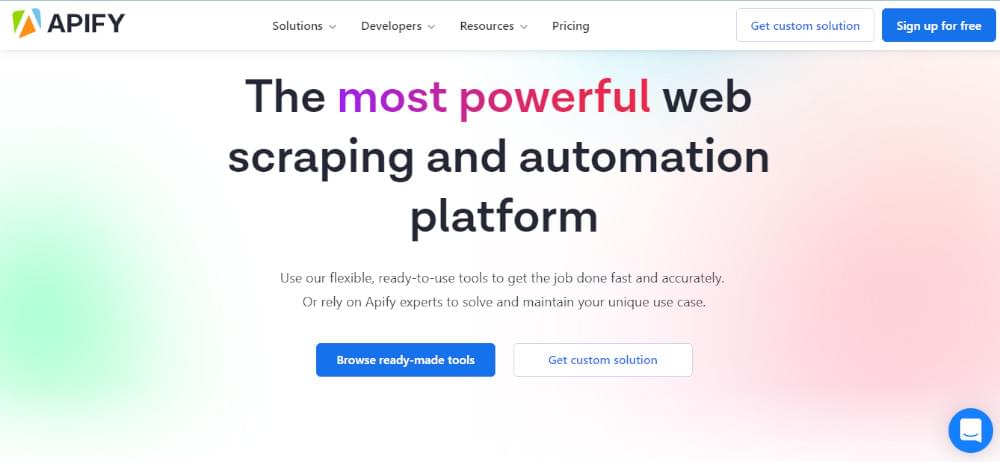 Although Apify does not have the largest number of proxies as the other service providers mentioned in this post, its reliability and great performance which enabled it to surpass other competitors as a proxy scraper. Its next gen residential proxies provide universal http proxy to hide the origin of your web scrapers, using both datacenter and residential IP addresses.
Its datacenter IPs are fast and cheap, but they can get blocked by target websites while the residential IPs it offers are not as cheaper but can get the job done without getting blocked. The IP addresses in the pool are smartly rotated to avoid detection. Apify also offers a web scraper with specialized data storages to manage web scraping jobs, save their results and export them to formats like CSV, Excel or JSON.
IPs: <1000
Proxy types: Datacenter, Residential
Data Storage: Yes
Pricing: Paid
When it comes to pricing, it is $1 per month per IP for shared datacenter IPs, $7 per IP if you using less than 100 IP and the price will change if you are using more IPs, noting that there is a 5GB limit per IP address. For residential IPs, usage is charged based on data transferred, with no upfront commitment, starting from $12.5 per GB and the price decreases as you use more GBs.
Their Proxy manager is an open-source, proxy management software allowing you to manage your proxies without requiring any codin $12.5 per GB and the price decreases as you use more GBs.
As a whole, Apify provides a reliable and good performing proxy management at a reasonable price for such a service.
5. LimeProxies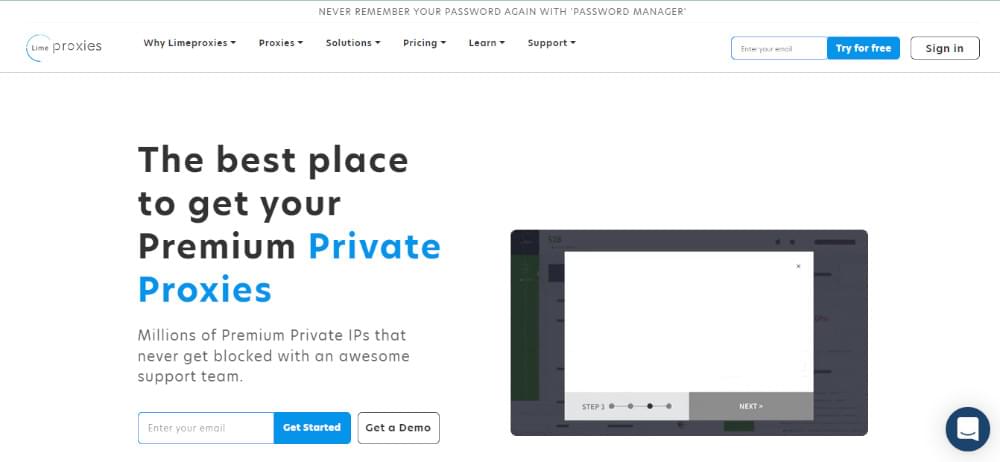 LimeProxies is a well-known dedicated proxy provider with a wide range of proxies covering more than 40 countries around the world along with options to set up custom locations. They offer fast and dedicated http/https/socks datacenter proxies, with dedicated proxy control panel and on-demand IP refreshing for premium proxies only. Up to 25 IPs can be authenticated at the same time.
The proxies can also work with dynamic IP. A great thing about Limeproxies is that you can test a proxy for free for 2 days before buying any package.
IPs: 1M+
Locations: All
Residential IPs: 40M+
Proxy types: Residential, Datacenter, mobile, Provate socks
Browser Support: Chrome, Firefox , Internet Explorer, Safari
Data Storage: Yes
Pricing: Residential Proxies start from $75/mo
Their prices range from $25 for 10 IP to $1,750 for 2,500 IPs for the private proxy. The main downside with Limeproxies is that there is a total bandwidth usage limit and that unfortunately many websites such as sneakers, and e-commerce are not accessible.
Their pricing is not very competitive, but still, their excellent service makes up for the expensive price.
6. SmartProxy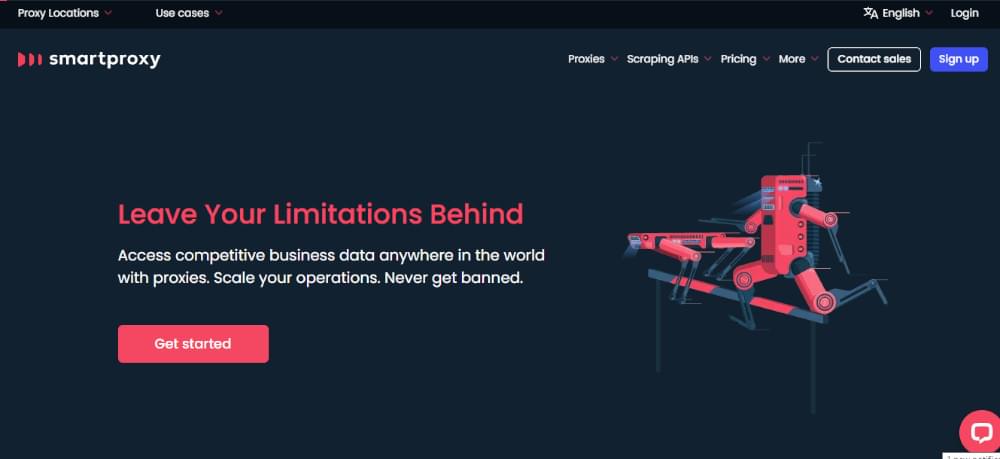 Smartproxy provides best value for its price and is known for its high quality rotating residential proxy. They provide secure services along with removing any browsing hurdles such as CAPTCHAs.
Locations: 195+
Residential IPs: 40M+
Proxy types: Residential, Datacenter.
Data Storage: No
Pricing: Residential proxy starts from $75/mo
7. IPRoyal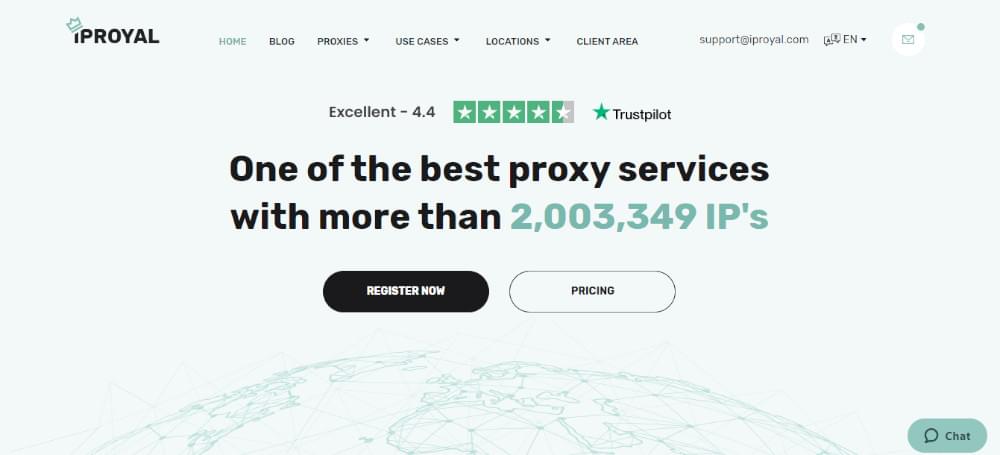 With the trust rate of 4.4 IPRoyal serve great in terms of their pricing. They offer both static and rotating residential proxies. Rotating residential proxies help you from getting blocked and provide a secure connection as IP rotation takes place from 1 minute-1 hour as requested.
IPs: 2,003,349
Locations: 180+
Residential IPs: 40M+
Proxy types: Residential, Datacenter,Seaker,Mobile,Private,Socks5.
Data Storage: No
Pricing: Residential proxy starts from 0.80 USD/GB
8. Infatica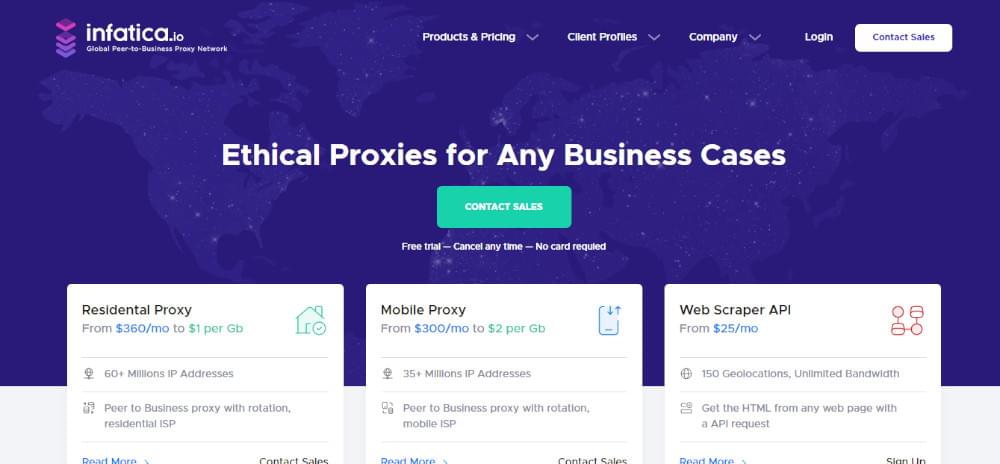 Infatica are known for providing ethical proxies worlwide. They target a few countries but have a huge pool of IPs.They employ the SOCKS5 protocol but currently are supporting only HTTP(S) traffic. Infatica's speed and response time is better than most of the proxies that being 1.88s for 50/req.
IPs: 10M+
Locations: 100 countries
Residential IPs: 60M+
Proxy types: Residential, Datacenter,Mobile
Data Storage: No
Pricing: $360/mo for 40GB
9. Geosurf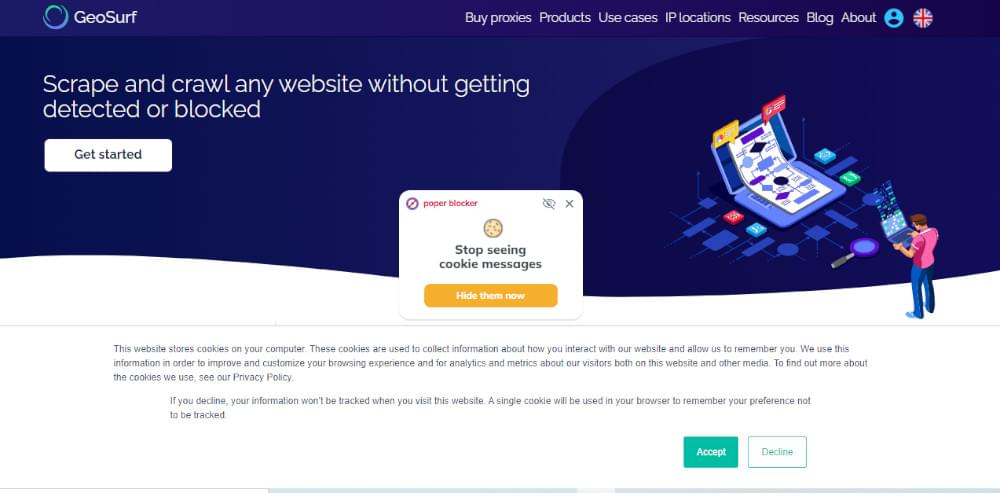 Something you will love about Geosurf is their unlimited IPs offer. Geosurf proxies are mostly used for social media management, ad verification, and sneaker copping.They have firefox and chrome extensions which means easy access to VPN.
IPs: 3,735,594
Locations: 2000+
Residential IPs: 3M
Proxy types: Residential, Mobile.
Data Storage: No
Pricing: $300/mo for 20gb
10. Soax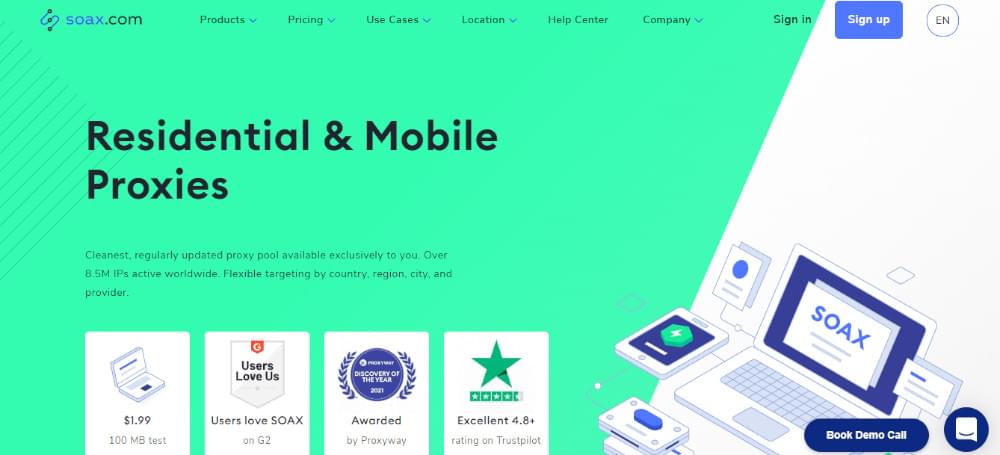 Soax provide detailed geo targeting options and are great for Soa price checking, advertisement verification, web scraping, bulk account registration, and SEO. However they are considered at the higher edge for pricing.
IPs: 8.5M
Locations: 180+ countries
Residential IPs: 5M+
Proxy types: Residential,Mobile, Datacenter(Coming soon)
Data Storage: No
Pricing: $99/mo for 8GB
Hopefully one of the proxy providers we mentioned will fit your project needs. Sometimes you may have to make a compromise between efficiency and cost, but don't forget that when it comes to our service, you will get a perfect blend of reliability, performance, and speed with the best possible price.
And If you're confused into buying datacenter or residential proxies , here's a guide on datacenter vs residential proxies that will help you with the understanding.