Residential Proxies are the sort of proxies that routes proxy clients' web requests through residential IP addresses of actual devices given by Internet Service Providers (ISP). Since the request arrives at sites through residential IP addresses, they view the request as authentic and not suspected to request getting through a proxy.
Residential proxies had multiplied the proxy market with plenty of residential proxies that it becomes hard to settle on a buying choice. This may lead you to pay for a residential proxy supplier that doesn't meet up the prerequisites or one that is simply excessively expensive for the service it renders. So, here is the list of the shifter concerning the 5 best residential proxies to make a smart decision to buy the most suitable package as per your requirements.
Overview of Best Residential IP Proxies Providers
Crawlbase (formerly ProxyCrawl)
Bright Data
Smartproxy
Soax
Shifter
At whatever point when you interact with the web, you're using a residential IP address. Your IP address recognizes what your identity is and permits you to interface with different sites across the web. These are genuine devices with IP addresses given by Internet Service Providers (ISP) throughout the globe. This residential proxy type is dominant, assuming the purpose is to remain mysterious while crawling many sites.
Residential proxies contain genuine IP addresses by ISPs, causing them to seem like ordinary individuals on the web and can't be hindered and effectively boycotted. Each PC on the planet accompanies a novel IP address, an approach to recognize your online activities. Thus, in simple words, residential proxies are the IP addresses given by an ISP or web access supplier to a property holder but in a way that the inhabitant of Pakistan will get a connection that appears he is living in Berlin.
Residential proxies are comparatively slower and costly to get because they are dynamic. However, residential proxies are secure and give significant anonymity.
Crawlbase (formerly ProxyCrawl) provides residential proxies with the support of Smart backconnect API that allows the users to get the pool of IP addresses via the single IP address that is provided. Having the residential proxies via API lets the user use speedy proxy processes that do not require set up the processes from the grass-root level. The users will benefit from the unlimited proxies, high-speed bandwidth, or the stress of getting blocked or handling other related hindrance issues.
Pros of Crawlbase (formerly ProxyCrawl)
Speedy residential proxies with easy access and high-speed bandwidth
Over 1,000,000 IP addresses
Currently support over 45 countries, depending on your plan
Support all browsers and custom pages
Simple pricing and no long-term contracts
Guaranteed satisfaction with enhanced customer support
Cons of Crawlbase (formerly ProxyCrawl)
Some countries are not supported
2. Bright Data (formerly Luminati)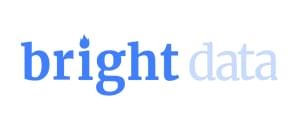 Biggest IP pool and Most Advanced Residential Proxy Network
72+ million IPs in Pool – <Start from $300 per month for 20 GB | $15.00 per GB> – Most Advanced for All utilizations
Type of Proxy Offer: Offer both Rotating and static residential IPs
How to Authenticate: User Pass + IP Auth
Geo-Targeting: ASN/Cites/Countries (Worldwide)
Proxy Protocol: HTTP(S) + Socks5
Seemingly the best residential proxy service provider in the market, BrightData has the largest network of IP addresses to assist you to avoid IP blockage and captcha as you scrape data from the Internet. Besides web scraping, BrightData's proxies can be utilized for advertisement verifications, price intelligence, and monitoring just as SEO monitoring, social media automation, and sneaker sites geolocation bypassing.
According to information on their site, in more than 200 countries, it has over 72+ million IP addresses of actual existing devices that are scattered in over 20,000 cities in the world. Interestingly, they have the quickest residential proxy service, research by our test.
BrightData (formerly Luminati) is adored by numerous organizations including Fortune 500 companies – because of the authenticity of their IP addresses. BrightData has taken care of the IP addresses owners as well, while the other residential proxies providers have almost avoided it. One of how they get this consent is through their free VPN service known as Hola VPN. Clients of this VPN service have to agree to share their Internet connection and IP addresses before they are permitted to utilize the free VPN service.
With regards to their plans and costs, BrightData isn't the least expensive choice out there particularly if you adhere to their starter plan that sells at $500 which comprises 40 GB for $12.50 each. In any case, as you buy into higher bandwidth plans, the costs decrease radically. One interesting thing with regards to their membership is that you are offered a 7-days free trial without any type of discount after payment.
BrightData (formerly Luminati) has an extremely thorough FAQ page that contains oftentimes asked questions and their answers. They also have an email that you can use to submit requests and lodge complaints. In any case, numerous clients asserted that they waited for more than they expected before they got a reply. Unfortunately, they don't have a live chat service so your solitary choice is email communication.
Pros of Bright Data
The fastest residential proxies in terms of speed
Over 72+ million IP addresses
Has IP addresses in all countries of the world and more than 20,000 cities
Secured and reliable
Used by Fortune 500 companies
Comprehensive FAQs page
Cons of Bright Data
Not a less expensive option
Email support is slow
Limited bandwidth
3. Smartproxy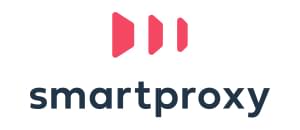 The best budget for bandwidth charging with good performance
40+ million IPs in Pool – <Start from $75 per month for 5 GB | $15 per GB> – Best cost with execution
Type of Proxy Offer: Rotating residential IPs
How to Authenticate: User Pass + IP Auth
Geo-Targeting: Cites/Countries (Worldwide)
Proxy Protocol: HTTP(S)
Smartproxy is also one of the top residential proxies in the market. It has been around for quite a while and is among the most loved residential proxy networks in the proxy industry. Dissimilar to the above residential proxy providers that besides giving residential proxy services, offer different services,
Smartproxy is focused distinctly on giving residential proxy services to their clients. They are niched. Smartproxy has its IP addresses locations in more than 195 countries and serves over 10 million residential proxies across the globe. In any case, their IP addresses are country-focused. They just have 8 cities that you can target.
With Smartproxy, you can increase your business and scrape any data you need from the Internet. Because of their IP rotation method and their pool of IP addresses which forestalls any doubt that will prompt either hindering of IP addresses or the requests to solve captchas. As far as speed, they are somewhat slow.
However, they are secure and reliable with around 99% uptime. How do I compare their pricing and the 3 forestalls proxy providers talked about above? Not like the ones over that you need to buy enormous gigabytes, you can buy as little as 5GB in a month for $75, making a gigabyte sells for $15. The per-gigabyte cost for their smallest plan is costly than the costs of the ones listed previously.

Smartproxy doesn't offer a free trial. You will get 1 GB for $3 that is the ideal price offered by them under their Enterprise plan for using premium residential proxies. However, you have the choice of asking for a refund within 3 days of buying in. They have astounding client support and finish that through their live chat services, email FAQs page. It additionally allows third-party integration.
Pros of Smartproxy
Great client support.
One of the least expensive residential proxy services out there.
Large IP pool and area coverage.
Makes third-party integration conceivable
Cons of Smartproxy
Slow internet speed.
No free trial.
Only 8 cities are accessible
4. Soax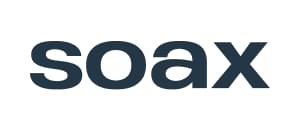 Detail geo-targeting options
8.5+ million IPs in pool – <Start from $75 per month for 5 GB | $15 per GB> – Detail geo-targeting options
Type of Proxy Offer: Smart backconnect residential IPs
How to Authenticate: User + Pass
Geo-Targeting: Countries/city/ISP
Proxy Protocol: HTTP(S) + Socks5
Soax proxies are elite proxies. They have more than 5 million residential IPs – circulated across continents and countries. We have tried their proxies for a lot of use cases, and from our test outcome, Soax residential proxies are useful for price checking, advertisement verification, web scraping, bulk account registration, and SEO.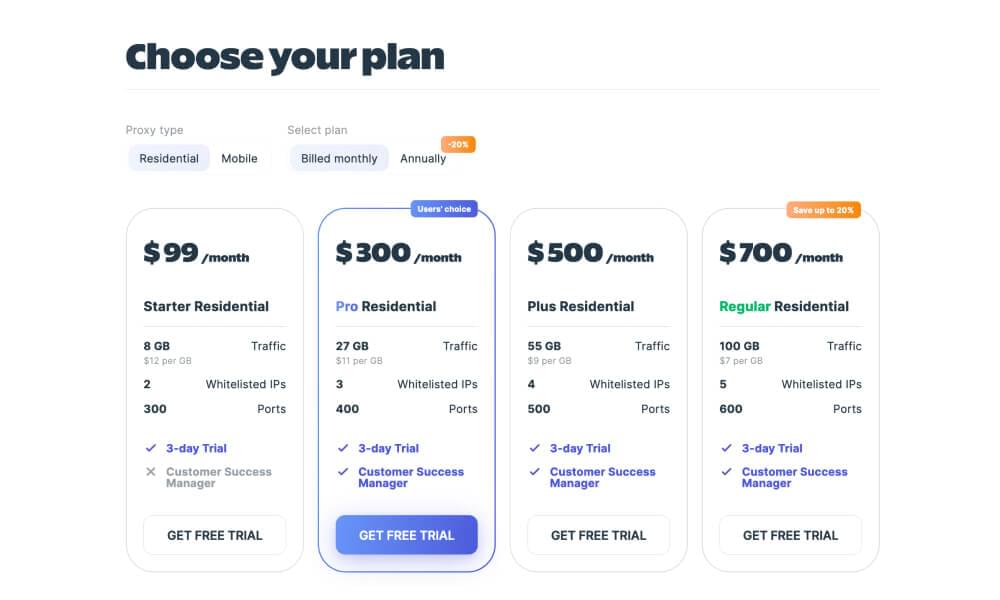 Soax proxies are high-performing proxies – they are quick and viable with a large number of well-known sites on the Internet. IP rotation is programmed, and geo-targeting is also supported. you can pick a particular location at the hour of paying for the proxies. The shifter concerning to approach all location proxies, you will have to pay more.
As far as the payment plans, Soax can be supposed to be flexible. You can buy month-to-month proxies but also weekly and daily. Nonetheless, the pricing can be termed as costly when contrasted with a considerable lot of providers on the list. Soax gives a one-hour free trial.
Pros of Soax
Excellent area support
Flexible payment plans
Detail geo-targeting options provided
Good for a lot of use cases
Cons of Soax
Expensive pricing
Free trial is just for 60 minutes
5. Shifter (Formerly Microleaves)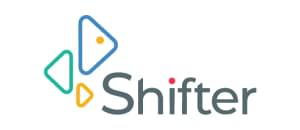 GEO targeting and limitless bandwidth and Easy to Use
26+ million IPs in Pool – <Start from 10 Ports for $249.99> – GEO targeting and limitless data transfer capacity.
Offered Proxy type is rotating residential proxies of IP addresses
Type of Proxy Offer: Rotating Residential IPs
How to Authenticate: User Pass + IP Auth
Geo-Targeting: Countries (Worldwide)
Proxy Protocol: HTTP(S) + Socks5
The shifter is one of the 10 top residential proxy providers in the market. This proxy service seems to be unique in relation to the different ones talked about above. Rather than utilizing the name residential proxies, it utilizes the name backconnect proxies which in numerous perspectives is only a modified version of residential proxies.
Unlike the ones talked about over that are estimated based on bandwidth, Shifter backconnect proxies are sold by port. One remarkable thing regards to Shifter is that all its residential IP addresses are located in the United States.
In terms of price, the most minimal sum you can pay is $124.99 and comes packaged with 10 ports, making each port cost about $12.5. Nonetheless, since the service is sold based on bandwidth, Shifter backconnect proxies offer their endorsers limitless bandwidth, For Geo-targeting and getting too explicitly approaching sites, you need the unique backconnect port plan concerning.
Price Plan
They don't offer a free trial however, have a 3-days money-back guarantee. They are slow in terms of speed and their client assistance can be supposed to be less than average even though they have various means which you can use to arrive their team. Their residential proxies aren't smart enough to dodge notice by some severe sites.
Pros of Shifter
3-days money-back guarantee
Unlimited bandwidth
The sizable pool of IP addresses
Cons of Shifter
Expensive contrasted with services they render
They are sometimes hindered by some smart sites
No free trial
Only accessible in the United States
Customer support is very poor
Conclusion
Data is fundamental for each business, and web scraping brings you huge loads of it. Accordingly, influence these residential proxies for web scraping, SEO, collecting pricing and contact data, and more to develop your business with business knowledge and incredible insights. In this article, we have talked about the main 5 residential proxy providers.
From the list above, you will concur with me when I say they do the same thing. However, they do have some gentle differences in terms of cost, client support, and different features. If you need to utilize a residential IP address, you can buy any of these proxy services.