Email marketing B2B lead generation continues to be a key focus for businesses, but it is becoming more challenging.
In fact, more than 61% of marketers consider it as the number 1 challenge in marketing efforts…and why wouldn't that be the case? In such a saturated market, with so many businesses out there competing for marketing leads, it can be difficult to stand out and make a mark.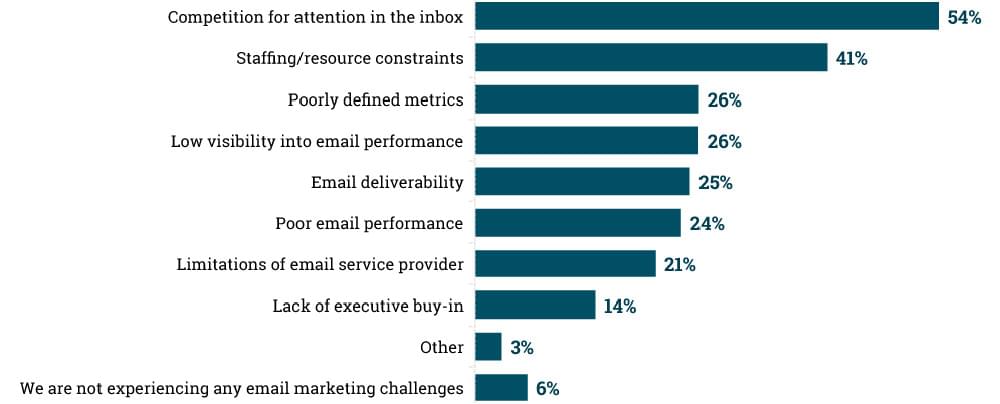 One of the most successful mediums for this lead generation has been emails. In fact, email conversion rates are 40% more successful than those of social media. For this exact reason, 87% of marketers are already using email marketing to connect with their potential (and existing) customers.
Are you part of the superior league yet? If not, worry no more, as this article will cover every aspect of effectively using email marketing for lead acquisition and lead generation. Let's get going:
What Is Email Marketing Lead Generation?
Whether it is through an opt-in form or a subscription, when you have gotten an email address of a person, it is called an email lead. Now whenever your business wishes to share any service, product, or offering with its prospects, you can use these email leads to interact with them.
An email lead is way more valuable than a social media follower. In fact, it brings you roughly 42x return on investment! Do you know why? Because when you enter the inbox of an email user, you have a chance at grabbing their undivided attention, and you can use this opportunity to interact and build your brand's trust with this email lead.
Why Is A Lead Generation Strategy Important?
A business without a lead generation strategy is like a sitting duck. Do you know why? It is because any business's revenue and growth directly depend on its target audience's decision. But for the prospects to make a decision, they first need to know to exist…and that's what a 'lead' is.
When you have no 'leads, you have no sales to go for. That is where email marketing B2B lead generation comes in. Lead generation is the process of building your brand's visibility, trust, and interest amongst potential marketing leads. By focusing on lead generation, you are essentially helping drive traffic from quality-prospect, which in turn, become high-value customers for your business.
Now that we have discussed the importance of lead generation strategies, let's discuss how to generate leads.
Top 05 Effective Email Lead Generation Strategies To Skyrocket Conversions
Here are the top 05 effective email lead generation strategies that you need to adopt:
Creating Valuable Content
Offering valuable content is one of the most effective ways to attract your readers to find their way into your email list. This content can take many forms, such as free eBooks, which would be sent to the subscriber's email inbox.
You can also offer other content upgrades, such as checklists, industry-specific reports, case studies, etc. These benefits are usually very valuable insights, so people easily give out their emails in exchange for the content offered.
Using Lead Scoring
One of the best strategies for email marketing lead generation is definitely the use of lead scoring. Lead scoring is the process of assigning points to each lead you generate for your business and, thus, represents the perceived value of every lead to the organization. It determines the worthiness of your potential customers. This score is based on different actions and activities that your visitors may take.
Lead scoring helps with aligning your follow-ups and understanding where each prospect is in their buying journey. Once the lead score is defined, your business can allocate ranking to the leads in order of priority.
Getting on With Referral Programs and Rewards
Email marketing lead generation efforts can be effectively boosted through referral programs and incentives. How, you ask? Your business can use an invite-based reward system on its products and apps, i.e. the user will get an X amount of reward if another user signs up for them. This new user means a new lead for your business and a small reward for your old lead.
Hosting Industry-Specific Webinars
Hosting niche-specific webinars is another excellent way of lead acquisition because these webinars usually teach a new skill or share valuable insights. These webinars attract a highly targeted audience, which means you will invest in qualified leads.
Another important aspect is that the webinar host is an expert in the field, so if they speak in favor of your product, the attendees are more likely to make the purchase based on trust and authority.
Make sure that the webinars you conduct are related to the industry you operate in so that the sessions can be connected to your products and services.
Utilizing your Website to Capture Emails
Your business website can attract leads through the search engine, paid/unpaid ads, and even enticing social media posts. As soon as a visitor arrives on your website, you must try to retain them and collect their info for your growing email list. To attract an audience, you can try the following ways:
Free Trial: A CTA to 'Claim Your Free Trial' has something to offer for the customer, which is why they will readily share their personal emails.
Free eBooks: Sharing industry-specific eBooks for free also lands good quality subscribers into your list.
Quizzes and Games: Make quizzes or games directly related to your product and provide value to customers through entertainment. Again, this is an excellent way to convince your leads to share their email ids.
Overall, using your website to attract visitors to sign up for your subscriber list is an excellent method for skyrocketing conversions.
How to Generate Leads with Leads API and Achieve The Optimal Conversion Rate?
Tired of all ways to find and attract leads to build your email list? What if we tell you this process can be sped up 100x, and you can find email addresses with just one click? Yes, this is possible in the 21st century. Tools, like Leads API by Crawlbase, bring you the ultimate solution. These tools can crawl the web and extract trustful company emails for you.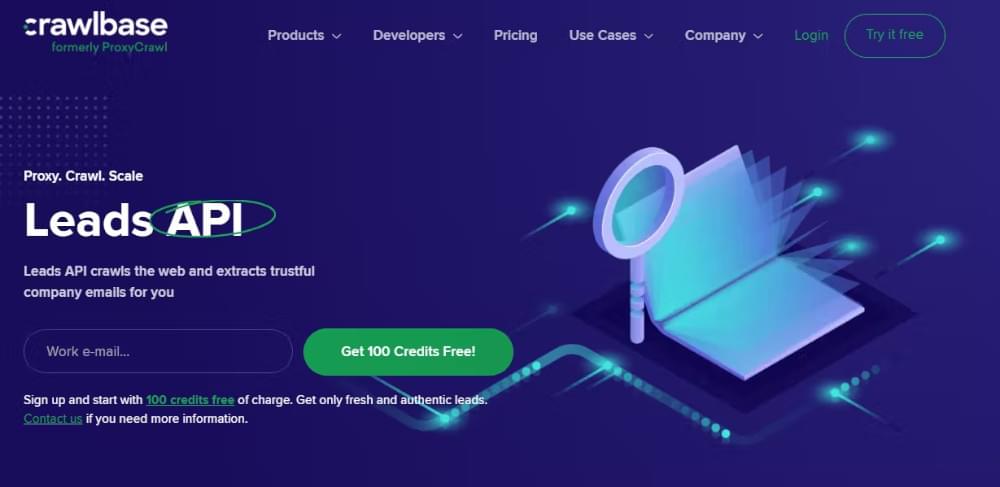 A transactional email service provider can ruin your business but that is not the case here. Leads API, in particular, is built keeping non-technical audience in mind. So all leads are provided to your business with just a weblink - and no need for any code. These leads can be easily imported to .csv format and used for your email marketing campaigns.
But that is not all. to help you with cold emailing, Leads API uses AI B2B lead generation to extract over 1000 pages where your target company is found online. Moreover, every single contact is run through the AI-based algorithm of Leads API, which results in more personalized leads.
In less than 05 minutes, users can import leads in bulk from the API. The best part is that the leads' data includes email, name, work position, and all important attributes that your marketing team may require for the outreach campaign.
Not only can this tool extract up to 10,000 emails in one call, but Leads API helps you gather data about the websites linking to your competitors.
Wondering about what all these benefits cost? Well, Leads API comes with four different pricing packages, which are as follows:
Free ($0 per month, 100 credits, fresh leads).
Starter ($29 monthly, 2000 credits, 5 API Concurrency).
Advanced ($49 monthly, 5000 credits, 10 API Concurrency).
Premium ($99 monthly, 10,000 credits, 20 API Concurrency).
…and yes, Leads API comes with a free test trial option in which you can obtain the first 100 leads for free. It also offers subscription options so you can cancel at any time without getting stuck into long-term contracts.
Final Words
Good quality incoming leads never hurt anyone, whether you are a small business or a fully established corporation. So go through our email lead generation strategies, tips and tricks, and try them on your business. Let us know what you think.