Among the leading proxy provider choices on the market, Bright Data offers a variety of unique features that make it quite popular with users because it offers a wide range of functions. With this application, businesses can access accurate data while ensuring their online privacy at the same time.
The purpose of this Bright Data review is to explore what Bright Data is and how it works, as well as the feature comparison that it offers - all to determine whether it's worth the hype or not.
Bright Data: What Is It and How Does It Work?
It is possible to gain increased privacy and security online with the help of Bright Data, which is a proxy server. The proxy server hides the user's identity from websites they visit, preventing hackers from targeting specific computers or stealing information. As a result of caching frequently accessed web pages on the proxy server, visitors can browse the web faster as well.
In addition to providing proxies in cities and countries across the world, Bright Data (formerly Luminati Networks) offers web data services throughout the world. A Bright Data review indicates that the company has over 72 million proxies to choose from, making it one of the largest proxy pools on the market. You can also choose from 600,000 proxy addresses that are sourced directly from ISPs if you want more dependability and speed.
Main Comparative Features of Bright Data
With a clearer understanding of what Bright Data is, we can now take a look at some of its most notable features, which include:
Proxy Types
Bright Data provides its clients with a variety of proxy networks to choose from, including data centers, residential, internet service providers (ISPs), and peer-to-peer mobile networks. For a better understanding of each of them, let's first differentiate between them so that we can understand them more clearly:
You should connect to lenient targets when using datacenter proxy servers to maximize the effectiveness of the proxy servers.
Compared to residential proxies, residential proxies tend to be more difficult to block, so they are ideal for protecting targets or for covering specific locations in a targeted manner.
In contrast to IP addresses, ISP proxies can maintain uninterrupted sessions for a longer period than IP addresses.
Bright Data reviews indicate that mobile proxies are among the most difficult to identify, which is why you should only use them when you are dealing with challenging websites.
A new BrightData feature has been created by the name Proxy Waterfall, which has been mentioned in several reviews and automatically selects the appropriate IP type for the user's task, based on the user's preferences.
Mobile networks and devices between the data center and the residential premises are routed through the data center's network, which is then connected to the residential network if necessary. Therefore, costs are reduced while success rates are increased.
Web Scrapers
Using scraping, which is extracting information from websites, Bright Data describes the process of scraping data from the web. There are many types of data, including text, images, videos, and audio.
There are three scraping tools offered by Bright Data: Web Unlocker, Search Engine Crawler, and Data Collector.
One of the first things that should be considered is the use of a proxy network that works with integrated web scraping features and guarantees 100% delivery success.
In the second case, a search engine API (also referred to as a SERP API) is an API that allows you to gather structured data from search engines.
The third type of web scraper is a cloud-hosted version that does not require any developer resources or skills on your part to use.
Security
Several security features are available through Bright Data to ensure the security of your data, including password protection and encrypted storage. As part of their security measures, their proxy server is designed to rotate IP addresses every five minutes to ensure that no one can track your data while you use it.
The Bright Data platform also supports HTTPS, so you can rest assured that regardless of how your data is accessed, your data is secure.
Location
It is one of the main selling points of Bright Data and its global coverage is one of the most outstanding features. There are proxy servers in almost every country and many major cities around the world. Due to this characteristic, Bright Data residential proxies are ideal for crawling, scraping, automating social media, and verifying ads, among other things.
According to Bright Data proxy server reviews, there are approximately 4.6 million proxy IPs in the States and 1.6 million proxy IPs in the UK alone. Bright Data proxy IPs are present in over four million countries worldwide, including India, Brazil, and France.
Speed
With its fast proxy network, Bright Data is among the fastest proxy providers in the world. By its proxy connection speed and response time, Bright Data is one of the fastest providers in the market.
That is remarkable, considering they aren't even running the devices they're sending requests to. It is possible to test the connection speed from various locations using the Speed test tool, according to a Bright Data proxy review.
BrightData Pricing
The pricing plans for Bright Data's services vary depending on the services it offers. Bright Data's different proxy networks require different pricing depending on what you need (SERP API, Data Collector, Web Unlocker, or Bright Data's different APIs):
SERP API
SERP API subscription prices are listed in the following table, as they appear on Bright Data's website:

You can also pay as you go with the 'Pay as You Go option for $5 per CPM (1000 requests). As you compare Pay as You Go to the monthly or yearly subscriptions, you'll find Pay as You Go is more suitable for those who are interested in trying the service out for a short period, according to a Bright Data proxy review.
Data Collector
We encourage you to take a look at the following table to get a better understanding of Bright Data's web data collection platform's pricing plans:

Web Unlocker
Bright Data offers several different pricing plans for its popular Web Unlocker service, which includes the following:

Pay-as-you-go is available with Web Unlocker and costs $5 for 1000 requests.
Proxy Infrastructure
BrightData's four proxy types are listed in the following table: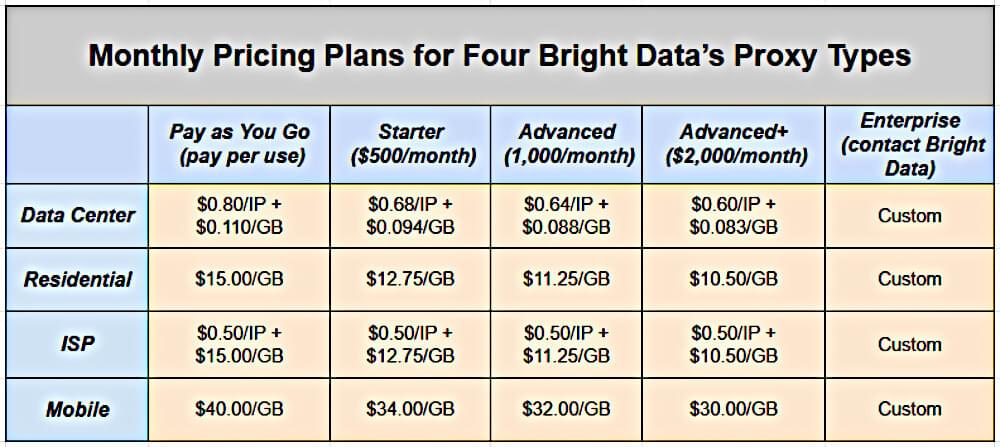 There are several payment options that Bright Data offers, including credit cards, PayPal, and Bitcoin. There is also a free 7-day trial you can take advantage of before you decide to commit to a paid plan if you wish to try out their services first.
Alternatives of BrightData
BrightData is one of the alternatives available on the market today, including those that are listed in the table of comparison below, if those are the alternatives you are looking for. To make an informed decision about the BrightData proxy service to use, feature comparison is important so is the comparison of pricing plans of each of these providers.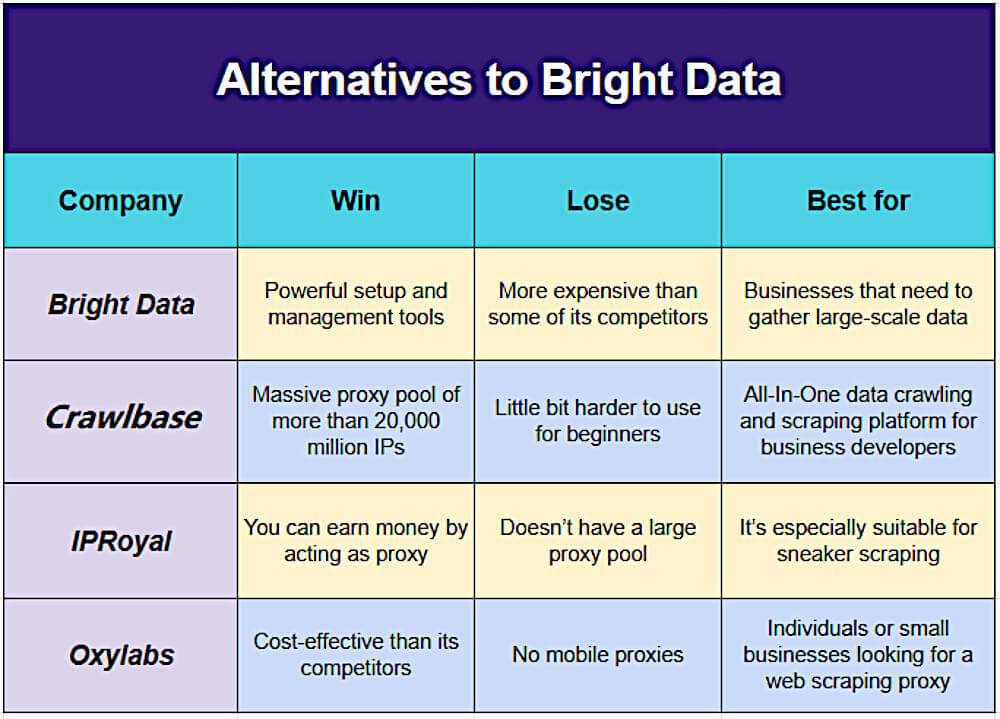 Having these details in mind, you should be able to make an informed decision about whether BrightData is the proxy provider that is right for you. In general, BrightData is a great choice if you are looking for a reliable proxy server with great speed and powerful tools that will meet your requirements. If you're just looking for a cheap proxy server, however, there are other options that you might want to consider.
Concluding Remarks
The Data Extraction Software solutions listed above are the most popular Data Extraction Software alternatives according to users and reviewers do feature comparison of them with Crawlbase. The company offers excellent customer support along with a free trial so that you can test out the service before committing to a paid subscription.
There is no doubt that the proxy providers mentioned above are great choices for anyone looking for a reliable proxy provider. It is well-known that data extraction has become a popular technology, and there are many people out there who are in search of high-quality, innovative software solutions to clean their data and extract it from the cloud.