SheIn is a brand that every online shopper is familiar with! Over 10 billion dollars in revenue have been generated by the app every year since 2021. Currently, the company employs over 100,000 people and has a monthly user base of 44 million. Many products are available on their website, including men's and women's wear and accessories. Using Crawlbase, the best and codeless web scraping tool, all of these products can be scraped easily.
Defining Web Scraping
The process of web scraping is a quick and efficient way to extract information from websites to process and analyze the data in a more structured manner. There was a time when data extraction was done manually - with employees spending hours in front of their computers, poring over different web pages to locate and input information into spreadsheets, which were manually typed into the computers.‌
However, a web scraping bot has made manual extraction of web content obsolete due to web scraping bots. This bot will be able to locate and input information from several target websites for you by automating the repetitive aspects of web scraping and web crawling. As soon as you tell the scraper what data you want extracted, it will immediately start extracting it.
SheIn - An Online Store of High-Quality Products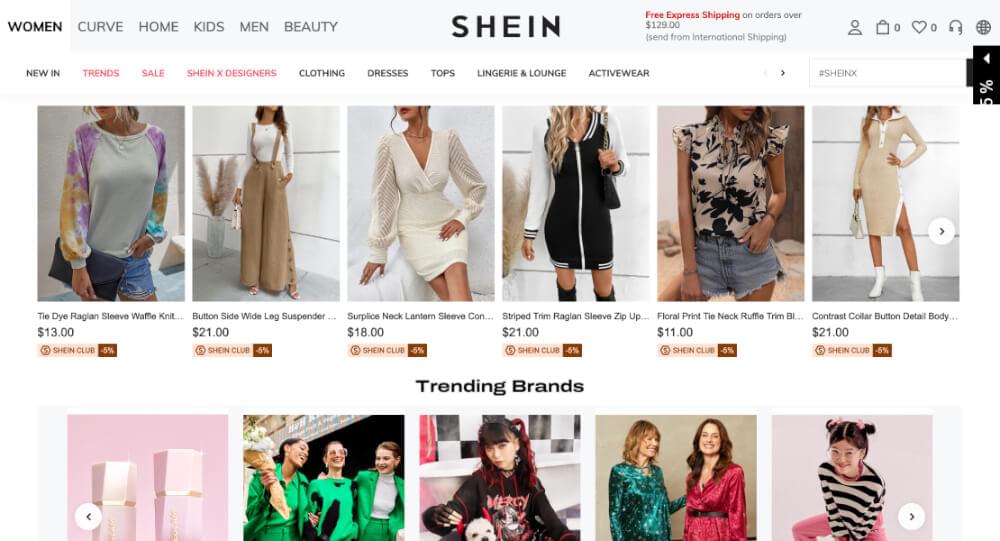 Dropshipping products from stores like Shein can help you accomplish tasks that would otherwise be challenging and time-consuming. A product catalog, such as reviews, prices, and collections, is provided to e-commerce websites through these services. These services require data that can be extracted easily using a Shein scraper tool so that you can offer the products to your customers on your website quickly. As a result, you will get the best deals to scrape SheIn listing and don't have to spend time gathering this information yourself.
Several merchants may accept your resale products when you scrape best deals on SheIn online. Your store needs to be updated with the latest pricing, product collections, and reviews once you have stocked up on items. It can also provide answers to frequently asked questions from SheIn websites by searching for relevant product information with SheIn scrapers.
Dropshipping and e-commerce reselling enable you to set up an online store to sell various products. You can resell and dropship items with Resell SheIn, a website that compiles e-commerce data. You can quickly resell your products by importing them from your website into stores. Any new updates on SheIn can be quickly reflected in product catalogs via data extraction from SheIn. SheIn catalogs are managed for you, so you don't have to worry about them and get the best deals to scrape SheIn listing. E-commerce data scrapers and e-commerce search engines like SheIn Scraper can also be used to extract her data. Thus, we offer a complete service, including product extraction and importing.
Data Fields Scraping Listing with Crawlbase
You can scrape SheIn listing to find the best deals. Crawlbase can scrape the following information from SheIn:
The name of the product
Product description
SKU of the product
Product pricing
Reviews totaled
Products ratings
Products colors
Products sizes
Variations
Images URLs
Categorization of paths
Scraping of SheIn Product Data with Crawlbase
It is possible to upload JPEG images in web format to SheIn's website and update it with the latest information. Using the Crawlbase, you can convert WebP files if the type is incorrect. It is possible for WooCommerce to automatically download JPEG images whenever it receives an update to that image. You will be able to download the latest data from these sites in the format that you desire. Your products must be priced and reviewed well to ensure success.
Image Scraping of SheIn products
The amazing sale on SheIn products you would like to buy and print should be saved as Web file types to print them. There is also the option to convert these images into JPG files if they are displayed this way in the search pane, but only if you choose to do so. There are lots of deals to buy from SheIn at a very reasonable price. SheIn can accept many different file formats (JPG), but you will need a Web file to do this. With the help of automation, it is possible to scrape these Web images and convert them into JPG files.
There is a possibility of them trying to physically save the images for the SheIn website, and then you can search for the files in which they have saved the images in the JPG format in a Web file. It is possible to have various types of files that cannot be imported into a shopping cart due to their nature.
Scheduled Scraping of SheIn
SheIn has recently launched a new program that will allow users to access the site in the same manner as they can access data from a cloud storage account and get the hot deals today. To access the data on their site, you must first create a monthly or yearly subscription to their service, and then you can access the information as needed. Does your company need to extract data from Hygoshop, Asos, Shopware, and Trendyol? If so, how can this be accomplished? On request, we can provide you with the most up-to-date data available.
To stay competitive, it is essential to keep up-to-date with the latest deals today on the market. Subscribe to our data monitoring services monthly or annually to stay on top of pricing changes and reviews. If you want to scrape product data from e-commerce sites like SheIn, you can specify when it needs to be updated, so you know when to scrape it.
Crawlbase – A Leading Provider of Web Scraping Services
In web data scraping and crawling, Crawlbase is the leading provider of web scraping services in this field. Crawlbase provides a range of web scraping services that are considered to be one of the best in the industry. They are committed to data mining, which is why they offer scrapers, data extraction, and web crawlers as part of their data mining service.
As a team of creative and technical people, they have a strong focus on products such as web scrapers and data scrapers, as well as innovating in the field of technology. With the help of its dedicated team of professionals, we offer data mining and web data scraping services from its dedicated team. Data mining, web scraping, and scraping services are all offered by our team of dedicated professionals who are capable of doing these tasks.
Crawlbase allows you to track user opinions through big data and use this information to answer any industry's needs with the help of big data. To do that, however, we must make significant technological advancements. A large amount of data is provided seamlessly, but you must have high-end technology at all times - 365 days a year. This service offers stress-free programming and quality assurance to ensure you get only the most relevant information on your desk.
Conclusion
It is now standard practice for retailers to resell and dropship products to their customers like SheIn because of the ease of managing the product catalog provided by this service. The first thing that needs to be done is to put the products in the store so they can be sold, which is the first step we need to take. Moreover, we can update all the catalogs you need to keep up-to-date to reflect all new collections, reviews, prices, etc., that will be released in the future.
Using scraping data and importing it directly into e-commerce platforms like the SheIn website, you can speed up any tasks you need on e-commerce websites like the SheIn website. Using this method, you will be able to easily add any products, as you will be able to upload new and exciting products in the future and get the best deals which is what we scrape SheIn listing for.
If you are looking for scalable services to Scrape SheIn Listing, then Crawlbase can be of assistance as it can give you top-notch e-commerce scraping services within your budget. For those searching for SheIn Data Scraping Services and all your queries and quotes on SheIn Data Scraping Services, Crawlbase is the best place for you.